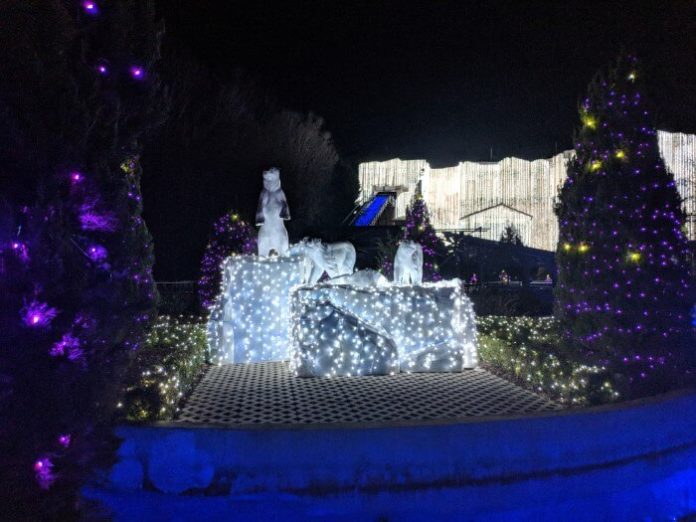 If you click on the links in this post, we may earn money from the companies mentioned in this post, at no extra cost to you. You can read the full disclaimer here.
Are you thinking about visiting Christmas Town at Busch Gardens Williamsburg theme park in Virginia?  If so, you are making the right choice; I outline my reasons why I think you should visit here. I have gotten into the habit of visiting Williamsburg every holiday season to visit both Busch Gardens Williamsburg & Colonial Williamsburg and I have a few tips for you and your family that will make your stay even better:
1. Book your tickets online ahead of time
 Okay, first of all, before you even set foot in the park, make sure you have already bought your ticket because you save a lot of money by buying your ticket online rather than at the front gate, especially right now because Busch Gardens has a great deal where you can save a lot of money on a one-day ticket.  And if you are also visiting Colonial Williamsburg during your stay, consider booking a Christmas Bounce Ticket to save money on both; I go into more detail about the Christmas Bounce Ticket here.
2. Visiting during the week
If you can only go on the weekend, definitely still go; I went last Saturday and while it was incredibly crowded, it was still an amazing day.  However, if you have a choice on the day of the week you can visit, I would pick a weekday because it's not (as) crowded then.
3. Get Reserved Seating
I absolutely love the Christmas Town shows.  And if you do, too, then getting Reserved Seating is very important if you do go on the weekend.  Though this can be useful during the week, too, because Christmas Town is so popular.  You can buy Reserved Seating for and this is important because the theaters do fill up (last Saturday, I was not able to see one of the showings of Scrooge No More because the theater filled up).  If you don't want to spend the extra money, then I recommend getting to the shows about 45-30 minutes ahead of time to ensure a seat.  If you don't want to wait that long you can consider either risking it (because you might get lucky and get a seat no problem) or just buying the Reserved Seating, especially for the shows you most want to see.
4. Wear warm clothing
I absolutely cannot stress this enough; you need to wear warm clothing!  It can get really cold (especially at night) and you will need to bundle up, so make sure you wear a hat, multiple layers, thick coat, etc.  Another thing you should make sure you have are winter touchscreen gloves like these.  This way you can take pictures or videos of the lights while keeping your hands warm.  Trust me with this, I tried to go with one glove so I could take pictures and videos and my hands got so cold I ended up dropping my phone and it cracked.  Yeah…not my finest moment.  I am so glad I have touchscreen friendly gloves now.
5. Stay after it turns dark
Even if you get really cold, make sure you're in the park after the sun goes down because once all the lights come on, it is truly one of the most magical Christmas experiences I have ever had.  All the decorations look gorgeous during the daytime, but it's even more spectacular at night.
6. Take advantage of the souvenir mug deal
If you are worried about getting too cold at night, one way to warm you up is to drink their delicious hot chocolate.  I have had both their signature hot chocolate and their peppermint fudge hot chocolate, and I loved both!  And if you buy a souvenir mug, you can get discounted refills all day, and you'll want to keep going back for refills when you want to warm up (and taste something delicious)!
7. Take advantage of their warming stations
If you still are freezing and want to warm up, then take a seat in one of the warming stations at Busch Gardens!  I personally recommend the warming station in the England section, that can get you warmed up pretty quickly; on the flip side, the warming station in New France didn't have a door so cold air kept getting in so it didn't really warm me up.
The warming stations have tables and chairs, so it can be a great place to eat a meal (especially since most dining options have seating outdoors and that can get quite cold).  I recommend getting your meal from the nearby Squire's Grille (they make delicious Fish-n-Chips and Mushroom Swiss Burgers) and then bringing your food into the warming station and eating there.  But you can also sit down there for a bit even if you're not eating just to warm up before you brave the cold again.
8. Bring a blanket
One last thing you can do to stay warm is to bring a blanket, especially if you've got a kid in a stroller so you can put the blanket on your child while you walk through the park.  But you can use the blanket too especially at the shows that are outdoors (like 'Twas That Night Skating Show in France & the Gift of Harmony Show in Italy).
9. Wear Comfortable Shoes
In addition to staying warm, you should try to protect your feet, too!  In order to enjoy everything in the park, you're going to have to do a lot of walking so make sure you wear comfortable shoes.
10. Shop in Italy
Italy is one of my favorite sections of Christmas Town.  Not only does Italy have beautiful decorations & a gorgeous Nativity Scene but they also sell gorgeous ornaments for incredibly good prices there.  We're talking $4.99 for beautiful Ornaments that would look great on your Christmas tree!  And after you buy them, you can pick them up at the end of the day at the front of the park, which is incredibly convenient!
Save this for later – pin it to your favorite travel or Christmas Pinterest board!