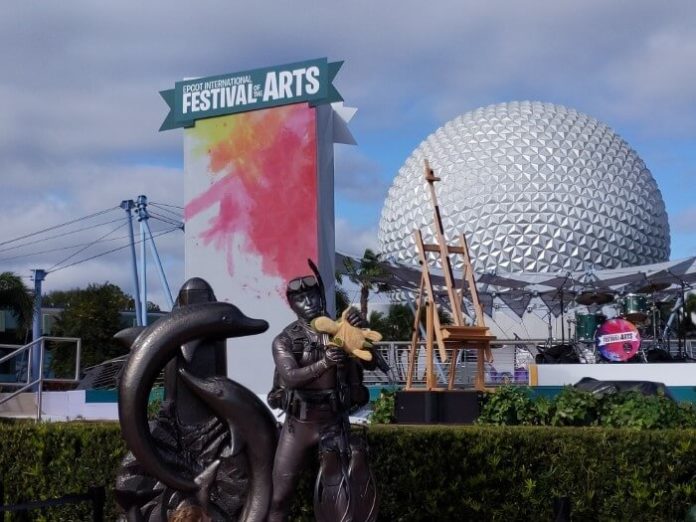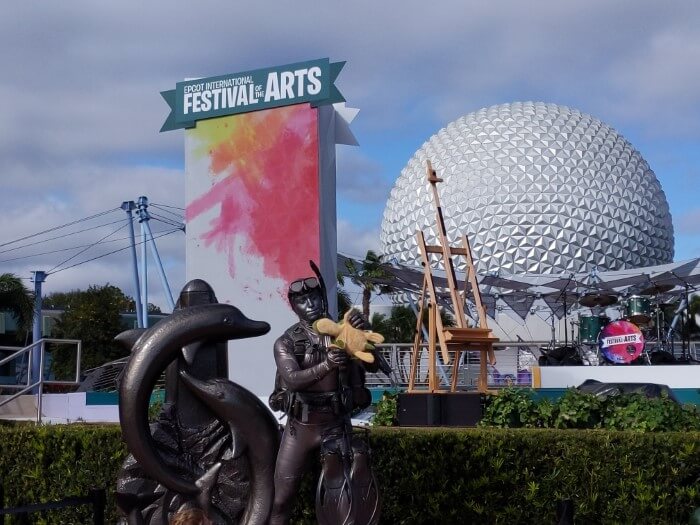 If you click on the links in this post, we may earn money from the companies mentioned in this post, at no extra cost to you. You can read the full disclaimer here.
If you haven't been to the International Festival of the Arts at EPCOT theme park in the Walt Disney World Resort in Orlando, Florida, then you need to go next year!  The festival has really grown and there are so many fun things for you to do.  There are art seminars & workshops, art-inspired food & drinks, Disney Broadway stars performances, Disney art & jewelry for sale, art displays.  There are even things for your children to do, too!
This event runs from January 17th to February 24th in 2020.  It is included in the price of admission to Epcot.  You can find out how to save money on tickets by clicking here.  And if you want more reasons why you should attend, here are more….160, actually:
Odyssey Festival Showcase: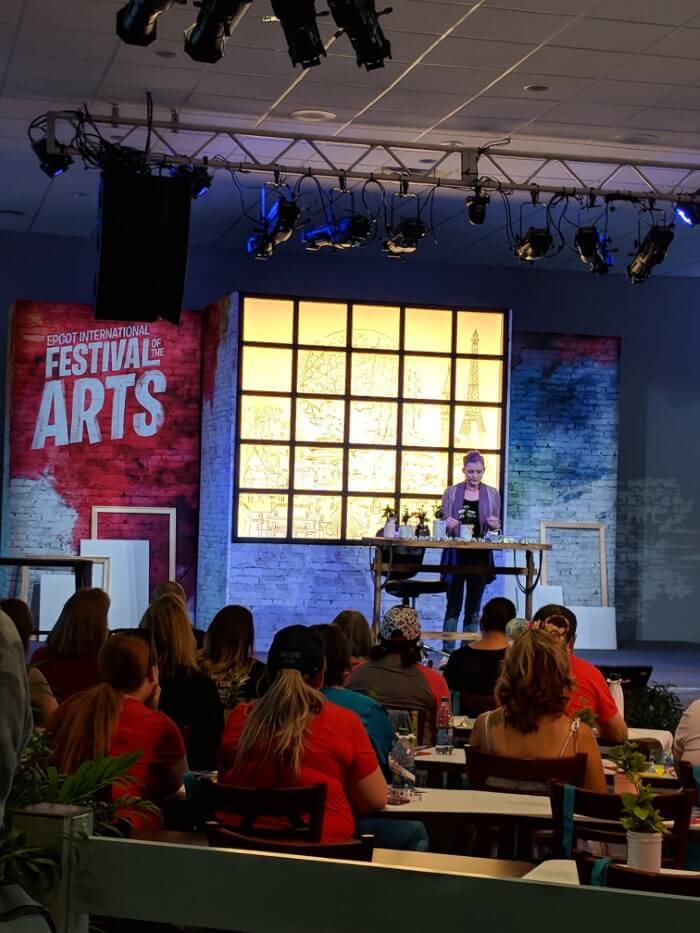 Seminars: Enjoy fun, informative seminars where you can learn about art

Animation Academy: Guided drawing classes led by Disney animators

Workshops: Learn new techniques & get advice from expert guides
Artful Experiences: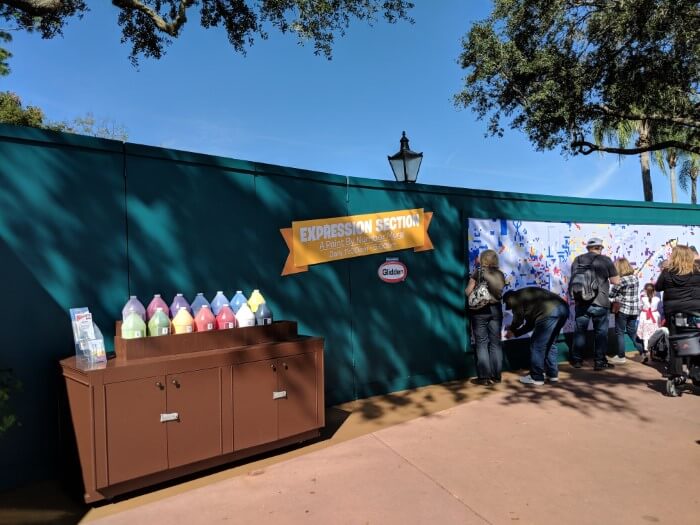 Expressions by Section: Enjoy being part of a gigantic paint-by-numbers mural

Artful Photo Opps: You can get great pictures in very creative photo opportunities

Chalk Art: Enjoy amazing chalk art in Future World East

Disney Art: See amazing displays of Disney artwork!
Performances: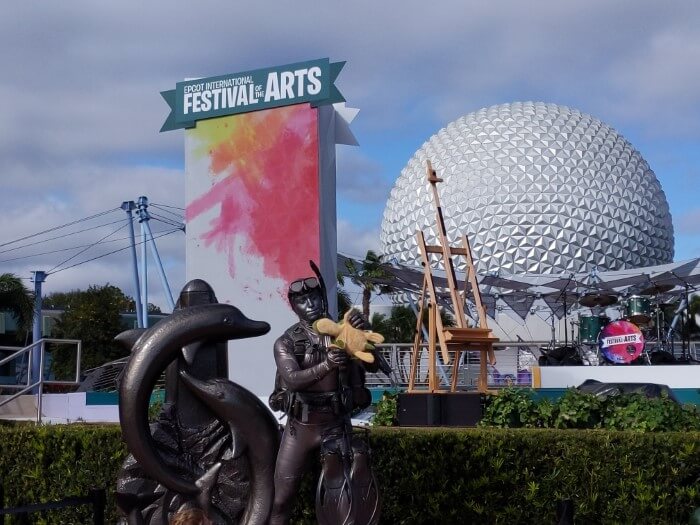 Disney on Broadway Concert Series: See live concert performances at the American Pavillion from Broadway stars, like Gavin Lee, Ashley Brown, Adam Jacobs, Heidi Blickenstaff, Josh Strickland, Linda Hunt, Steve Blanchard & more!

Visual Art in Performance: Watch amazing visual artists paint favorite Disney characters in just minutes!

EPCOT Living Statues: See statues come to life right before your very eyes!

Disney Performing Arts Showcase: Enjoy the best of the best high school bands performing jazz & pop music

Art Defying Gravity: See an amazing acrobatic show
Fun Events for Kids: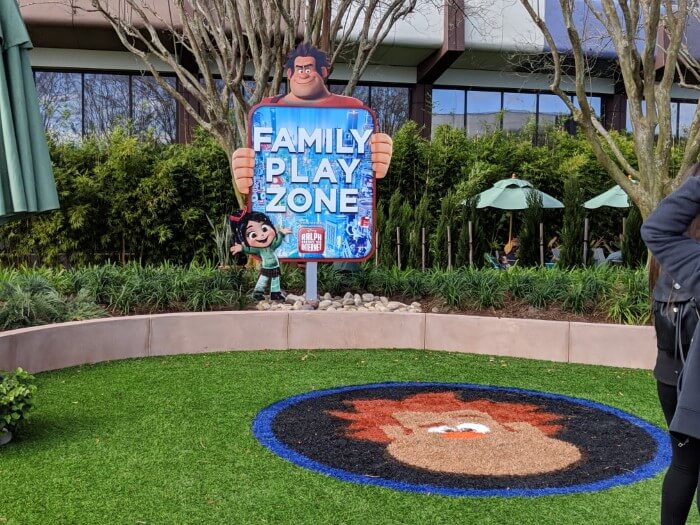 Family Play Zone: Kids can play in a play zone inspired by Wreck It Ralph

Figment's Brush with the Masters: Kids can help Figment learn about art during this fun scavenger hunt throughout the World Showcase

Chalk Art: Be inspired by the chalk art you see & create your own chalk masterpiece!

Disney Characters: Meet Disney characters who will be close to their portraits that display artistic styles from around the world
Festival Markets: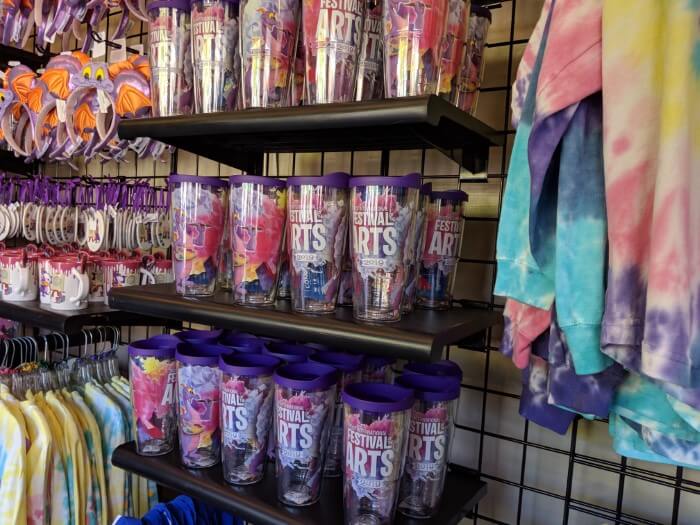 Items for Sale:
Fine Art Reproductions

3-D Paper Sculpts

Unique, Music-Inspired & PANDORA Jewelry

Collectible Figurines

Dooney & Bourke Handbags

Festival-themed shirts

Festival-themed wine glasses

Festival-themed cutting boards

Festival-themed Mickey Mouse ears

Festival-themed aprons

Festival-themed hats

Festival-themed bags
Festival-themed mugs
Art books

Festival-Themed Disney Gift Card & specialty themed lanyard & medallion (makes a great gift!)
Food & Beverage Marketplaces:
Taste Track:
Lobster Bacon Macaroni & Cheese

Paintbrush Churros

Pancake Milkshake

Banfi Rosa Regale Sparkling Red
The Painter's Palate:
Smoked Salmon & Gateau

White Chocolate Figment Puzzle

Mickey & Pluto White Chocolate Painting

Festival of the Arts White Chocolate Painting

Gallery Bites: A Trio of Hors d'Oeuvres

Trio of Savory Croissant Doughnuts

North Coast Brewing Co. Scrimshaw Pilsner Style Beer

M.I.A. Beer Company Jazz IPA

Central 28 Beer Company Miss Mary Brown Oatmeal Brown Ale

Beer Flight
Refreshment OutPost:
Plant-based Bratwurst
Paintbrush Churros
Barrel of Monks Brewery Endless Enigma Golden Pale Ale
Collective Arts Brewing Life in the Closus Hazy IPA
M.I.A. Beer Company Malt Bach Brown Ale
Popcorn Pairing Flight
Refreshment Port:
Lobster Chips
The Deconstructed Dish:
Deconstructed Reuben

Deconstructed BLT

Deconstructed Strawberry Cheesecake

Deconstructed Breakfast

Imagery Sauvignon Blanc

Mad Genius Red Blend

Rainboba
Decadent Delights:
White Chocolate & Purple Sweet Potato Mousse

Chocolate, Peanut Butter & Pretzel Crunch

Lemon-Blood Orange Tart

Artist Palette Jumbo Chocolate Chip Cookie

White Chocolate Figment Puzzle on an Artist Palette

3 Daughters Strawberry Blonde Nitro

Breckenridge Nitro Vanilla Porter

Young's Double Chocolate Stout

Biagio Moscato D'Asti

Florida Orange Groves Winery Black & Blue Port

Cold Fashioned Coffee Cocktail

Neopolitan Beer Flight
Pop Eats!:
Sous-Vide Poulet Rouge Chicken Roulade

Shrimp Ceviche with Lime-Mint Foam

Almond Frangipane Cake

Pop't Art Sugar Cookie

Blue Sky Black Cherry Boba Freeze

#RainbowSherbertGlitterDreamAle by Playalinda Brewing Co.

Popping Bubbles Cocktail

Tomato Soup Can Bloody Mary
El Artista Hambriento:
Sopes de Chilorio

Agave Pork Belly
Frida Banana Daiquiri
Diego Blackberry Margarita
Mexican White Sangria
The Painted Panda:
Spicy Beef Shumai
Char Siu Pork Bun
Sea Butterfly

Fortune Cookie

"Panda" Bubble Tea

Jasmine Draft Beer

Kung Fu Punch
Cuisine Classique:
Red Wine-Braised Beef Short Rib

Seared Corvina

Saint-Honore Tart

Artist Palette

Angry Orchard Rose Hard Cider

Concrete Beach Brewery Rose Ale

Frozen Rosé

Campo Viejo Rioja Reserva Art Series

Domaine Savary Chablis

A Play on Rose Flight
L'Arte di Mangiare:
Pollo ala Pirandello
Rossini
Insalata di Gamberi al Limone di Zagara
Peroni Nastro Azzurro Pilsner

Prosecco

Moscato Fior d'Arancio

Corbinello

Pinot Grigio

Merlot

Amaretto Bellini

Vodka Rossini
Fife & Drum Tavern:
Musical Float
Block Hans:
Arendelle Aqua Lemonade
Funnel Cake:
Peanut Butter & Jelly Sandwich Funnel Cake
The Artist's Table:
Beef Wellington

Pan-seared Scallop

Artist Palette Jumbo Chocolate Chip Cookie

Sipping Chocolate Flight

Saugatuck Brewing Co. Neapolitan Milk Stout

Lexington Brewing Company Kentucky Vanilla Barrel Cream Ale

Lindemans Framboise Lambic

Barrymore Rose

Carmel Road Drew's Blend Pinot Noir

Symphony in Chocolate Flight

Chocolate & Beer Pairing Flight
Goshiki – Japan Pavilion:
Taiyaki

Sushi Donut

Vegetable Gyoza
Nigori Sake Cocktail

Masu Sake

Nomi Masui Draft Lager
Mosaic Canteen:
Spiced Beef

Mediterranean Flatbread

Chebbakia

Casa Beer

Bonassia Red

Embrace the Arak
L'Art de La Cuisine Francaise:
Creme de Brie en Petit Pain

Tomate Farcie Faҫon Paul Bocuse

Moelleux Aux Chocolate Valrhona

Trio de Macarons
Frozen French Martini
Veuve du Vernay, Brut N°1, Limited Edition
Vouvray, Marcel Dubois
Bordeaux, Château Malbec
The Masterpiece Kitchen:
Wild Mushroom Risotto

Charcuterie Palette

Smoked Salmon and Cream Gâteau

Vanilla, Rose Water & Pistachio Panna Cotta

Weihenstephaner Original Lager

Perrier-Jouet Belle Epoque Brut Champagne

The Meeker Vineyard Winemakers' Handprint Merlot

Pinord La Dama Reserva Familiar Brut

Pinord La Dama Reserva Familiar Brut Rose

Classic Sidecar
Test Track Cool Wash
Assorted Coca-Cola Slushies
Joffrey's Coffee & Tea Company:
Blackberry Iced Latte topped with a delicious Blueberry Donut
Iced Mocha Latte served with a timeless Glazed Donut and Sprinkles
Coconut Iced Latte garnished with a decadent Chocolate Donut
White Mocha Iced Latte layered with a Red Velvet Donut