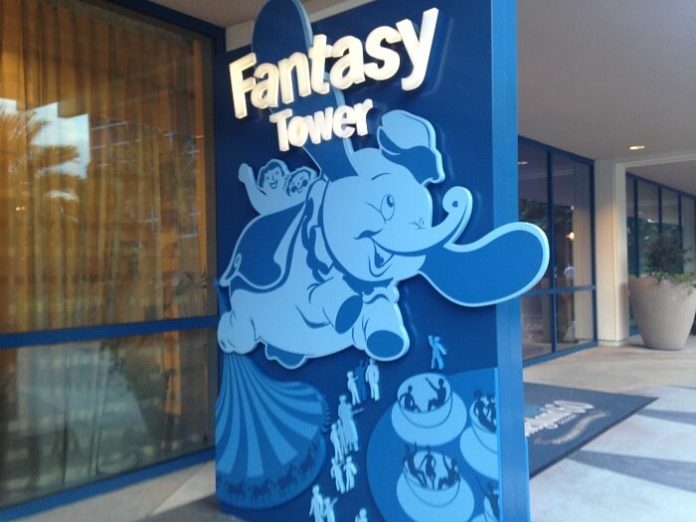 If you click on the links in this post, we may earn money from the companies mentioned in this post, at no extra cost to you. You can read the full disclaimer here.
Disneyland Hotel
The Disneyland Hotel is the original Disney hotel.  It first opened by Disneyland in Anaheim, California in 1955.  It has undergone many changes throughout the year, but its current incarnation is my favorite.
Pool
If you are like me and you are big Disney and Disney parks fan, then you'll love the pool as much as me!  They have perhaps the best Disney themed pool of all Disney hotels.  The two waterslides are themed like the monorail.  There's a 4,800-square-foot E-Ticket and a nearby D-Ticket Pool.  I love how these themes pay homage to the early days of Disneyland.  There's also a Mickey and a Minnie Spa whirlpool.
Dining
There's also a lot of great dining at Disneyland Hotel.  Goofy's Kitchen is a great buffet style character dining option.  It makes a great breakfast buffet.  If you're not in the mood for a full breakfast, try the Coffe House.  In addition to coffee, they sell bagels, muffins, biscotti, yogurt, etc.
The Tiki Room themed Tangaroa Terrace Tropical Bar & Grill.  You can eat inside among island-inspired decorations or you can eat outside with views of Monorail pool & waterslide.  The lit torches, music, and food all have a Polynesian flair.
Trader Sam's Enchanted Tiki Bar is the dining option themed after the Jungle Cruise.  You can enjoy great cocktails at this Tiki Bar.  Kids can visit here but only until 8:00 PM.  After that, it's just for adults ages 21 years old and older.
Steakhouse 55 is named after the year Disneyland opened.  It features black-and-white photos of movie and music luminaries of the era (including Walt Disney himself!).  The Old Hollywood feel would be enough for you to enjoy it, but it actually is an award-winning restaurant, too.  You can eat great steak and seafood here.
Perks
There are a lot of great Disney perks if you stay here.  First of all, you're within walking distance of Disneyland and Disney California Adventure.  And you're steps away from Downtown Disney, which has great shopping and restaurants.
You also get extra magic hours meaning you get early admission into the parks.  On Tuesdays and Thursdays, you can get into Disneyland Park an hour earlier.  Please note that this does not include the new Star Wars Galaxy's Edge.  Mondays, Wednesdays, Fridays, and Sundays are the days when you can get into Disney California Adventure Park an hour early.
And if those perks are not enough for you, you can get wake-up calls from your favorite Disney characters!
Ways to Save
So you probably want to know how you can save money at the Disneyland Hotel, right?  After all, with all the great things about the hotel, it should probably go without staying that it can be expensive.  But here at Green Vacation Deals, we don't let high price tags dissuade us from our favorite hotels.  Instead, we find ways around it!  So here is our list of the 5 best ways that you can save at the Disneyland Hotel.
1. Swagbucks
Swagbucks is my favorite way to save money on Disney vacations, and that includes the Disneyland hotel.  Basically, with Swagbucks, you can earn money online leading up to your trip and use it to pay for your hotel room.  If you book through Disney's website, then you can pay for a deposit and then pay off the rest when you get to the hotel.  So, if you book your room months in advance, you have months to earn Swagbucks to pay it off.
So what I do is I earn money through Swagbucks and then I redeem them for Walmart gift cards.  I then take my Walmart Gift Cards to Sam's Club (this only works, of course, if you're a Sam's Club member).  There, you can get discounted Disney gift cards!  You can use Disney gift cards to pay off (or help pay off) your remaining Disney balance.  Disney will let you combine gift cards so I combine all the Disney gift cards I get from Sam's Club.
So you're probably thinking, how do I earn these Swagbucks?  Well, we are not leaving you high and dry!  We teach you some ways to earn money through Swagbucks here.
2. Shopkick
Shopkick is another way I earn free Disney gift cards.  You can do this along with Swagbucks (that's what I do).  It really helps you pay off the balance of your hotel.  You can download this app on your phone; click here if you have an Apple phone or here if you have an Android phone.  It's a pretty simple way to earn money.  Whenever you go shopping at most major retailers (like Walmart, Best Buy or Target), you can scan items and you get points for it.  When you get enough points, you can trade them in for a $25 Disney gift card.  You can sometimes get points just for walking in the store.  You'd be surprised how much Shopkick and Swagbucks can help pay for your Disney vacation.
3. Expedia
If you don't want to go the Swagbuck or Shopkick route, then I recommend not buying through Disney's website.  You can better deals on other websites.  Expedia is a website I like to use to save money on the Disneyland Hotel.  Expedia pretty much always has good deals for Disneyland.  Right now you can save 15% on stays on Sundays through Thursday nights from now until September 26th.
4. Undercover Tourist
For a long time, Undercover Tourist has had great deals on Disney World hotels.  But now they just started offering great deals on Disneyland hotels, too!  You can currently save up to $31 a night at the Disneyland Hotel.
5. Hotels.com
Hotels.com is another place I always go to get a good deal on Disney hotels.  You can get some really low prices, often much lower than what you would pay through Disney.  And if you book ten nights, you can get a free night at a hotel.  This is not a deal you would get if you booked through Disney.
Other Disneyland Area Hotels
If you've decided the Disneyland hotel is just too expensive, there are other cheaper hotels in Anaheim.  You can find good deals on Anaheim hotels here.