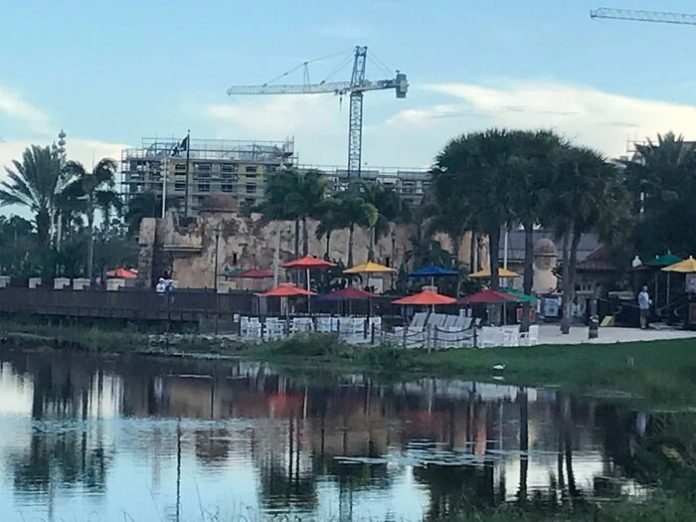 If you click on the links in this post, we may earn money from the companies mentioned in this post, at no extra cost to you. You can read the full disclaimer here.
*Update for 2019*: I just came from a stay in February 2019.  You can see how the resort looks now in this video.  Both the food court and Sebastian's Bistro are now up, and the food court, in particular, makes staying here even more appealing!  But there is still definitely construction going on, but I still think overall the hotel is still beautiful and it is definitely worth it to visit here – especially because you can still get discounted rates!
There is a lot of construction going on around Disney's Caribbean Beach Resort at Walt Disney World in Orlando, Florida.  
So if you haven't already heard, Walt Disney World Resort is adding a new form of transportation: the Disney Skyliner.  This gondola type system will give guests staying at Caribbean Beach Resort, Art of Animation and Pop Century Resort (plus Disney's new Riviera DVC Resort!) a really wonderful new way to get transportation to both EPCOT and Hollywood Studios.  If you are like me and can get really sick of waiting for a bus, then I'm sure like me you're excited by this news. The only thing is, this new transportation system has to be built, but that's not all the construction that's going on around Caribbean Beach Resort.  Additionally, the Old Port Royale area is being refurbished which means the closing of the food court, restaurant and pool bar plus Disney's new Riviera Resort is being built where the Barbados section of the Caribbean Resort used to be so all in all, this means a lot of construction is going on there.  So the question you might have is, is it worth it to stay at the Caribbean Beach Resort during this construction?
Well, I had my own doubts.  To be perfectly honest, Caribbean was never one of my favorite Disney hotels to begin with and I worried that all the construction would take away from the Disney magic.  But then I found a really good rate for one of the pirate rooms at the Caribbean and I couldn't pass up that deal, so I decided to stay there and see for myself if it was worth it to stay there during the renovations, and the answer, to my surprise, was an overwhelming yes!  I actually enjoyed my stay there far more than the last time I stayed there pre-renovation!
So when you arrive you'll absolutely see a lot of construction, but to me it never got too nosy, I still had beautiful views and most importantly, I still felt as if I was enjoying a getaway in the Caribbean.  Since I was in a pirate room I was staying in the Trinidad South section and the area was still beautiful with a decidedly Caribbean feel. So that fear went away immediately for me.
The other fear I had was the lack of dining options, plus my family always takes advantage of the refillable mug option and without the food court or pool bar I worried that would be a problem.  Well, luckily that wasn't a problem at all as there are actually Coke freestyle refillable mug options all over the resort; in fact, the refillable mug station was just a few doors down from my own room and it was by far the most convenient time I've ever had refilling my mug at Disney World.  And the Spyglass Grill was actually quite good and had a number of dining options (I will say one negative is that it is outside and Orlando can get quite hot, but at least it is covered and there were fans going). I also really liked the atmosphere of the Spyglass Grille and the music selection really helped the feeling of being in Trinidad.  And since the last time I stayed there I was far away from the food court and mug option, this made my stay at Caribbean an improvement.
And the pirate room itself was awesome.  One of the reasons I had for not staying in a pirate room previously was how far it was away from the main building, but since there are now dining options and mug stations near the room I really had no need to go to the main building so that made the pirate room an even more desirable stay.  I think you would really love staying there; it's classic Disney with great small touches all over the room and it's really fun no matter what your age is, plus the bed is super comfortable and the TV is really great (not that you're probably going to Disney World to watch TV, but it is nice to have while you're resting your feet from all the walking around the parks!).  
And now really is the time to book a pirate room, as the rates are so much lower than they normally are. And I think even if you don't stay in a pirate room, you'll really love the stay right now, especially since the prices right now more resemble the price of a value resort at Disney but you get bigger rooms and beds.  Plus the best feature, in my opinion, of the Caribbean Beach Resort, the amazing Fuentes del Morro Pool, is still there and you can have a great time swimming there.  So check out the deals at Undercover Tourist (one of my favorite websites to find great prices for Disney hotels and tickets) and book your family a wonderful stay at Disney's Caribbean Beach Resort at Walt Disney World in Orlando, Florida!