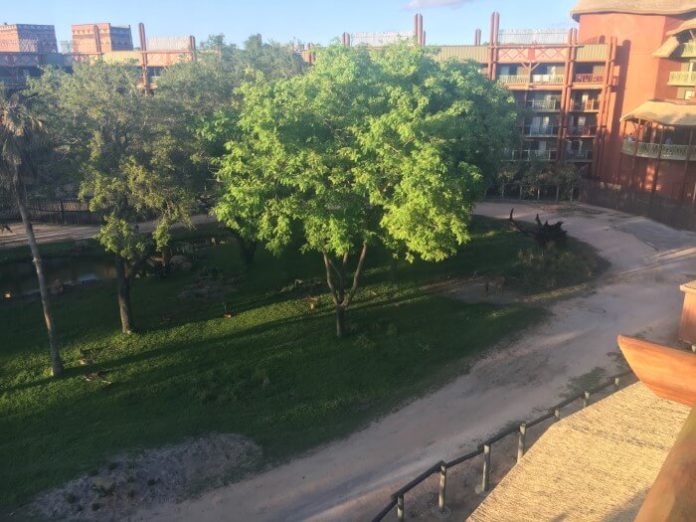 If you click on the links in this post, we may earn money from the companies mentioned in this post, at no extra cost to you. You can read the full disclaimer here.
Disney's Animal Kingdom Lodge Discounts
Whenever I talk to people who live far away from Disney World and have never visited, the one hotel they say they would most like to try is the Animal Kingdom Lodge.  It really is an amazing experience. Disney has done such a great job with theming that you really feel like you're at an East African lodge, and it is amazing to be able to see animals like giraffes & zebras right outside the window at your hotel!  Additionally, it is an on-site Walt Disney World hotel in Orlando, Florida so you get all the great features that comes with it: free constant buses to the parks (Magic Kingdom, EPCOT, Hollywood Studios, Typhoon Lagoon, Blizzard Beach and, of course, Animal Kingdom), free airport transportation, extra magic hours meaning you get extra time in the parks, etc.
Unfortunately, a stay at Animal Kingdom can get expensive, but luckily there are ways around it.  Here are 5 great ways to save money:
1. Vacation Club Rental
The best way I've saved money at this hotel is when I stayed at Kidani Village, the Disney Vacation Club section of Animal Kingdom.  I stayed for less than $80/night by renting a room through the vacation club rental process, even though I am not a Disney vacation member.  For more information on how to do this, please see this video:
And see this explanation of the DVC process. Also, in case you are curious, here is a video from my stay there.  Also, make sure you book through David's Vacation Rentals to ensure getting a good price.
Here is a video of the Kidani Village section:
2. Swagbucks
The vacation club rental is not always available since this hotel is so popular and those rooms are often already booked, but there is another great way to save money on your stay, and that is Swagbucks.  I have used Swagbucks to stay at a lot of Disney hotels, most recently I used my Swagbucks earning to put a deposit down at the Beach Club. I earn money online and then I used that money to buy Walmart gift cards, and then I use those Walmart gift cards to buy a discounted Disney gift card at Sam's Club (if you're not a Sam's Club member you can use your Walmart gift card to buy Disney cards at Walmart, it just won't be at a discount) and then I use those Disney gift cards to significantly save money on my stays.  For more information on Swagbucks, please see here.
3. Undercover Tourist
If you don't have enough time to earn Swagbucks, and you can't get a room through David's, then I would next check out Undercover Tourist.  Undercover Tourist has had some amazing sales on Animal Kingdom Lodge hotel rooms.
4. Hotels.com
Hotels.com is another great option when looking for a good rates for the Animal Kingdom Lodge, for three reasons.  Hotels.com typically has some of the lowest prices you can find online. And Hotels.com does have a deal where if you stay 10 nights, you can get one night free, so even if you don't get a discounted stay for Animal Kingdom Lodge, you can at least save on another vacation (please note, though, that your stay won't qualify as a stay if you use a promo code, but personally I think if there is a promo code available you should go ahead and use your promo code now because I like getting the best rates now).
5. Expedia
And finally, Expedia is a great website to use to find a good rate for the Animal Kingdom Lodge.  You can also use Expedia to book a package with your hotel, flight and Disney World tickets.
Save this for later – pin it to your favorite travel or Disney Pinterest board!