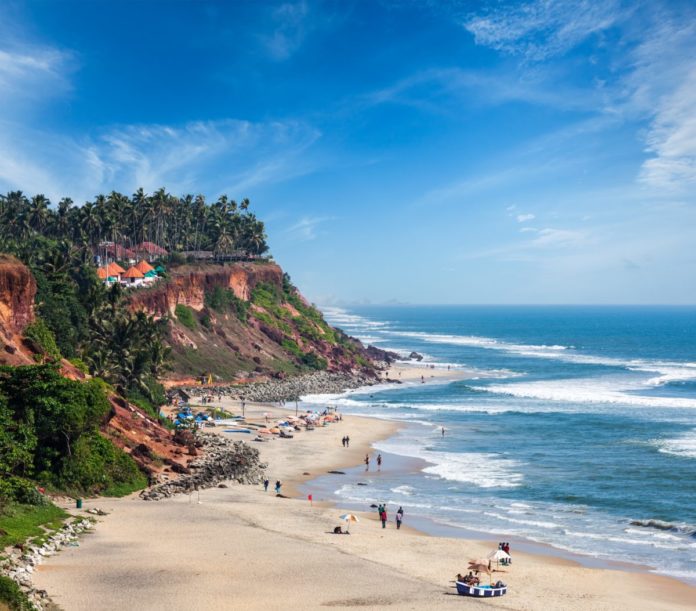 If you click on the links in this post, we may earn money from the companies mentioned in this post, at no extra cost to you. You can read the full disclaimer here.
Kerala is on India's tropical Malabar Coast on the Arabian Sea.  It's known for beautiful palm-lined beaches and backwaters, a network of canals.  National parks and other sanctuaries are home to tigers, elephants and langur monkeys.
Booking.com has 4 and 5 Star hotels with deeply discounted rates.  Here are some of the best deals.
IMA House       15.21 pounds

Riviera Suites       20.02 pounds

The International Hotel       22.42 pounds

Hotel Presidency       23.22 pounds

The Mercy Luxury Business Hotel       23.22 pounds

Cochin Palace       24.82 pounds

The Blooms Cochin       24.82 pounds

The Quilon Beach Hotel & Convention Center       26.42 pounds

White Gate Residency       26.42 pounds

Abad Atrium       28.02 pounds

Grand Hotel       28.82 pounds

Travancore Court – by Spree       29.32 pounds

The Pgs Vedanta       33.63 pounds

Casino Hotel – Cgh Earth, Cochin       38.43 pounds

The Dunes Cochin       35.23 pounds

Starlet       38.43 pounds

Casino Hotels Limited Thissur       39.23 pounds

Waterfront Granary A Museum Hotel       40.83 pounds

Hindustan Beach Retreat       41.64 pounds

Monsoon Empress Kochi       41.64 pounds

Radisson Blu Kochi       42.44 pounds

Trident Cochin       46.44 pounds

The Gateway Hotel Marina Drive       49.64 pounds

Dass Continental       52.04 pounds

Crowne Plaza Kochi       52.84 pounds

Lakkidi Village Resort       55.25 pounds

Backwater Ripples Kumarakom       58.45 pounds

Fragrant Nature Kochi       62.45 pounds