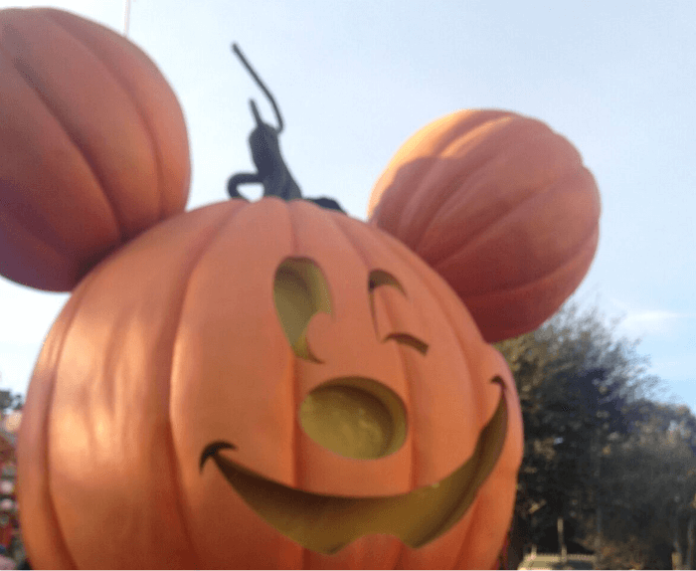 If you click on the links in this post, we may earn money from the companies mentioned in this post, at no extra cost to you. You can read the full disclaimer here.
Mickey's Not So Scary Halloween Party in Walt Disney World in Orlando, Florida can be a really fun experience.  On select nights, Magic Kingdom in Walt Disney World holds the Mickey's Not So Scary Halloween Party where you can dress up in Halloween costumes, trick-or-treat around Magic Kingdom, have unique character experiences, watch Mickey "Boo-to-You" parade & the Happy HalloWishes firework show and ride classic Magic Kingdom favorites, such as Haunted Mansion and Splash Mountain.
This party, however, is not included in a standard ticket price and, like all things in Disney World, does not come cheap, and could cost you as much as $135 for an adult ticket or $130 for a children's ticket.  Luckily there are a few ways to save money if you are looking to attend a 2019 Mickey's Not So Scary Halloween Party:
Attend a Mickey's Not So Scary Halloween Party on specific cheaper days: If you attend a party on August 20th & 27th as well as September 2nd, 8th, 10th, 15th, 17th, 22nd, then you can save a lot: as opposed to the aforementioned $135 adult & $130 child rate (which is the rate if you go on Halloween), you can pay $79 for an adult and $74 for a child. You can buy these cheaper tickets here.
Be a DVC or annual passholder: For DVC members & annual passholder, tickets on the select cheaper dates are reduced to $74 for an adult and $69 for a child. But given that an annual pass costs $894 and given that the initial cost of a DVC membership currently can start at $18,800 for the initial purchase, unless you were already thinking of becoming an annual passholder or DVC member, it's probably not the wisest decision to become a member or passholder just to save a few bucks on the Halloween party.  But if you already are a DVC member or annual passholder, then you should use this ticket price; otherwise, keep reading.
Earn Swagbucks to pay for tickets: This is one of my favorite ways to spend money on Disney vacations because then it almost feels like I'm getting Disney fun for free!  Basically, you can earn Swagbucks online by doing things you already do (like online purchases) or other simple things, like watching videos, taking surveys, playing "Swag IQ" which is a trivia game, etc.  We go into more detail about Swagbucks here and let you know about free ways to earn money through Swagbucks here.  I then use my Swagbucks to buy Walmart gift cards.  I then take those Walmart gift cards and use them at Sam's Club, where I can buy discounted Disney gift cards (if you don't have or don't want to buy a Sam's Club membership, you can just buy Disney gift cards not at a discount through Walmart).  You can then use these Disney gift cards to pay for the Halloween party!  This may sound confusing, but it actually isn't and can actually be quite fun.  And there's enough time between now and Halloween for you to earn enough money for tickets for you and other family members or friends.
You can see the Parade from Mickey's Not So Scary Halloween Party last year here:
Save this for later – pin it to your favorite travel Pinterest board!