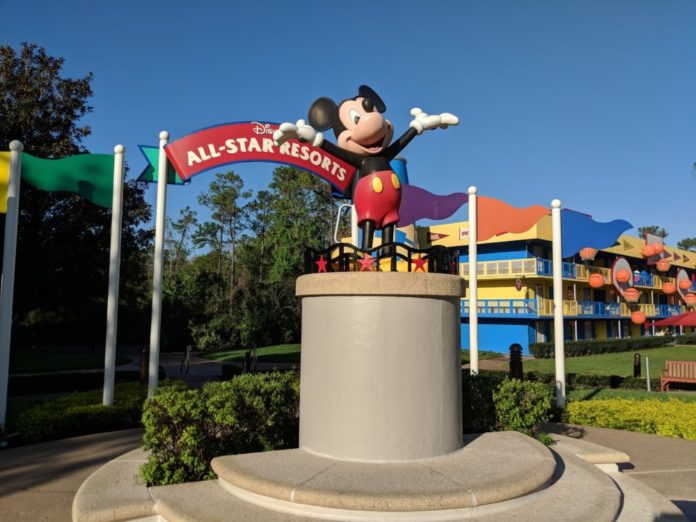 If you click on the links in this post, we may earn money from the companies mentioned in this post, at no extra cost to you. You can read the full disclaimer here.
Disney's All Star Sports Resort is a great value hotel on-site at Walt Disney World Resort in Orlando, Florida.  Being a Disney value hotel, this means you get all the benefits of a Disney hotel (dedicated bus transportation to the parks, Disney Magical Express which gets you free airport transportation, Disney Magic Bands that can open your hotel rooms, the ability to book fastpasses 60 days in advance, Disney Rapid Refill Mugs, etc.) at a fraction of the price – especially if you book through this website!
Disney's All Star Sports Resort is divided into 5 different sections themed to 5 different sports: basketball, football, baseball, tennis and surfing.  There are lots of different reasons to prefer one section over the other (proximity to the main building with the food court & bus transportation, favorite sport, color scheme, etc.) but here at Green Vacation Deals we came up with our ranking of the different sections of All Star Sports Resort:
1. Surf's Up!
Surf's Up is my favorite section at All Sports Resort.  I think it could be your family's too, for a lot of reasons.  
First of all, it's right next to the food court, arcade and access to the buses.  So it is super convenient.  It's also right next to an amazing pool (Surfboard Bay Pool) with a poolside bar (Grandstand Spirits Bar) and near a playground.  
Additionally, the surf theme is really cool and the beautiful blues make it really comfortable. And giving it an ocean type theme means that even if some members of your family don't like sports as much they may still love this section.
The only negative is you have to pay for a preferred room to stay here so you pay more  Disney has a standard room rate and a preferred room rate with the preferred room rate being higher.  The , but I think it is worth it.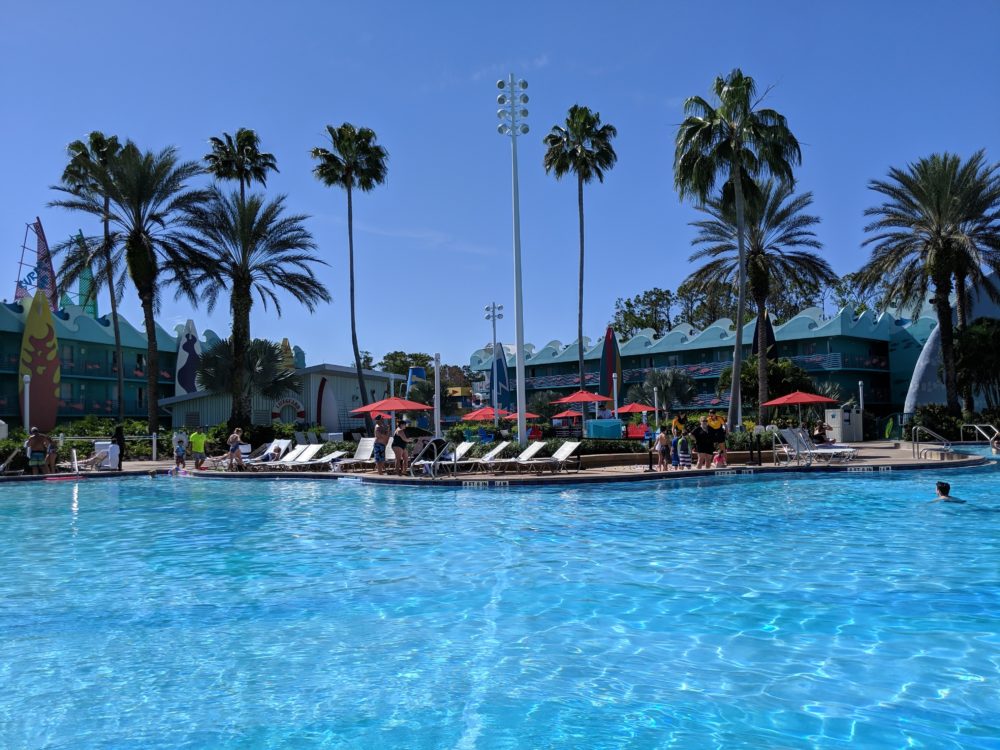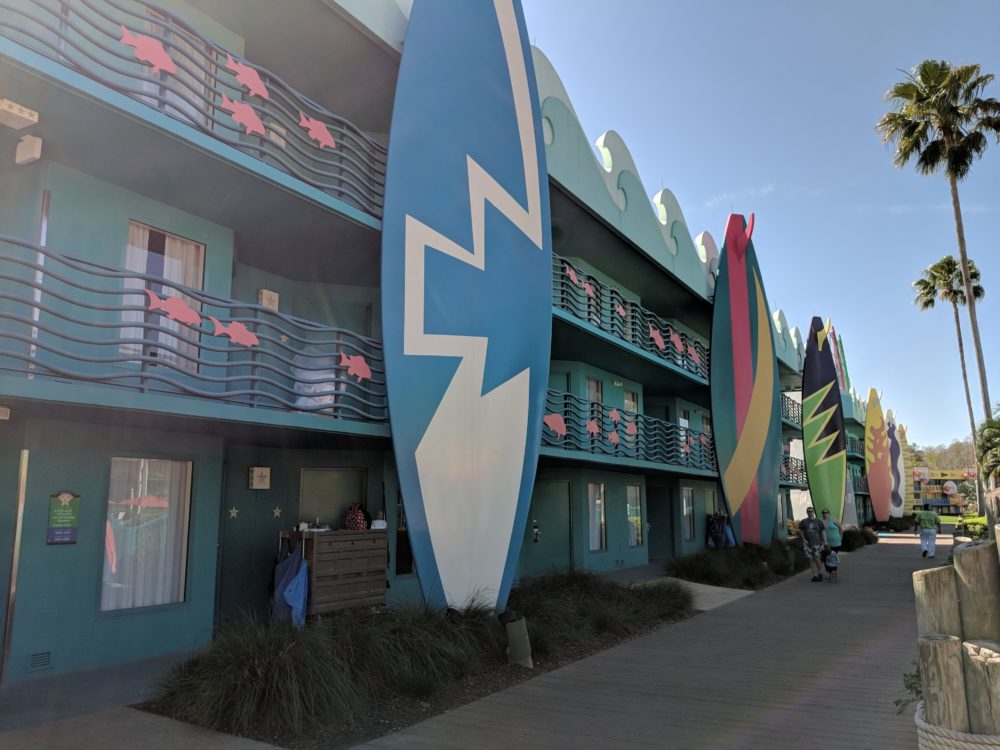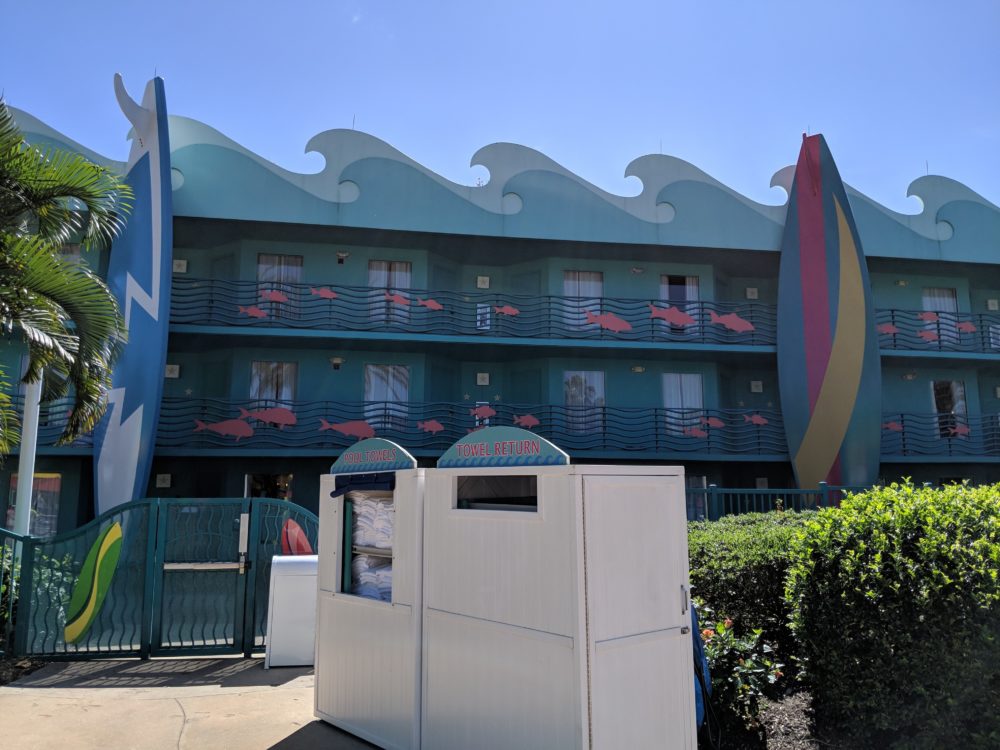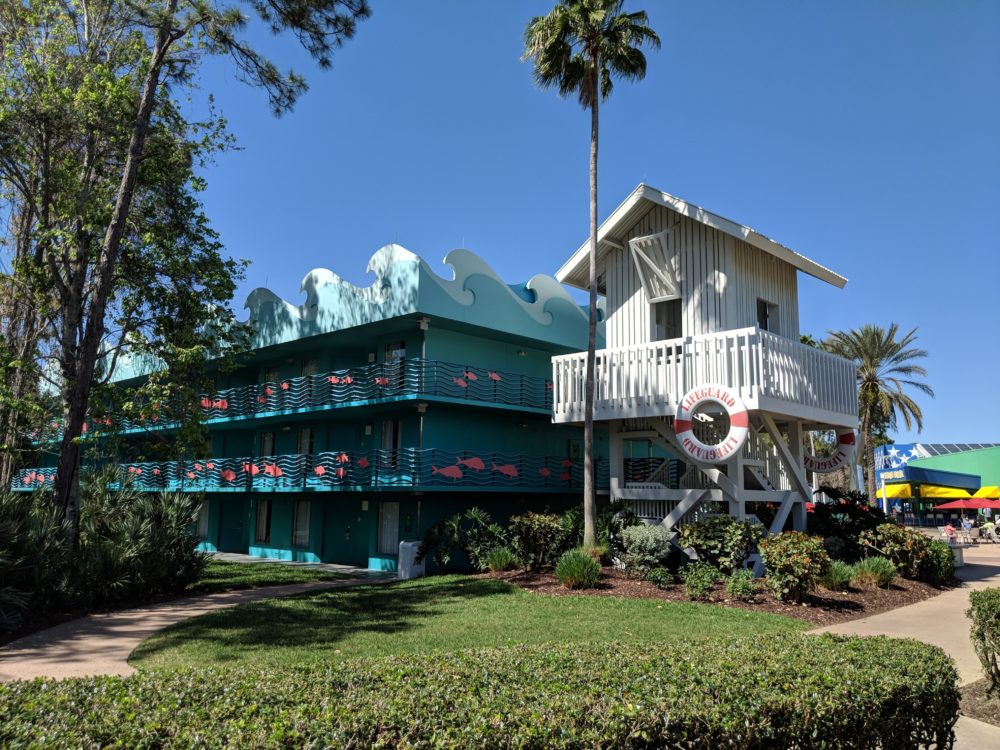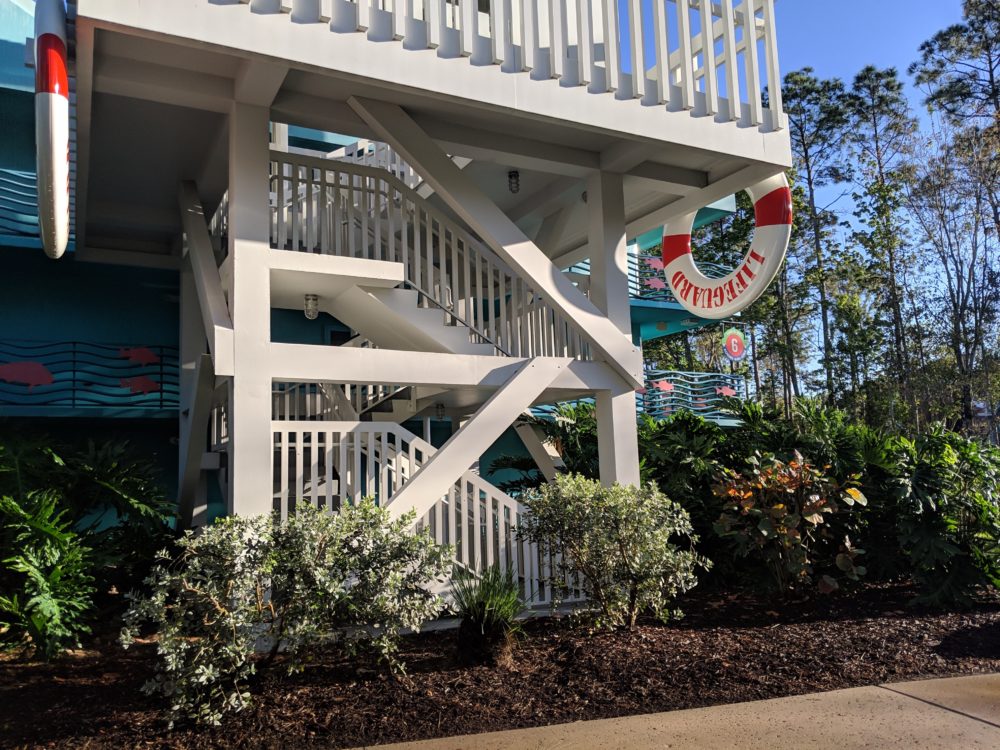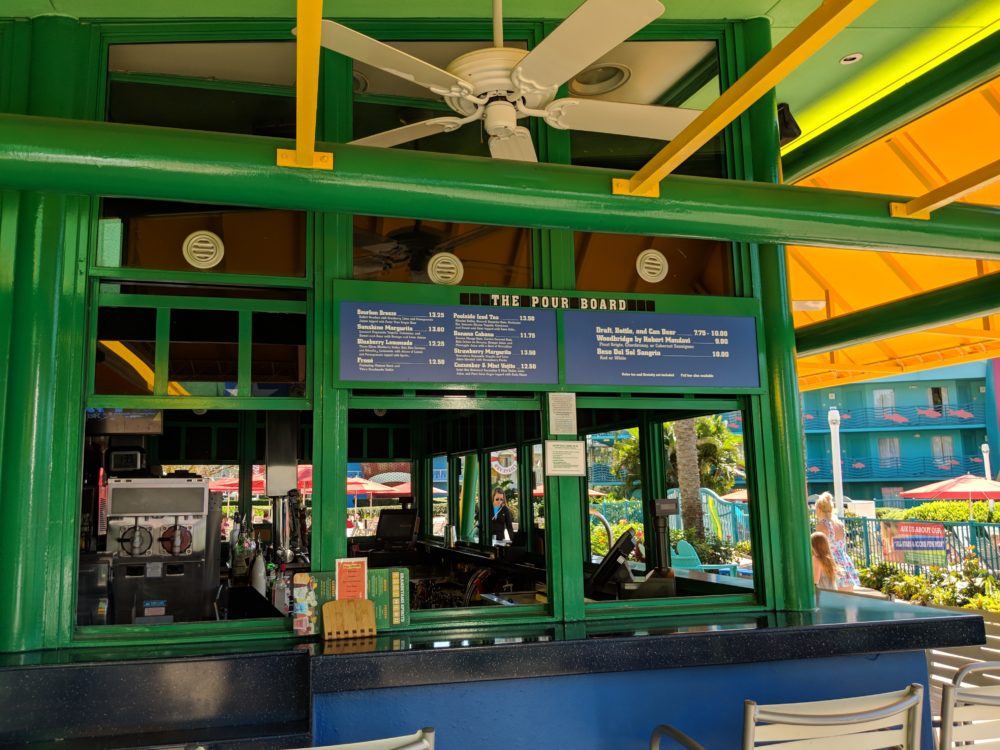 2. Touchdown!
Touchdown! Is my next favorite section.  It is really close to the arcade, food court & busses and it also in between the main pool (Surfboard Bay Pool).  It is also close to a smaller "quiet" pool which in general will be less crowded (The Grand Slam Pool).  So you get your choice of a pool and it won't be much of a walk.  It's also close by the hotel's on-site playground.
The colors in the Touchdown! Section are very colorful and bright.  It has great theming with the football field and the pennants of college teams (and I love the Mickey on the football field!).
One thing I really like about the Touchdown Section too is that your room can even line up with the football field yard line and that makes it a lot easier to find your room at night (and if you've ever spent a significant time wandering around Disney's Coronado Springs Resort at night trying to find your room, you'll really appreciate this). 
The one negative with Touchdown! is that this section also costs more than the other sections because you have to pay a preferred rate.
Refurbished Rooms
Now, since I wrote this blog entry, there has been a brief change that has made me reconsider bumping Touchdown! to number #1.  And that is the refurbished rooms.  Right now, Disney is in the process of refurbishing all of the rooms at All Star Sports.  What I really like about these refurbished rooms is that the rooms have queen beds rather than double beds.  And if you are an adult sharing a bed with another adult, you will greatly appreciate the increased room.  
It will be great when all the rooms have been refurbished.  But right now, the only rooms that have been refurbished are in Touchdown!  Which does make Touchdown! currently more appealing (until, of course, all the rooms have been updated).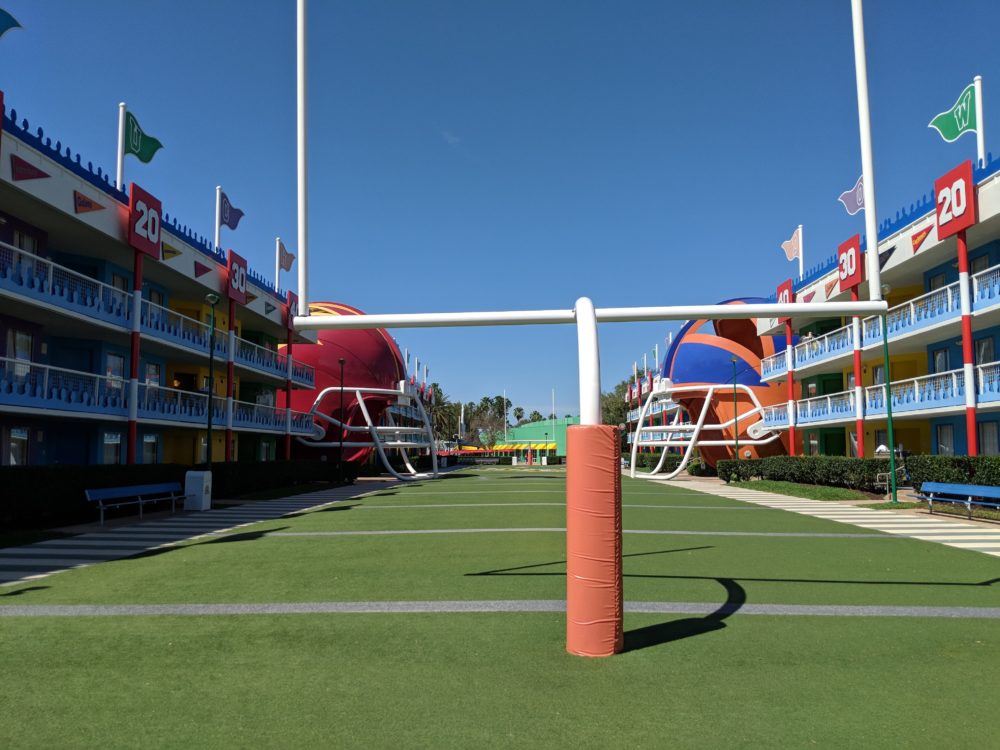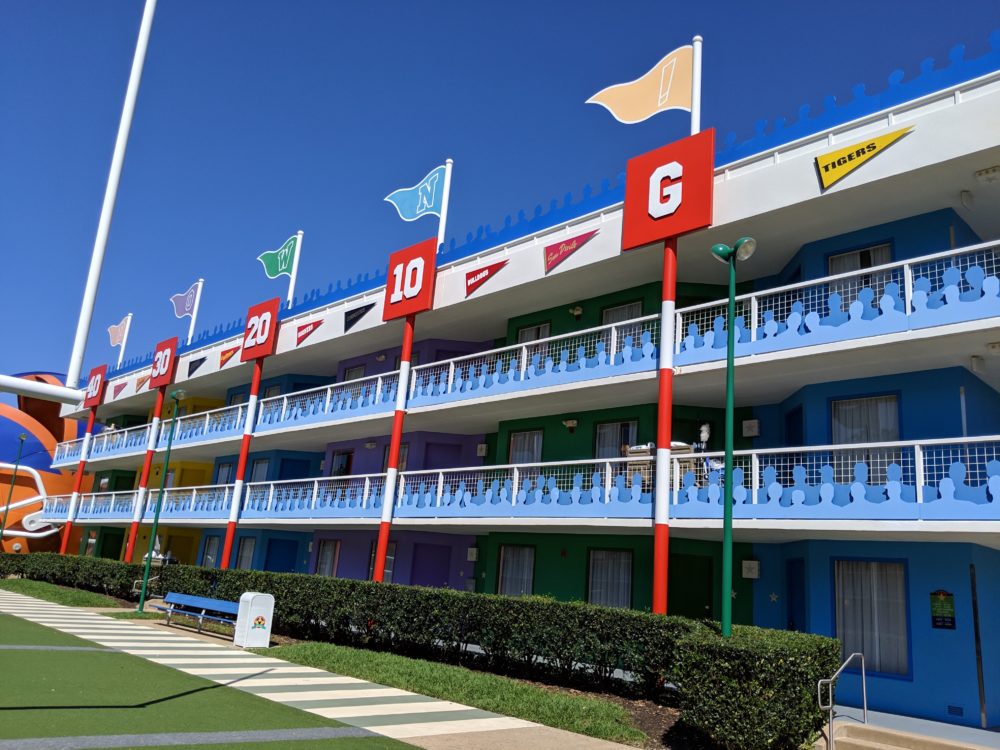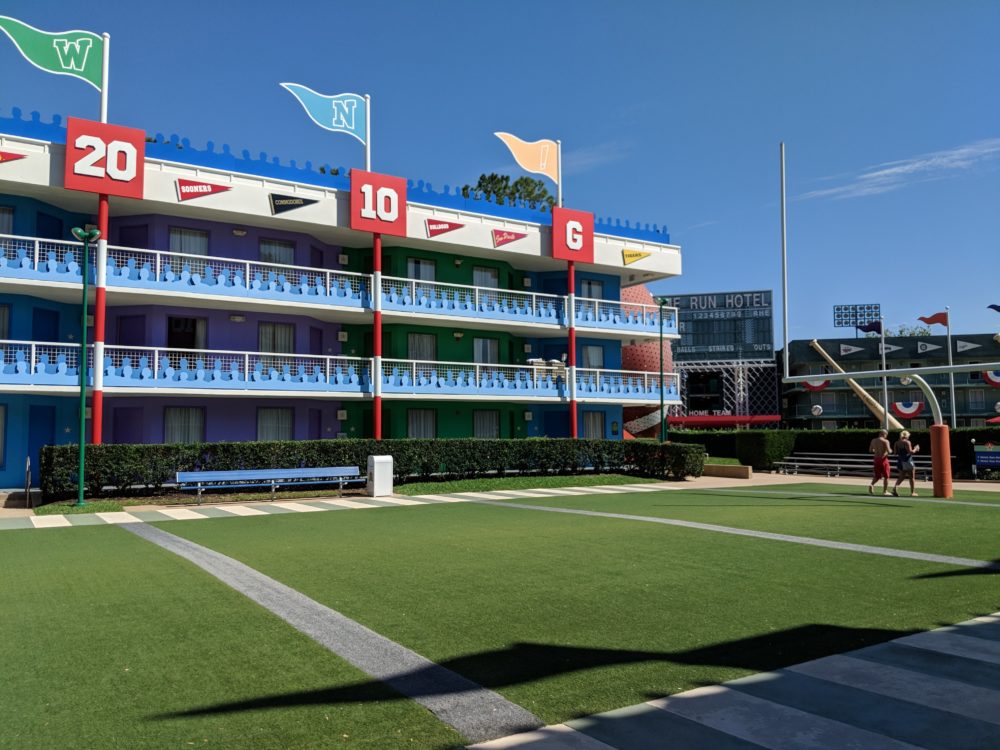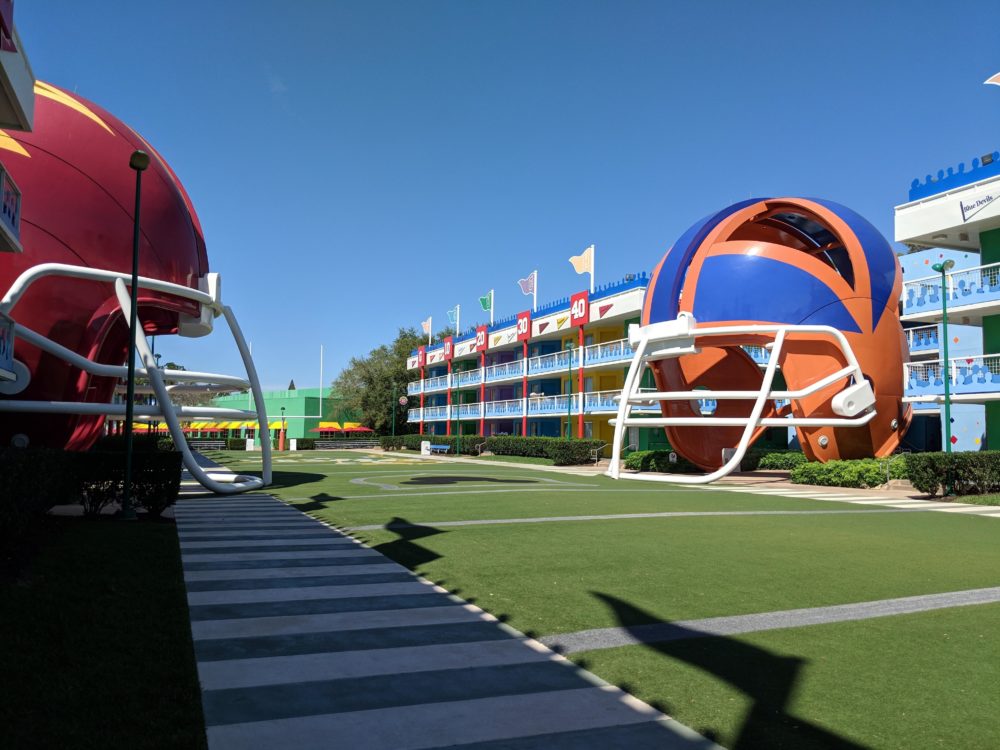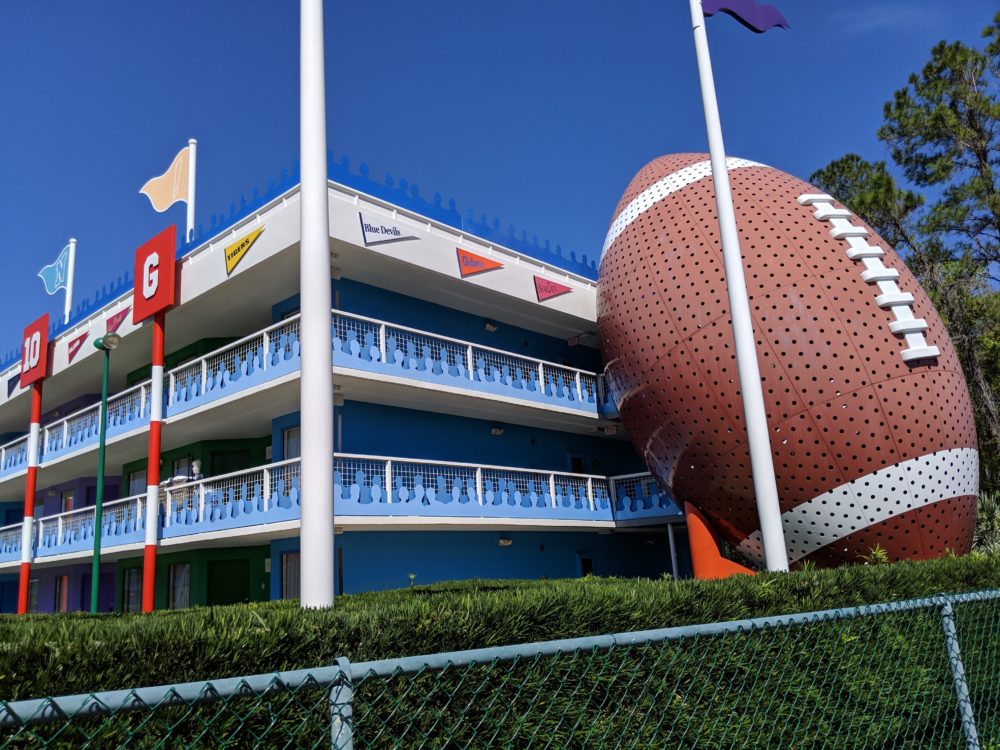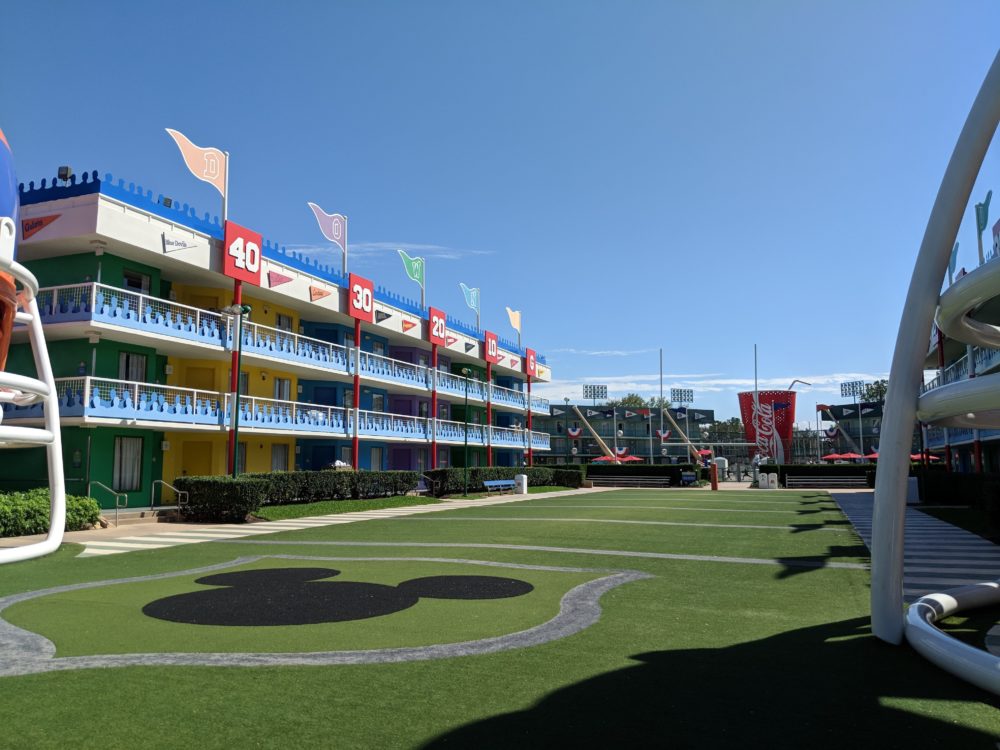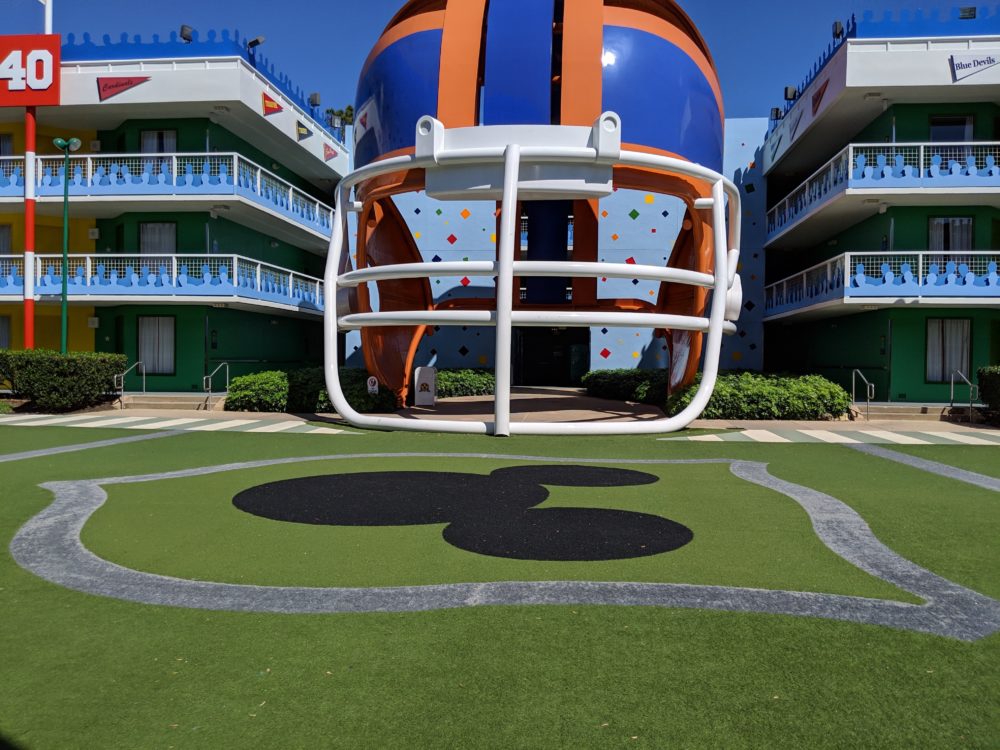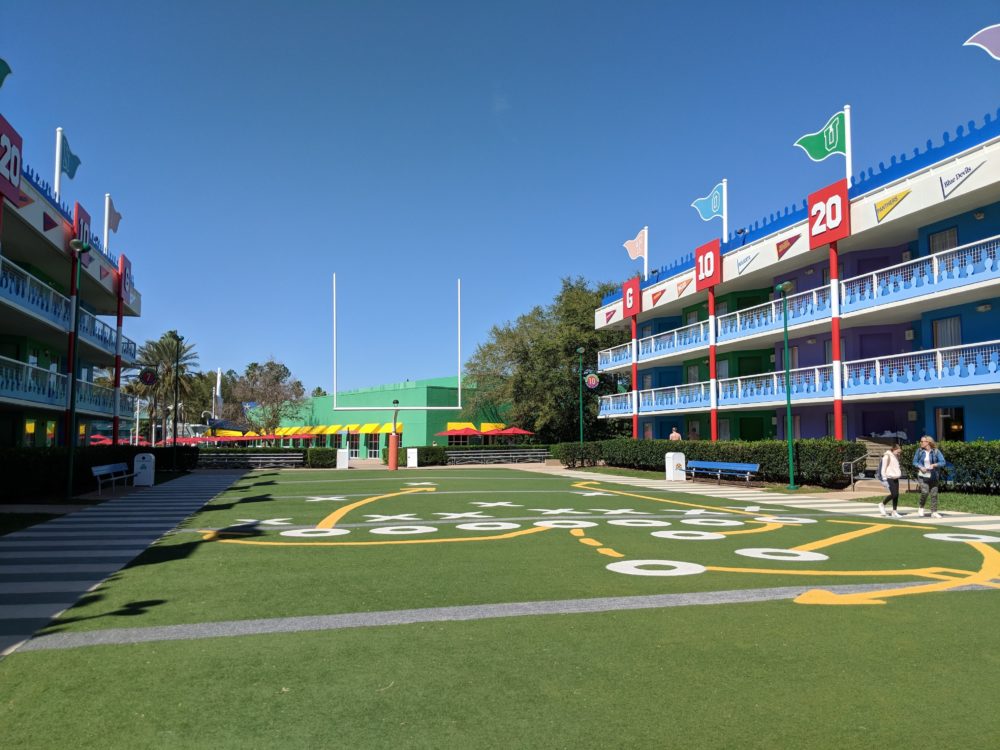 3. Homerun Hotel
So I'm a little bit torn on this section.  Initially, I had this ranked lower because I personally feel like aesthetically, it is the least attractive of the All Star Sports sections.  
But there are some great aspects of the Homerun Hotel that make it better. For starters, you are close to The Grand Slam Pool.  This is great if you want a quick dip in the pool without having to walk a long amount.  
You are also very close to not only the All Star Sports food court but the All Star Music food court as well.  This can give your family a variety of food options during your vacation, which can be really neat if you're staying there for awhile.  
You are close to both the busses at All Star Sports and All Star Music.  That means when you are returning back to your hotel you can take the All Star Music bus or the All Star Sports bus which means you are less likely to have to wait a long time for the bus.  Please note, however, that at off peak times Disney does combine the busses for all the All Star Resorts.  
You are also very close to parking so if you are driving to Disney World, it is a lot easier to load and unload your car. And I do like the pennants with MLB teams. So that's how the Homerun Hotel section snuck its way up to #3.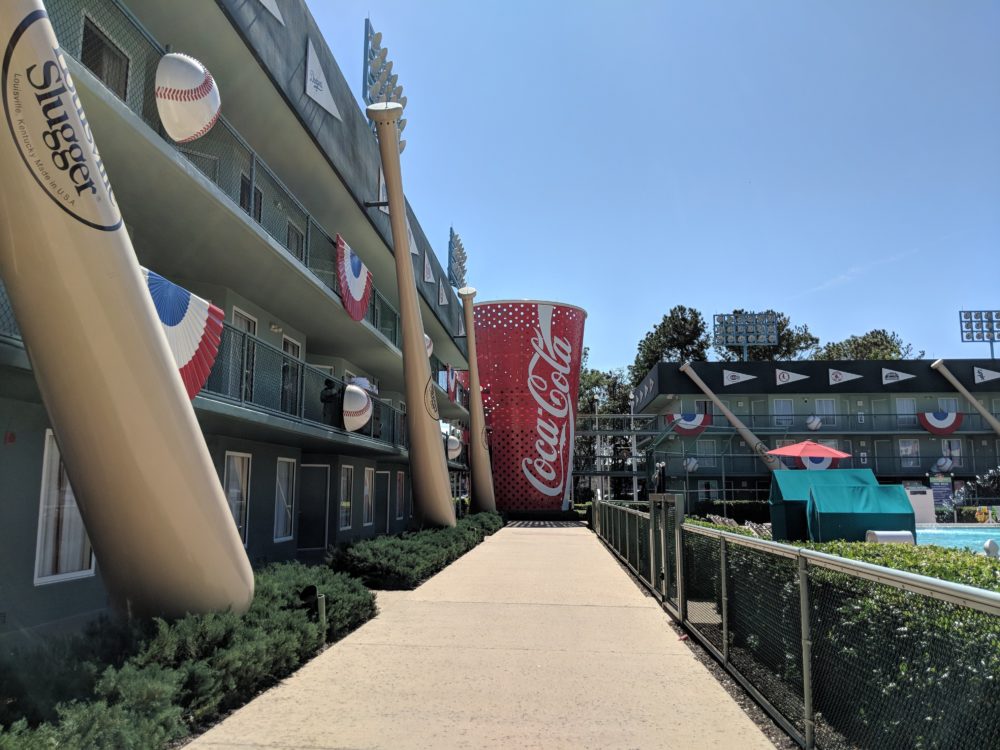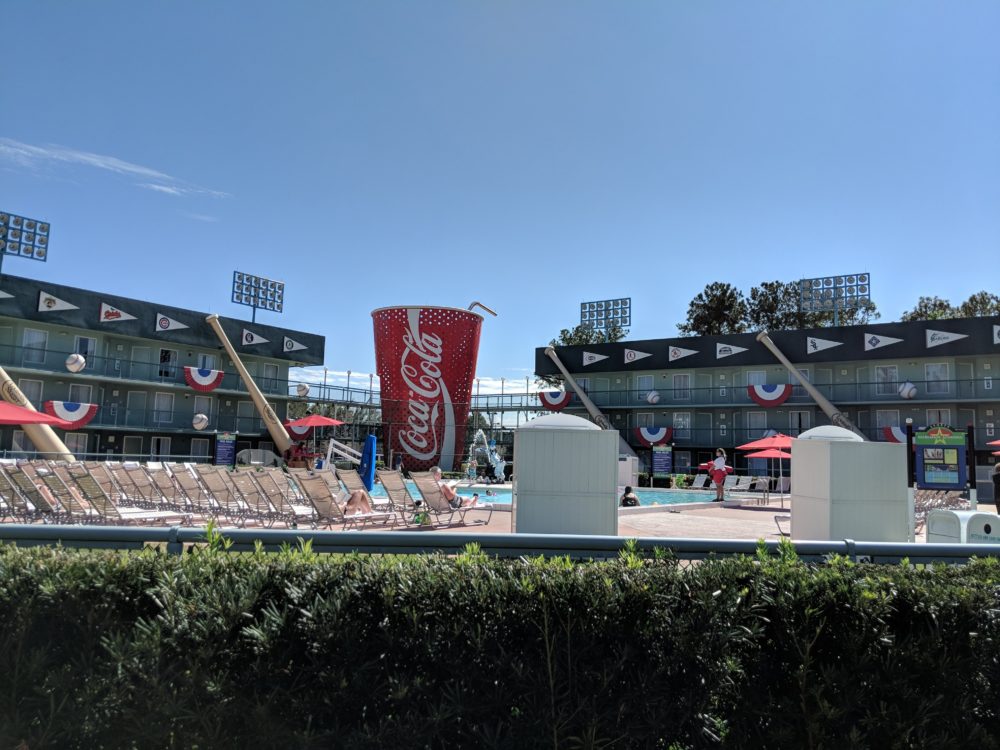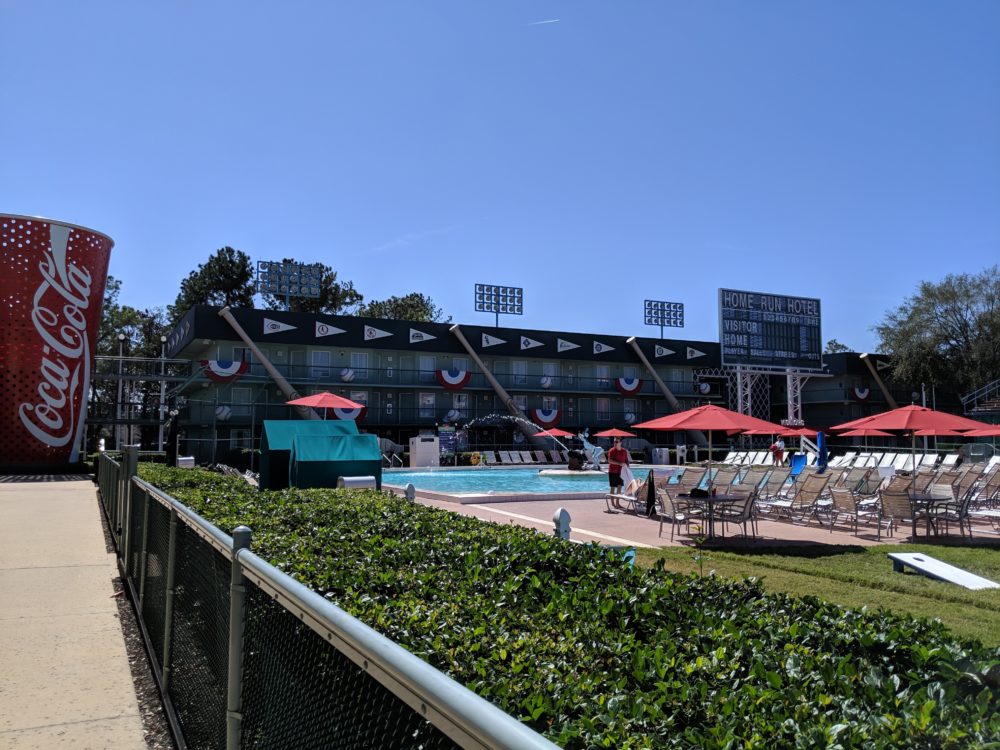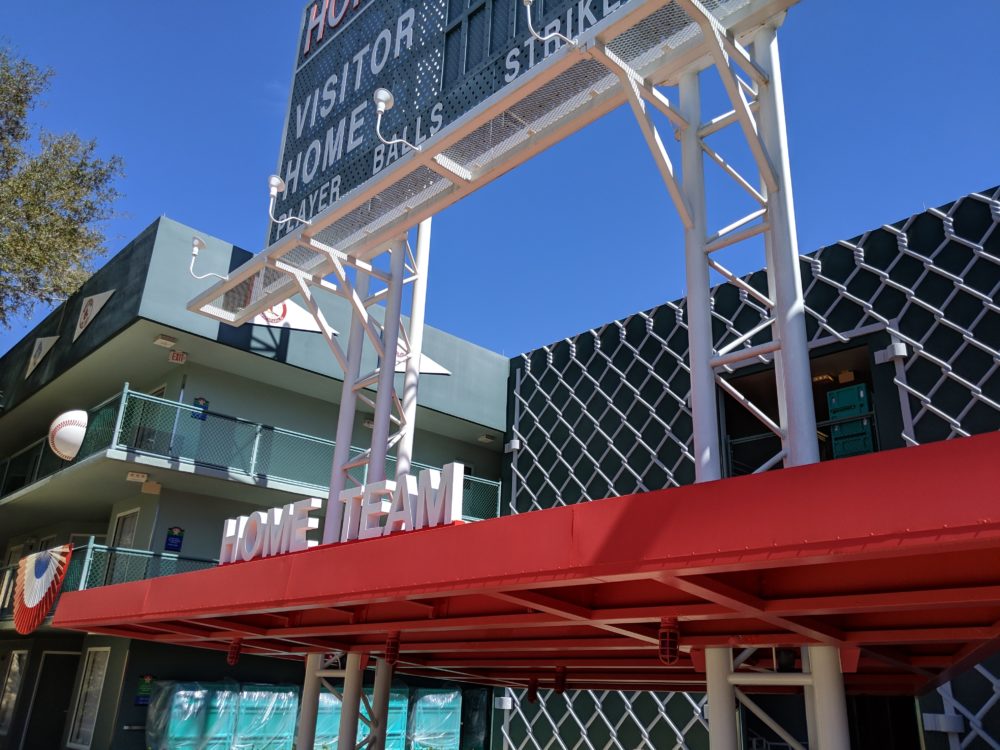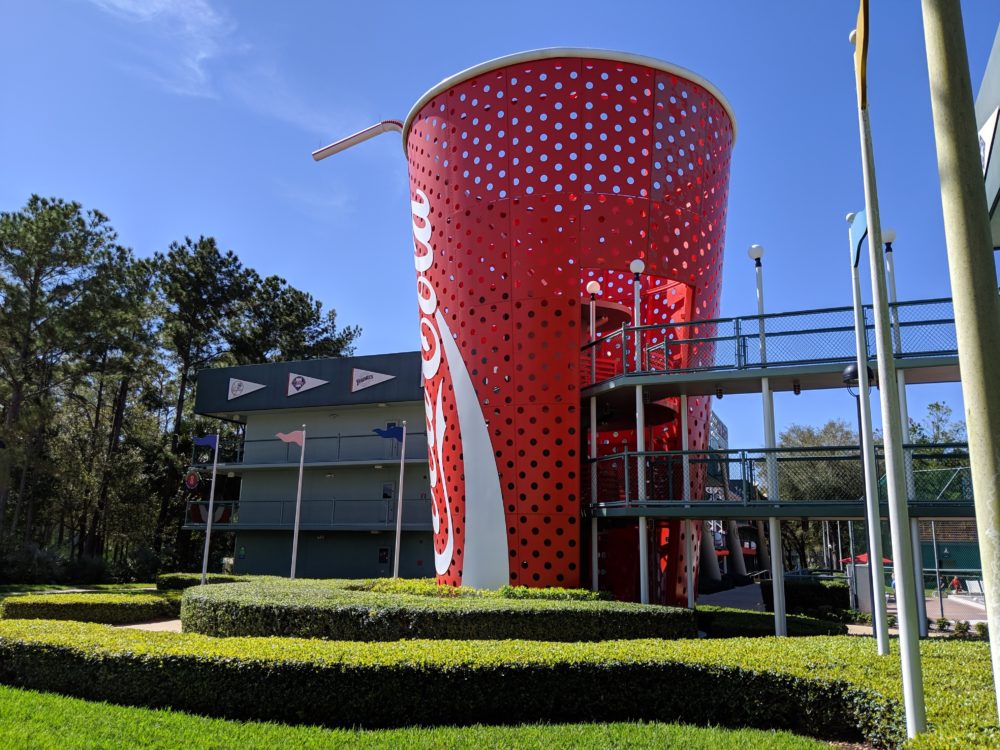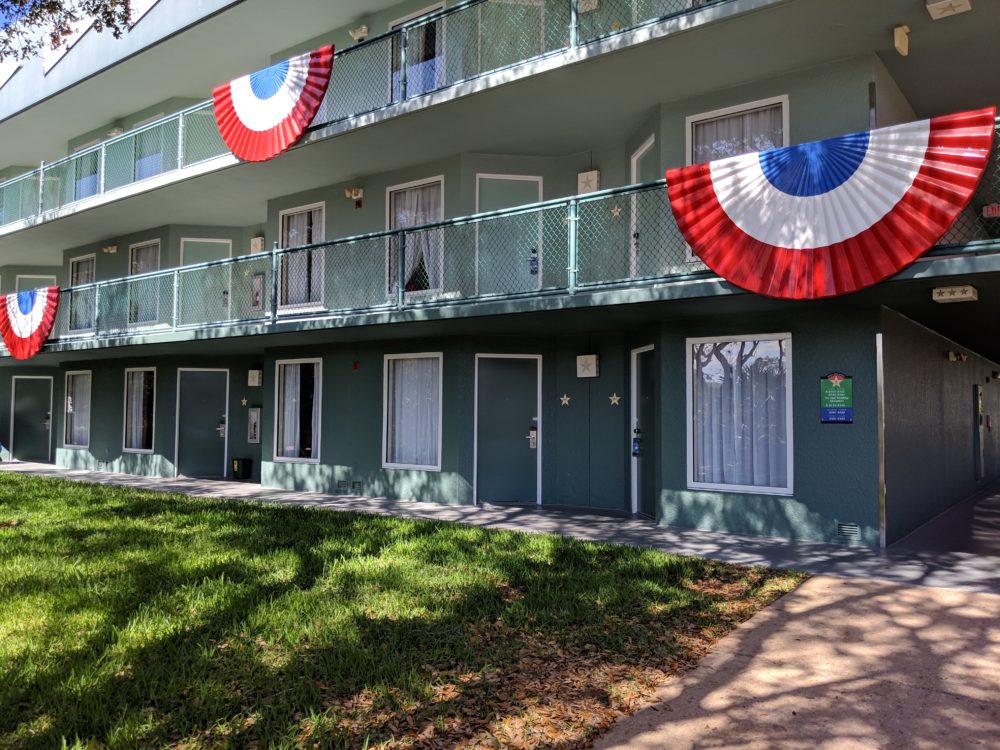 4. Center Court
Center Court doesn't get any higher on my list because you're not that close to the food court, arcade, busses or pools.  But Center Court does have not only a tennis theme but great Disney theming with Donald Duck and a tennis racket and Huey, Dewey and Louie playing…baseball (which actually doesn't fit the theming and really made no sense to me…but they're so cute that helps make up for it!).  Another great thing about Center Court is that if you drive to Disney World, it is extremely close to the parking lot.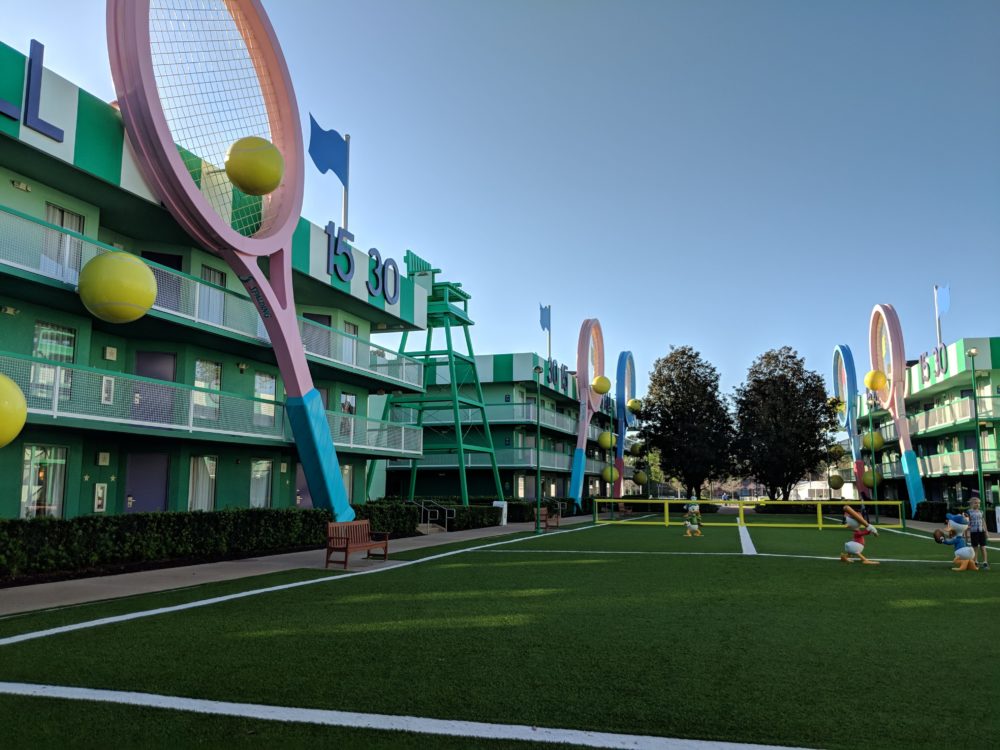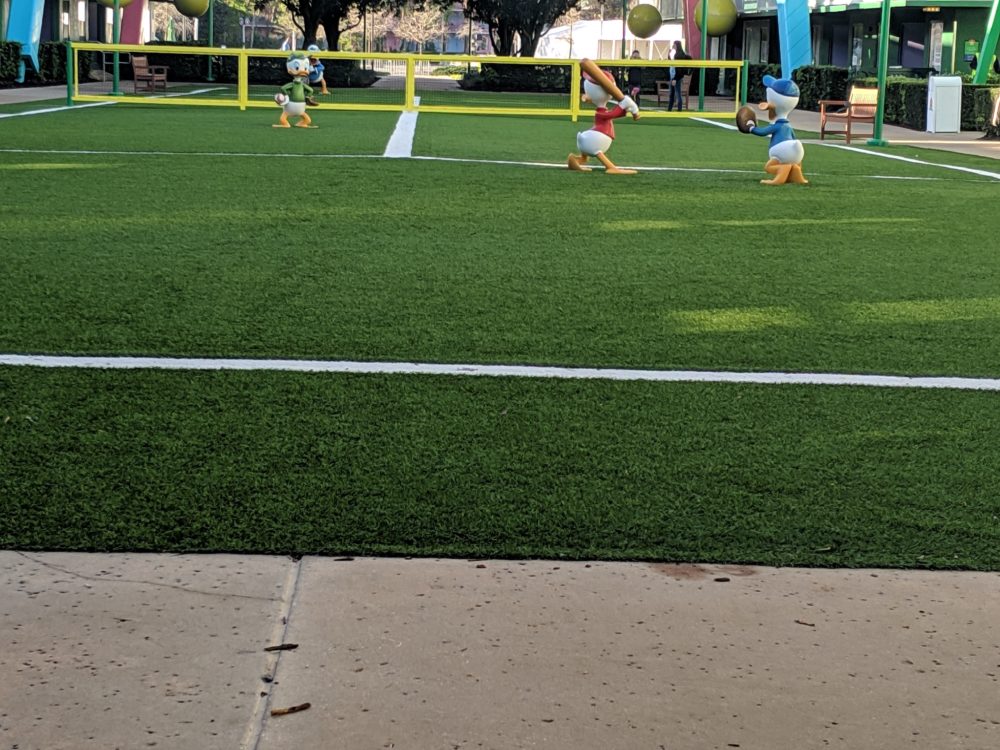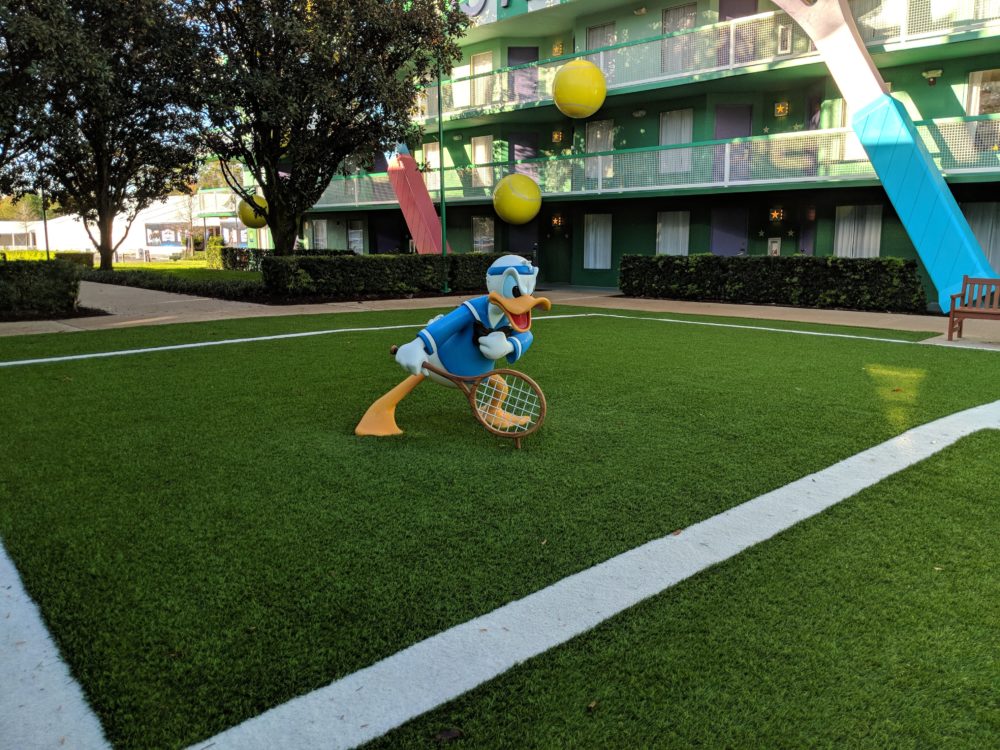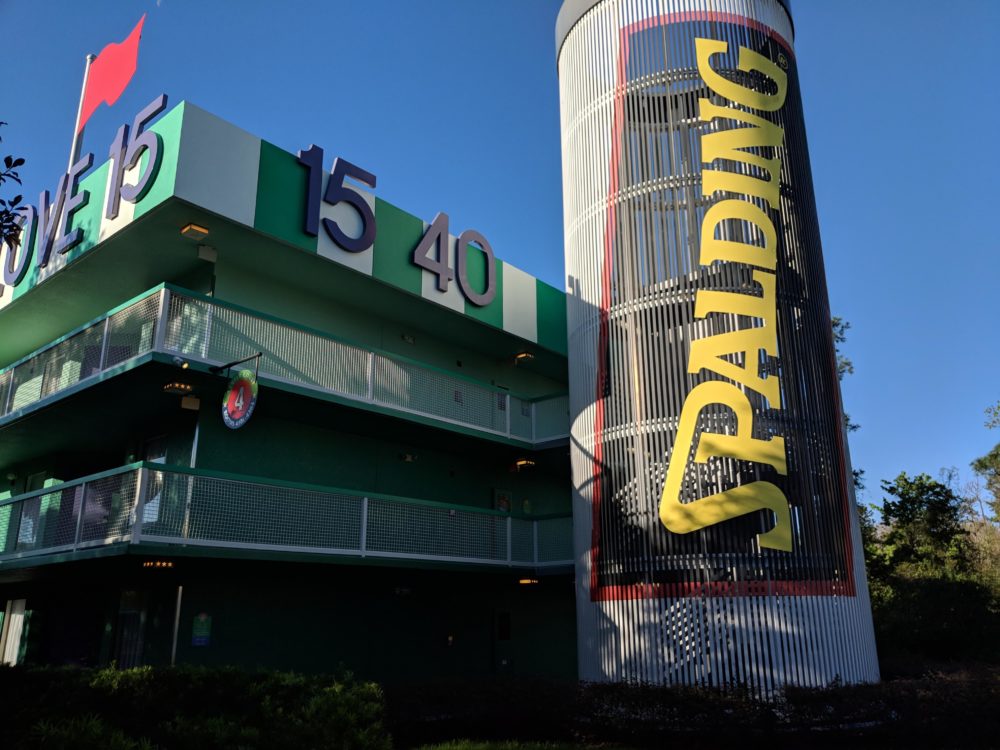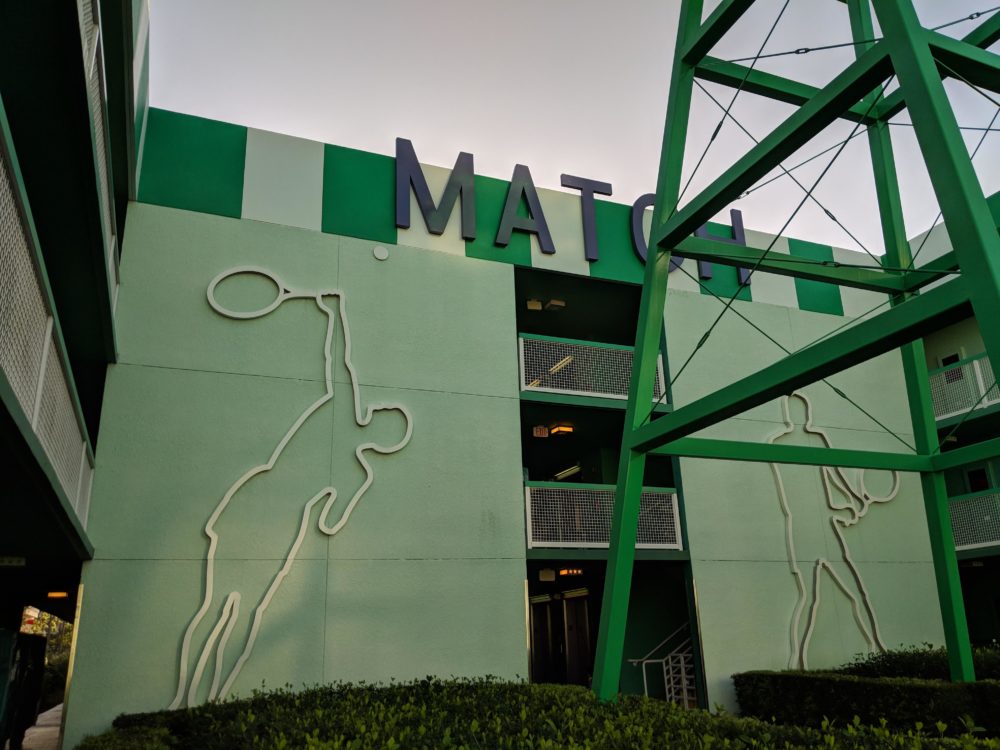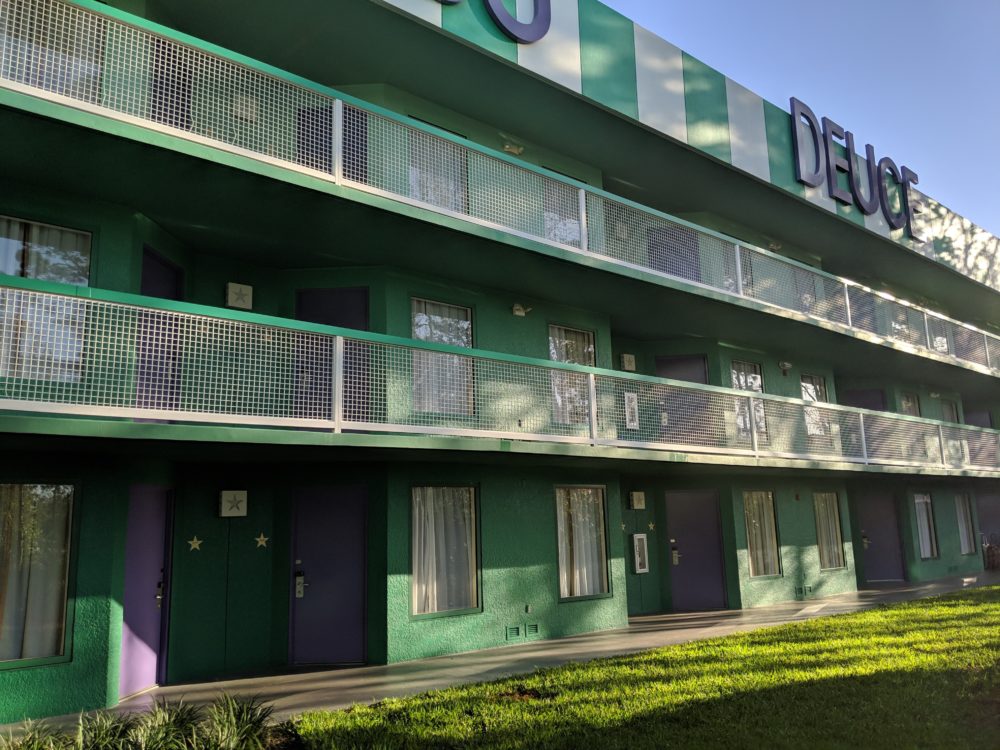 Hoops Hotel
The huge basketball courts and colors used are aesthetically pleasing and as a lifelong basketball fan, I like this section for sentimental reasons.  So that's the good news if you're staying in this section (because, honestly, none of the sections are bad; this is a great hotel).
But here's the weakness of this section.  It's not close to the busses, food court or main pool and it is very far away from the quiet pool.  It is also not very convenient to parking. And the pennants up for college teams are basically the same as football so I would rather this section (or the football for that matter) to be more unique. So this is why this doesn't rate higher for me.