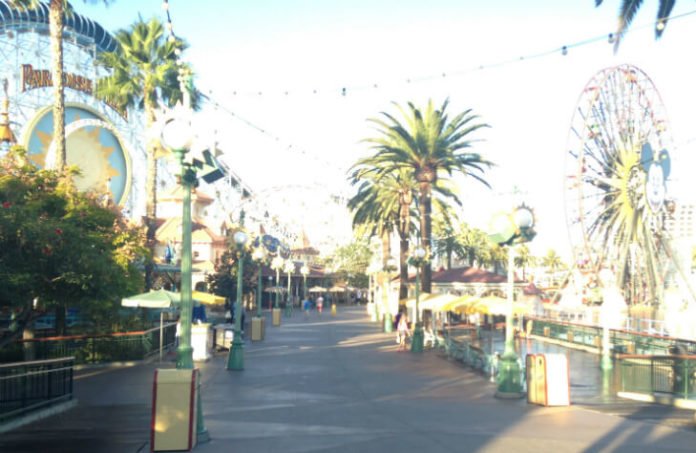 If you click on the links in this post, we may earn money from the companies mentioned in this post, at no extra cost to you. You can read the full disclaimer here.
Enjoy delicious foods & wonderful drinks at the Food & Wine Festival at Disney's California Adventure theme park in Anaheim, California from March 2nd to April 12th
The theme park will have great culinary demonstrations, foods, dinners and more throughout the park, with different events that will be great fun for the youngest guests, plus those ages 21 years and older.
Please note that to attend functions at Disney's California Adventure, you will need admission into the theme park, and some of these events will cost extra.  You can save money on your California Adventure admission by taking advantage of a current ticket deal available through Reserve Los Angeles– so take advantage of that deal now while it lasts!
Festival Marketplace: There will be over a dozen different outdoor Marketplaces throughout California Adventure Park, each with California-inspired small plates with California-grown ingredients such as avocados, peppers & strawberries. You can also purchase specialty wines & craft beers here, too.
Celebrity Chef Guy Fieri: Celebrity chef Guy Fieri (a personal favorite of mine) will cook up excitement on stage at the Palisades Stage, followed by a tasting reception.
Sweet Sundays: You'll enjoy a light breakfast to start the start the day plus a sparkling wine toast & then you'll enjoy entertaining baking demonstrations by celebrity pastry chefs Keegan Gerhard (Food Network Challenge), Emily Ellyn (Food Network Star & Cutthroat Kitchen) & Matt Lewis (Baked (NY & Tokyo) & Baked: New Frontiers in Baking). You'll also get to sample the completed creations!
Winemakers Dinner: You can pick from 2 nights of gourmet wine-focused pairings: March 22, 2019 & April 19, 2019. This takes place at Carthay Circle Restaurant in California Adventure. Each event highlights a different California vintner: on March 22nd, it is MacMurray Ranch Vineyards & on April 19th, it is Silverado Vineyards.
Dinner with the Disney Chefs: Meet the Disney chefs featured in the Disney Festivals Cookbook (which I highly recommend and you can get at a deal through Ebay) during a 4-course dinner featuring cuisines & cultures from around the world.
Wine, Beer & Spirit Education & Testing Seminar: Enjoy a 30-45 minute session led by a beverage industry professional. At the wine education & tasting seminar, you can learn about California wines at the Sonoma Terrace at Golden Vine Winery.  At the beer education & tasting seminars, you can learn about what goes into making beer & samples will be presented with notes about flavors, how to serve each one & good ideas for food pairings.  Each Spirits Education & Tasting Seminar will focus on a single spirit or a style of drink & will end with the featured cocktail, which you would have prepared!
Family Friendly Seminars: Guest presenters will share their expertise with guests during 20- to 30-minute appearances on select days throughout the Food & Wine Festival at the Backlot Stage in Hollywood Land. Their presentations will include a variety of topics as well as cooking demonstrations, and there is no extra fee for these seminars, just the admission into California Adventure theme park!
Culinary Demonstrations: You can watch popular chefs present a culinary demonstration on the Palisades Stage at Paradise Parkin California Adventure. There is no additional cost to watch the demonstration, but it is standing room only.  You can also buy a VIP package for $30/person where you'll get reserved seating, a private meet & greet with the chef following the demonstration plus a sample tasting of the chef's prepared dish.
Jr. Chefs: Under the supervision of Chef Goofy, kids ages 3 to 11 years old will get a "cooking experience" where they will follow a recipe and then swirl everything together. The finished goodies will then go into the oven, and then each child will get a wrapped, ready-to-eat baked treat.
Festival Merchandise: Remember this event for years to come by purchasing festival event shirts, hats, drinkware, ornaments, water bottle & more at Festival Merchandise Carts, Seaside Souvenirs, Festival Gifts (in Hollywood Backlot, near Stage 12) & Studio Store