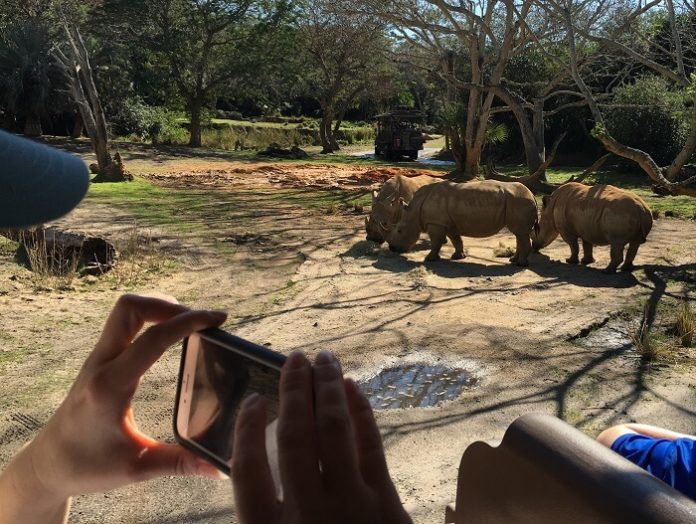 If you click on the links in this post, we may earn money from the companies mentioned in this post, at no extra cost to you. You can read the full disclaimer here.
If one thing could really ruin your trip to Disney World, it would be picking up your phone…and then realizing it's dead.  You might not think so, but your phone is actually a big part of your trip.  You can use your phone to book fast passes if you haven't done so already or to book more fast passes after you've already used your first three fast passes.  You can use your phone to book a dining reservation.  You can also use your phone for mobile ordering food & beverage, which I used last time I was there at Columbia Harbor House & Pinocchio Village Haus at Magic Kingdom and the ABC Comissary at Hollywood Studios and it was a huge help & time saver, especially when it was really busy at the ABC Commissary and I was able to go ahead and snag a table and then do my online order.  You can also use your phone to check various apps to see how long the lines are at rides.  Also, I haven't even begun to mention the fact that your phone serves as a camera.  I know you would hate to miss out on recording your child's first ride on Dumbo or your kid doing the Jedi Training Academy or Enchanted Tales with Belle or amazing animals on the Kilimanjaro Safari because your phone was out of juice!  A few years ago, before I came up with a solution to this problem, I found myself limiting the pictures I took to preserve my battery, and when I went back home and I wanted to look through my pictures to relive my trip, I was sad to see I missed out on so many photo opportunities.  Plus, there's that whole thing where your phone is, well, a phone.  If you become separated from your family, you'll want that phone to text or call to determine a place to meet up with your family.  And then there's the whole waiting in line thing.  I use my phone while I wait in line or wait for a show like the Indiana Jones Stunt Show to begin (I am often using it to earn Swagbucks to earn money for my next Disney World trip!).
So, the question is, how do you prevent this from happening?  Disney World will tell you what you can do, but I do not recommend them.  You can purchase a portable phone charging system at Disney World but like everything in Disney World, it's overpriced.  Plus, you would have to stop what you're doing and find a kiosk, and this can really hurt your vacation, especially if you end up missing your fast pass time or advanced dining reservation.
So, then, what is the answer?  Well, I have found one thing that completely changed my trips to Walt Disney World, and the answer to that is to buy your own portable charger.  Here are the two that I recommend:
Portable Charger Anker PowerCore
This is actually a charger I bought a few days before a Disney World trip when I started worrying about my phone staying charged (I bought it through Amazon and because I am a prime member I got it extremely quickly – and for a great price). This has become my favorite charger because it keeps my phone charged for an extremely long time.  You can charge this at night in your hotel room, and then put it in your bag.  I like how it has two separate USB ports so you can charge multiple phones at the same time; in the past I have sat by my sister during lunch and we would charge our phones together at the same time.
The only negative to this charger is that it is heavy. For me it is still completely worth it but if you don't like the idea of something weighing down your bag, here is a second option:
Tzumi PocketJuice Endurance AC
The great thing about this one is that it is very lightweight.  Now, it does not charge your phone for as long, but it weighs next to nothing so it would not weigh you down.  And as long as both your phone & your portable charger are fully charged when you get to the park, you should be fine.
I actually own both of these and use both and have both in my bag.  I like to record things and I do not want to waste any time on my trip worrying about my phone dying, because I am incredibly worry wart.  But it's really up to you.  You could also consider buying multiple lightweight chargers so multiple members of your family so each can carry one and you'll all be fine.  But again, it is up to you.
Now, one more thing: if you are concerned that there won't be enough USB ports in your hotel room to charge multiple portable chargers and other devices at night, then you can purchase this USB charger, which I highly recommend.  You can just plug this in the wall and now you'll be able to charge a lot of devices at the same time.  You could also consider staying at Pop Century, which I've found to have the most USB ports in their room in all of Walt Disney World.
Save this for later – pin it to your favorite Disney or travel Pinterest board!