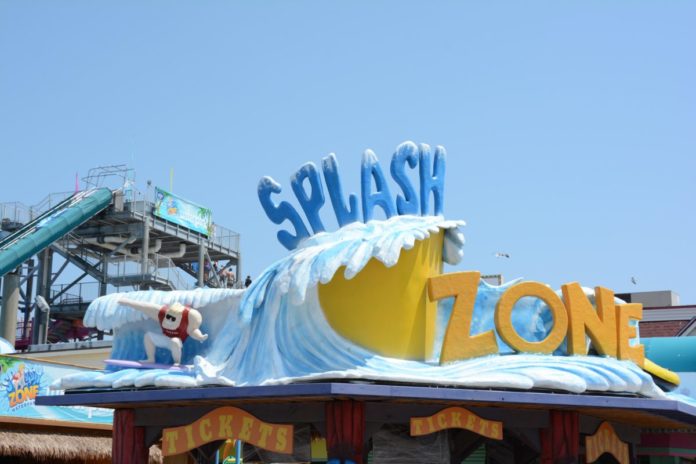 If you click on the links in this post, we may earn money from the companies mentioned in this post, at no extra cost to you. You can read the full disclaimer here.
If you are planning a family vacation to Wildwood, New Jersey this summer, then you're going to want to visit Splash Zone water park…and you're going to want to save money with this Splash Zone Wildwood coupon!
Splash Zone has so many popular attractions that make guests want to keep coming back each year:
Beast of the East: On this fun, 5-person whitewater rapids ride, you'll get to enjoy views of the beach & boardwalk as you soar down this ride
The Abyss: On this ride, you'll exit the second level of Hurricane Island via the Abyss, an express body flume…right into refreshing cool water!
Slide Winder: A 373 foot open-air single or double rider tube slide ride
The Speed Dominator: This is an exciting, fast body flume ride
Rivy's River: Enjoy the sights & sounds of Wildwood's boardwalk as you relax on an inner tube in this lazy river ride
The Terminator: This is a classic, fun water thrill ride!
The Creamator: A speedy body flume ride
Free Falls: Free fall on this slide ride
Hurricane Island: A great 3-level water play area for the kids & kids at heart!
The Giant Bucket: Every 3 minutes, 1,000 gallons of water will splash down on you from a Giant Bucket!
Zoe Zone: A play area specifically designed for toddlers & babies
Slippery Chutes: The two newest slides at Splash Zone are sure to become a quick favorite for kids who visit Splash Zone this summer
Close Encounters: This new enclosed tube ride is sure to also be a favorite for years to come!
FlowHouse: Here, you can enjoy music, entertainment, food, drinks…and the FlowRider Double!
And you can enjoy all this at a discount rate by clicking on this link for a coupon – you'll be able to save up to 54% off the price of tickets!
And you can save even more money on your family vacation to Wildwood, New Jersey with these Wildwood hotel deals.