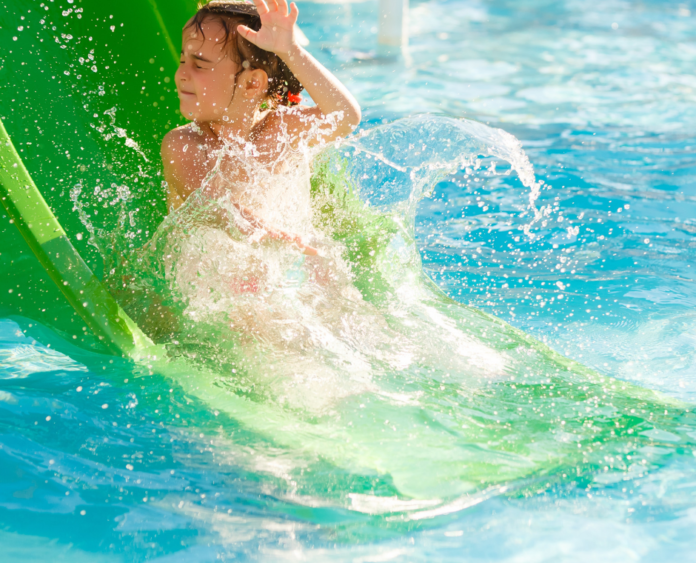 If you click on the links in this post, we may earn money from the companies mentioned in this post, at no extra cost to you. You can read the full disclaimer here.
The Beach Waterpark
The Beach Waterpark is a great family-friendly water park in Mason, Ohio area.  And while you may not think of the beach when you think of the Cincinnati area, you'll feel like you're at the beach at this waterpark!  Its beach theme is evident throughout the park, where you'll see white ocean sands, waterfalls, and palm trees!
In addition to the great theming, there are a lot of really great rides and attractions at this water park.  We'll go into detail about them here.
Rides
Big Surf Wave Pool
The Big Surf Wave Pool is the largest tropical beach in all of Ohio!  You can splash around in ocean waves or lounge under palm trees here.  Like the beach, the entry into the pool is shallow and is great for all ages.  And there is even now a new Kiddie Cove here for the younger children and toddlers.
The Cliff
This slide is not only one of the best at The Beach Waterpark, but it is one of the best in the country!  You drop five stories in three seconds on this thrill ride!
Kamikaze
The Kamikaze is the longest slide at The Beach Waterpark and, as the name would imply, it is not for the faint at heart!  You'll enjoy a towering plunge of twists and turns through the woods.  You'll fly around a 360-degree spiral and a 180-degree turn.
Riptide Racer
Riptide Racer is one of the newest attractions at The Beach Waterpark.  It is a four-lane racing slide.
Maui Wowie
Grab a friend and take a ride down the Maui Wowie on a double tube.  You'll enjoy three gradual drop-offs until you reach the High Tide Pool.
Hang Ten
This is a fast, enclosed slide where you'll zoom through the dark until you get to the final splashdown.
Runaway Rapids
Enjoy twists and turns on a one-person tube at Runaway Rapids.  This is a fun whitewater adventure ride.
Cowabunga Curl
This slide is popular for its high arching turns and three unique racing slide flumes.
Pipeline Plunge
The Pipeline Plunge is a fully enclosed translucent tubular body slide.  It ends with you plunging into the High Tide pool.
Kokomo Lazy River
Relax on a 1,200-foot long river that will move you along at 5-miles an hour.
Banzai Blast
You and a friend can slide side by side on these side by side triple-drop slides!
High Tide Hoops
Get a game of basketball going with friends or family in the pool at High Tide Hoops!
Sand Volleyball Courts
Volleyball more your sport?  Then head to the sand for a game of volleyball!
Paradise Cove
This spa pool is set to 86 degrees and is a great place for relaxation.  It is surrounded with waterfalls and gorgeous rock formations.
Big Creek Beach
Enjoy The Beach Waterpark's imagining of the great northern wilderness.  This is a fun children's play area with three different slides.  It is a great place to cool off in the summer.  There's a 600-gallon dump bucket and water cannons that will make sure you stay cool!
Lil' Kahunas Waterworks
If Big Creek Beach is the place to go for kids, then Lil' Kahunas Waterworks is the place for toddlers!  There are shooting geysers, misting sprays and cascading fountains that are all perfect for the littlest ones.
Soaring Eagle Zip Line
The Beach Waterpark isn't just fun in the water – it's fun in the air, too!  You'll soar eight stories high on this zip line attraction.
Family Arcade
Head indoors for The Beach Waterpark's new arcade!  There is a huge variety of games for all ages here.  This is perfect when you want to go indoors or if there's someone in your party who didn't really want to go to the waterpark.
Coupons
If you are looking to save money at The Beach Waterpark, then you've come to the right place!  Click here and you can save up to 40% off regular admission with zip lining passes.  You can even get free soft drinks with this deal!
Other Cincinnati Area Activities
If you are looking for other fun activities in the Cincinnati, Ohio area, then check out our fun activities for kids in Cincinnati blog entry.