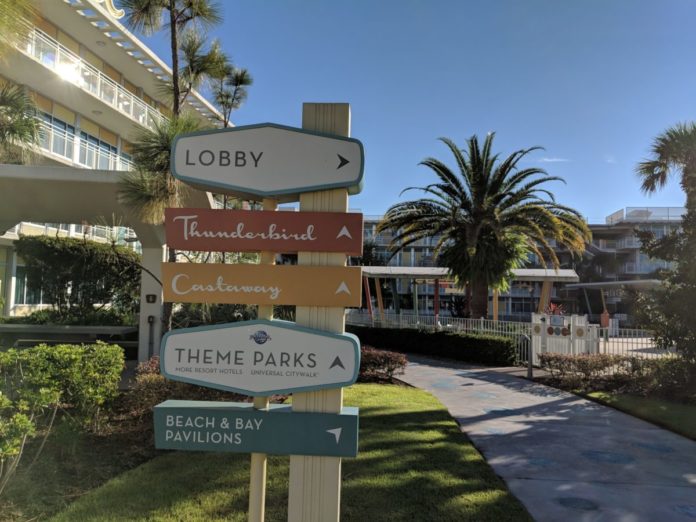 If you click on the links in this post, we may earn money from the companies mentioned in this post, at no extra cost to you. You can read the full disclaimer here.
One of my favorite, if not my very favorite, hotels at the Universal Orlando Resort has to be Universal Orlando's Cabana Bay Beach Resort.  My whole family has had so much fun at Cabana that whenever we visit, we never want to leave!  There are so many reasons that your family will love Cabana Bay Beach Resort, too, so I decided to share 10 of the mains reasons why I think you, too, will love this great hotel:
Capturing the era: The hotel has the theming of a 1950s/1960s beach motel, and the hotel has done a fantastic job of capturing that feel.  Everything from the architecture, pictures up, color scheme, etc. captures the time period.  There are antique cars parked along the hotel entrance.  Once I was here during the holiday scene and even the Christmas tree that was up fit the era!  My favorite part of capturing the era, though, was the food court, Bayliner Diner.  While you eat, you can enjoy commercials from the 1950s and 1960s.  This is a really neat touch that just made me love the hotel even more.
Dining Options: I loved the commercials playing in Bayliner Diner, but I think I loved the food even more.  There is an incredibly large selection of food here; you could eat every meal there during a long stay without having to repeat selections.  I had multiple breakfasts here I loved (waffles, French toast, pancakes) that made deciding what to have in the morning hard, in a good way!  Another thing I loved was the salad bar.  You could build the salad yourself from a large selection of foods and then you would weigh it and pay for it that way – same with a great toppings bar for frozen yogurt.  And I liked how the hotel had the refillable mug system that I like at Disney World hotels.  Unlike the current refillable mug system, their mug was themed to the actual hotel which was neat because now I use it at home and can specifically remember my stay here.  If you want to a change of pace but want to stay at the hotel, Galaxy Bowl Restaurant which is located at the hotel's bowling alley (yes, you heard me right – the hotel has a great bowling alley onsite!).  And if you want more options, there are poolside dining options (Atomic Tonic and the Hideaway Bar & Grille) plus a Starbucks and Swizzle Lounge in the lobby.
Amenities: As I mentioned before, the hotel has a bowling alley, which is a great feature that you don't necessarily expect the hotel to have – and totally fits into the theming of the hotel.  The hotel also has a huge swimming pool with a water slide and a lazy river.  You can relax in a rented Cabana or enjoy fun activities: billiards, chess and checker tables, bag toss games, etc.  The hotel also has an amazing fitness center and arcade.
Rooms: Cabana Bay has some great, spacious rooms that are totally in keeping with the theme, and they also have suite options which are great for larger families.  The beds are incredibly comfortable, too.
Location to the Parks: Cabana Bay Beach Resort is located right next to Volcano Bay water park, so you'll be able to walk to Volcano Bay, which is incredibly convenient because it means you'll be able to get out of your wet swimsuit quicker.  You'll also be able to get some great views of Volcano Bay from some of the rooms (and you can get great views from some of the tables at Bayliner Diner).   You can also walk to Universal Citywalk, Islands of Adventures or Universal Studios, but I would recommend taking the bus (especially if you stay in the Continental or Americana section – more on that in the next section).  The bus system here is great – there are busses always coming and going, so you don't spend a lot of time waiting around.  The bus is incredibly comfortable, too, and gets you pumped with great Universal movie music.
Hotel Layout: In addition to being close to the parks, I also just like the layout of the hotel.  I like how almost every room has something going for it.  If you are located in Continental and Americana, your room is connected to the main building, which was great for me when I visited during holiday season because there were a couple of days that were really cold and I really didn't want to walk outside in the morning (this also works well when it's raining or on really hot days).  But the advantage of the Thunderbird, Castaway, and Starlight buildings is you are closer to walking to Universal CityWalk.  I really like this because sometimes you can stay at a hotel where it seems like certain buildings have all the good features and then other buildings have no good features, but no matter where you end up staying at Cabana Bay, you'll end up like some aspect. And all the buildings are close to a pool.
Extra Universal Perks: Being an official Universal hotel, Cabana Bay has a lot of extra perks that make staying there more worthwhile.  Of course. you benefit from the location, but perhaps the biggest perk is the fact you get early admission to the Wizarding World of Harry Potter and Volcano Bay one hour before the parks officially open (you will, of course, need admission to the park in order to get it – click here to get a great deal on Universal Orlando tickets).  You can also use your room key for charging privileges throughout the resort & for admission to some select live entertainment venues at Universal CityWalk during your entire stay.  And you might be able to see some characters at Cabana Bay, such as the Minions from Despicable Me.
Pricing: With everything this hotel has to offer, you might think this hotel is incredibly expensive, but it's actually not; in fact, it is one of the most affordable hotels at Universal Orlando.  You can often get a room for a family of four for under $200/night, which for a hotel that is literally within walking distance of a popular Orlando theme park is remarkable, especially given the fact that this is an amazing resort with tons of wonderful amenities and an amazing theme.  Just make sure you book directly through Loews website, because if you do not only can you book it for a low rate but they also have extra savings that can help you save money, like discounts for longer stays, better prices for nonpeak times, discounts for senior citizens, AAA or CAA, government employee discounts, etc.
And if you would like to see for yourself how great Cabana Bay Beach Resort is, see our video from our stay here: