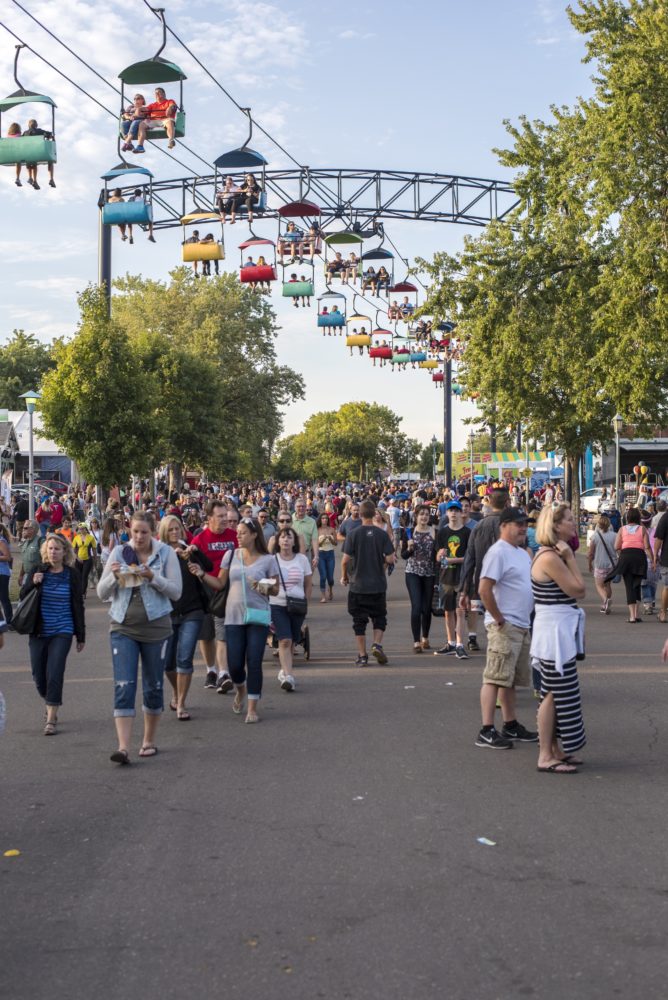 If you click on the links in this post, we may earn money from the companies mentioned in this post, at no extra cost to you. You can read the full disclaimer here.
Find out about the 2023 Minnesota State Fair here.
The Minnesota State Fair is an amazing event and is a huge deal; it is, in fact, the largest state fair in the United States by average daily attendance.
The Minnesota State Fair will be running at the Minnesota State Fairgrounds midway between Minneapolis and St. Paul on August 22nd through September 2nd (Labor Day) this year, and the 2019 Minnesota State Fair is sure to be one of the best yet!
What to Do:
Rides:
Giant Slide
Go Karts
Great Big Wheel
River Raft Ride
Skyride
SkyGlider
Space Tower
Ye Old Mill (a.k.a. the Original Tunnel of Love)
Attractions:
Haunted House
Butterfly House
Bob's Snake Zoo
The X-Zone
Great Big Sandbox
Giant Sing Along
Monty's Traveling Reptile Show
Concerts:
Where to Stay:
Here are some great hotels within 3 miles of the Minnesota State Fairgrounds:
What to Eat:
There are 31 new delicious foods available at the Minnesota State Fair this year:
Bada Bing Sandwich
Blueberry Key Lime Pie
Boozy Berries & 'Barb Trifle
Breakfast Potato Skin
Carnitas Taco Cone
Carolina Pit-Smoked Brisket Taco
Cheesy Sriracha Funnel Cake Bites
Cuban Fusion Fajita
Deep-Fried Dilly Dog
Duck Drummies
Feta Bites
Fried Tacos On-A-Stick
Grilled Sota Sandwich
Halo Cone
The Hot Hen
Irish Whiskey Boneless Wings
Jammi'n Brisket Grilled Cheese
Joey Mary
Lamb T-Bone Chops
Lavender Lemonade
Mini Donut Latte
No Bologna Coney
Nordic Waffles in Pebbles & Bam Bam and Al Pastor varieties
Peaches n' Cream Nachos
Shrimp & Grits Fritters
Snow Cap Mini Waffle Sundae
Stuffed Cabbage Roll
Tipsy Pecan Tart
Turkish Pizza
Warm Cheesecake Tart
Wingwalker Donut Flight