If you click on the links in this post, we may earn money from the companies mentioned in this post, at no extra cost to you. You can read the full disclaimer here.
My family loves visiting Colonial Williamsburg in Virginia.
It's one thing to learn about history.  But it takes it to a whole other level to feel completely immersed in history.  And that's what you get when you visit Colonial Williamsburg.
It is, after, all, the largest outdoor educational living museum in the country.  It is a wonderful way to feel as if you are experiencing 18th-century life.  They have 89 original 18th-century buildings and hundreds more that were reconstructed based on archaeological research and historical records.
You can see highlights of Colonial Williamsburg here.
A lot of these places you can go and see without a ticket.  But a lot of places require a ticket.
Take, for, example, the courthouse.  This is one of my family's favorite places to go when we visit Colonial Williamsburg.  You learn about what law & order was like in the 18th century in an original building.  They always have really interesting historians dressed in character who will answer your questions.
Or take the Governor's Palace, a building built to impress.
This was home to seven different royal governors as well as Virginia's first two elected governors.  I love touring this old house.
You'll need to buy a ticket to Colonial Williamsburg in order to visit both The Governor's Palace and the courthouse.  Other places you'll need a ticket to visit include the Public Gaol (or jail), the Capitol, the Peyton Randolph House, the James Geddy House, the Everard House, the George Wythe House, Charlton's Coffeehouse, Raleigh Tavern, Presbyterian Meetinghouse, Wetherburn's Tavern, and the Play House Stage.
You're definitely going to want to visit some or all of these places during a trip to Colonial Williamsburg.  But I know you'll also want to save money on these tickets.
But how you save money does depend on how you want to spend the rest of your trip to Williamsburg.  So we'll go over three different ways to save money on Colonial Williamsburg tickets.
1. Single-Day & Multi-Day Tickets
Let's say you are just looking for a ticket for one day to Colonial Williamsburg.  Then you need a single-day ticket.  If you are there for multiple days, then there is also a multiple-day ticket option.
For this ticket option, you'll get admission to three consecutive days at Colonial Williamsburg.  It doesn't cost much more than a single-day ticket, so it is the best option if you are planning a multiple-day trip to Williamsburg and you think you might visit more than one day because it will give you a lot more flexibility.
And you can find discounted Colonial Williamsburg single-day and multi-day tickets here.
2. America's Historic Triangle Ticket
Now, when you visit Williamsburg, you obviously want to witness and experience American history.  But Williamsburg isn't the only place to experience this in the area.  This is why Williamsburg is considered to be part of the Historic Triangle along with Yorktown and Jamestown.
You can visit Jamestown, America's first permanent English colony.  It is brought to life with an outdoor exhibit, film, galleries, and more.  You can also see archaeology in action as the Jamestown Rediscovery team is still working to excavate parts of the island.  My family really enjoyed this experience.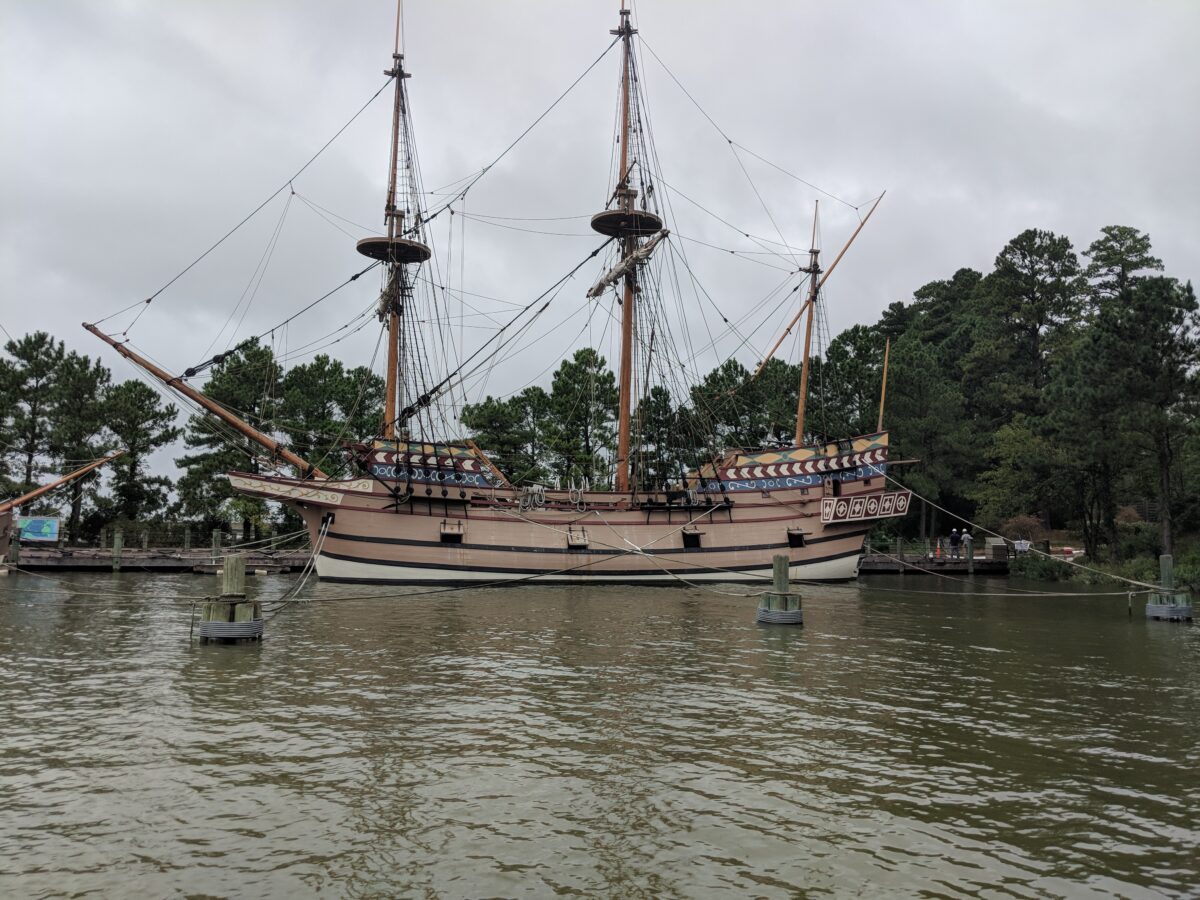 Yorktown is also a great experience.  You'll see where independence was won when you visit the Yorktown Battlefield.  And you can visit the American Revolution Museum where you can learn about history from the colonial period to the Constitution and beyond.  My family also really enjoyed this experience.  They are really creative in the way they display history at the museum that helps bring history to life.
The Historic Triangle Ticket gets you seven consecutive days' admission for Colonial Williamsburg, Historic Jamestown, and Yorktown.  You also get admission to both the Abby Aldrich Rockefeller Folk Art and DeWitt Wallace Decorative Arts Museums at Colonial Williamsburg, museums my family has also enjoyed visiting.  Seven days gives you enough time to visit as many or as few parts of the historic triangle as you wish.
And you can discounted Colonial Williamsburg single-day and multi-day tickets here.
3. Busch Gardens & Colonial Williamsburg Bounce Ticket
Another place you may want to visit while you are in Williamsburg is Busch Gardens.  My family absolutely loves this theme park.  It is viewed by many as the most beautiful theme park in the world.  I love all the different sections themed to European countries, like France, Germany, Italy, England, Ireland, and Scotland.  They've got a Sesame Street section for younger kids, lots of thrill rides and family rides, and great animal experiences, too.  You can read all about Busch Gardens Williamsburg in our Busch Gardens Williamsburg Travel Guide.
There's a great bounce ticket available where you can get 7 days of unlimited visits to Busch Gardens and Colonial Williamsburg.  You even get free parking, which saves you so much money at Busch Gardens.  You can find out how to get this bounce pass here.