If you click on the links in this post, we may earn money from the companies mentioned in this post, at no extra cost to you. You can read the full disclaimer here.
Let's face it, the Atlanta Braves are one of the most popular sports teams in America.  The Harry Potter books are some of the most popular books ever and the Harry Potter movies are some of the most popular movies ever.  So I can only imagine how popular the upcoming Atlanta Braves Harry Potter Night is going to be!
Yes, Harry Potter Night is coming to Truist Park in Atlanta, Georgia!  It takes place on Wednesday, September 6, 2023, at 7:20 PM.  This is when the Braves play the St. Louis Cardinals.  It should be a fun game where the magic extends beyond the magical way the Braves have been playing all year.
But it's also special when you consider the special ticket package available for the game.  This ticket package not only gets you a ticket to the Braves/Cardinals baseball game.  But you also get a specially-themed Hogwarts & Atlanta Braves Jersey Shirt!  This is a must-have for any Harry Potter or Atlanta Braves fan.  You can purchase this ticket package here.
If the ticket package sells out, don't worry!  You can purchase the jersey shirt separately here.  And you can find cheap tickets to the game here (you just won't get the jersey shirt with the ticket purchase).
The Wizarding World of Harry Potter
Have you been to the Wizarding World of Harry Potter yet at the Universal Orlando Resort in Florida?  As a Harry Potter fan, I'm sure you'd love to go.  And if you haven't been yet, well, you are in for a treat.  You'll get to see all the top locations in Harry Potter books and movies.  All of these locales have been faithfully recreated with exceptional details.  This includes Diagon Alley, Hogsmeade, and even Hogwarts!
You can even take the Hogwarts Express train ride just like Harry, Hermione, and Ron did in the books and movies!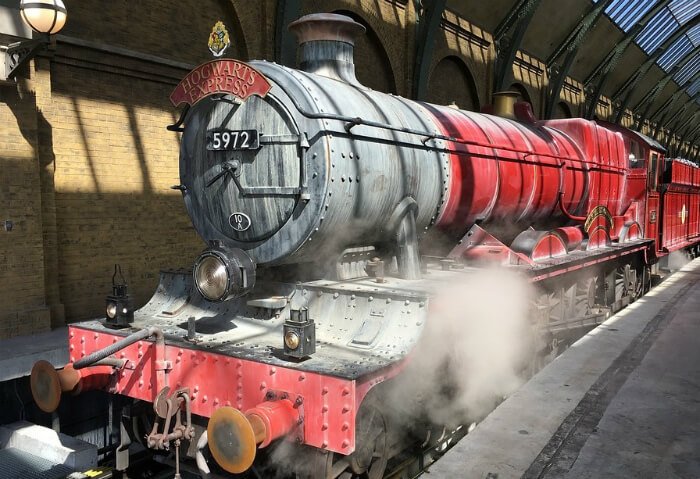 Even the restaurants in the Wizarding World of Harry Potter sections have wonderful theming, like Three Broomsticks and the Leaky Cauldron.  And they have wonderful thrills themed to Harry Potter, too, like Harry Potter and the Forbidden Journey, Harry Potter and the Escape from Gringotts, and Hagrid's Magical Creatures Motorbike Adventure.
Even if you've been before, I'm sure you'd love to visit again.  And you can find discount tickets to the Universal Orlando Resort here.