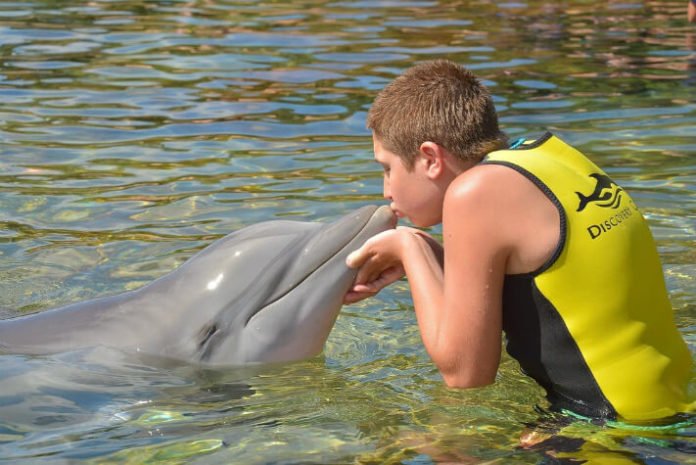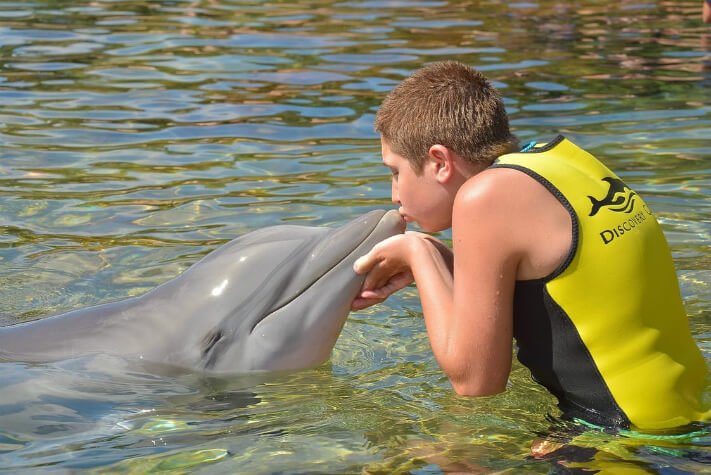 If you click on the links in this post, we may earn money from the companies mentioned in this post, at no extra cost to you. You can read the full disclaimer here.
Discovery Cove Orlando
Looking for a truly unforgettable, once-in-a-lifetime type experience in Orlando, Florida  Then you've got to go to Discovery Cove.  Discovery Cove is such an amazing place.
Some of the highlights of Discovery Cove include:
Swimming with dolphins
Snorkeling with tropical fish & stingrays
Wading with otters
Feeding parrots, toucans & other great exotic birds
Floating along a lazy river
Relaxing at the resort pool & beach
And more!
But like other amazing places around the world, Discovery Cove has been closed the past few months.  But great news!  Discovery Cove will be reopening on June 11, 2020!  So if you'll be in Orlando anytime soon, you will definitely want to go to Discovery Cove!
But before you go, you should read our five tips on how to make your trip to Discovery Cove even better post the reopening.  Because like other businesses, Discovery Cove is changing a few things to reflect the current COVID-19 situation.  So you'll definitely want to read these tips.
5 Tips for What to Do Before Your Visit
1. Buy Your Tickets Online Ahead of Time
Discovery Cove has always restricted admission to give Discovery Cove a more intimate atmosphere.  But that's really important these days.  And Discovery Cove is going further than just that.  New layouts are being implemented at Discovery Cove to keep you 6 feet away from other guests.
So it's really important you go ahead and book your visit ahead of time.  Otherwise, the day you want to visit could become full.  Plus, you can save a lot of money by purchasing your admission through Discovery Cove's website.  They have a lot of good deals there.  Click here to get started.
2. Face Coverings
When you are in the water (like the lazy river), you will not be required to wear a face covering.  But face coverings will be required in other parts of the park.  Guests ages 2 and older will be required to wear them at the entrance, retail areas, food & drink areas, etc.  You can get a great face mask at Etsy or Amazon.  And if you're also visiting Disney World during your trip to Orlando, check out our list of the best Disney themed facemasks.
3. Get a Contactless Thermometer
One of the new policies Discovery Cove is putting in place in light of COVID-19 is checking guests' temperatures.  You'll have to undergo a temperature screening before you can enter Discovery Cove.
So if you don't want to be surprised when that happens, you can consider buying a contactless thermometer.  You'll be able to check your temperature and anyone in your family or travel group with a non-contact thermometer.  And since the Orlando theme parks (Disney World, Universal, SeaWorld, etc.) are also requiring temperature checks, it would be a great purchase to make before you get to Orlando.
4. Get Hand Sanitizer
You are going to want to keep your hands clean during your visit.  And Discovery Cove will have an ample amount of hand sanitizer and handwashing stations throughout the park.
But if you want to be able to constantly keep your hands clean without having to look for a station, you might want to get hand sanitizer of your own so your family can keep using it.  A travel-size hand sanitizer such as this would be the perfect purchase before your trip to Orlando and Discovery Cove.
5. Get a Mobile Payment App
Do you have a mobile payment app on your phone?  What I mean by mobile payment app is a payment method like Google Pay, Android Pay, or Apple Pay.  It is really important to get one if you don't already have one.  That is because Discovery Cove will be requiring you to use safe, contactless payment methods for all your purchases at the park.  So you'll want to get this on your phone before you go.