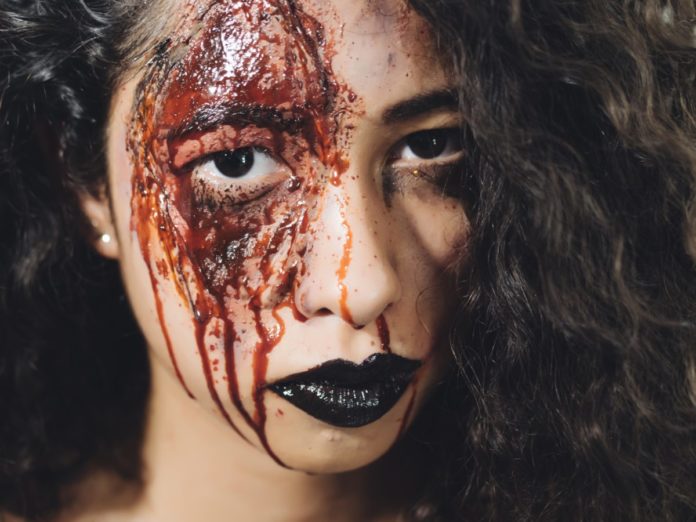 If you click on the links in this post, we may earn money from the companies mentioned in this post, at no extra cost to you. You can read the full disclaimer here.
Haunt Nights at Adventure Landing Jacksonville Beach
It's the spookiest time of year.  And if you're in Jacksonville, Florida, and looking for a spooky place to go, then I have the place for you.  You have got to check out Haunt Nights at Adventure Landing in Jacksonville Beach!
Haunt Nights at Adventure Landing is a wonderful Halloween event in Florida's First Coast area.  Adventure Landing has multiple locations offering fun activities around the year, but the Jacksonville Beach location is the only with a Halloween haunt experience.
And I am sure glad they have one!  Haunt Nights' two haunted houses make it a great place to go for Halloween.  They have the largest 3D Haunt in the area.  And you can still enjoy some of the great attractions at Adventure Landing!
The Sideshow In 3D
Prepare to be amazed by this carnival, but not in the same way from your childhood memories.  Not, this carnival will be giving anyone who enters unimaginable horrors in this spooky 3D attraction.
Coven
Enter a realm of dark magic and mystery at Coven.  Here is where you can discover restless spirits lurking in a cursed mansion.  Will you be able to survive here?
Other Adventure Landing Attractions
Have been to Adventure Landing in Jacksonville Beach or one of the other Adventure Landings in the area, like in St. Augustine?  Then you know Adventure Landing is full of great activities.  And you'll be able to do that when you visit for Haunt Nights!  This includes the following attractions.
Miniature Golf Game
Adventure Landing has 2 18-hole miniature golf courses.  Its lush landscaping and foliage make it a beautiful place to play some putt-putt golf.  You'll get to play golf through mountains and waterfalls!
Go-Kart Ride
Adventure Landing has a twisting, challenging quarter-mile go-kart track.
Max Flight Virtual Rollercoaster Ride
Ever wanted to ride a rollercoaster that was so wild, so extreme it couldn't be constructed?  Well, you will get to feel as if you did on the Max Flight Virtual Rollercoaster Ride!
You enter a roller coaster chamber.  Then virtual reality technology will make you feel as if you are riding the world's wildest roller coaster!  You can also have non-roller coaster experiences there, too.  You can feel like you're experiencing space flight, a submarine adventure, an air fight, etc.
Coupons
Looking to save money on Haunt Nights at Adventure Landing with a coupon?  Then you have definitely come to the right place!  Click here and you can save up to 41% on your admission to Haunt Nights at Adventure Landing!  These coupons include Haunt Nights' admission.  But you also get a Three Attractions Wristband for go-karting, the virtual rollercoaster ride, and mini-golf.