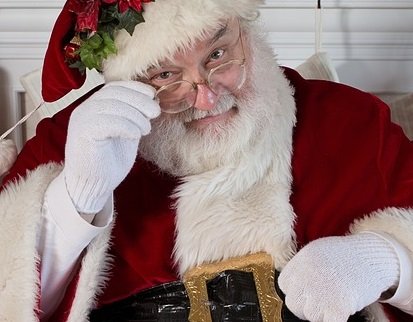 If you click on the links in this post, we may earn money from the companies mentioned in this post, at no extra cost to you. You can read the full disclaimer here.
Christmas at the Princess Scottsdale
The Fairmont Scottsdale Princess has been holding "Christmas at the Princess" since 2010.  It has quickly become a cherished Phoenix area holiday tradition.  
There are so many activities here that will make the holiday season even more special.
Desert Ice Skating Rink
The Desert Ice Skating Rink is a 6,000 square foot skating rink made with real ice!
Princess Express Train Tours
The train takes you around the resort's beautiful, glittering Lagoon Lights.  Special RGB LED bulbs keep changing colors, and there are actually a whopping 256 million color combinations.
Please note that this year there is limited availability, as there will be socially distanced seating.
Lagoon Lights Walking Path
But taking the train is not the only way to see these lagoon lights.  You can also take the walking path!
And you will be glad you did.  Some of the sights you see include:
Candy cane forest
14-foot poinsettias
Toy soldiers
A fishing Santa
Skating Penguins
Teddy bear
Leaping arches
Mermaid
A 3D Whale
A buccaneer pirate ship
Nessie the 30-foot Loch Ness Monster
The Village
Enjoy classic winter fun here.  Sled down one hundred and twenty feet of snow on the appropriately named Snow Mountain.  Glide through the Alpine Ice Trail.  Take a spin on The Chair Lift to get amazing aerial views throughout town.
And there's something to do for younger guests here, too.  They can make there way through the Ice Maze to reveal a hidden frozen message.
S'moresland
S'moresland is where you can roast marshmallows around a campfire, as you might expect from the name.  But it's also the place where you can do rides!  The Christmas Carousel and Frosty's Ferris Wheel are here!
Mrs. Claus' Cookie Company
Mrs. Claus is baking cookies with delicious flavors.  They include sugar n' spice, gingerbread, chocolate chip, and Mrs. Claus' campfire pies!
Nativity Garden Narrated Light Show
The resort's Fragrance Garden becomes a Nativity Garden during the holiday season.  Here you can enjoy a narrated light and music show which tells the story of Christmas.  This runs continuously throughout the evening.  You can catch a show every fifteen minutes.
Enchanted Plaza Shows
There's a five-minute, one-of-a-kind HD video show.  The show is projected against the resort's façade.  This turns the hotel into a Christmas classic!
The Princess Resort's Christmas tree has 70,000 LED lights.  See them light up in tune to eighteen classic holiday songs in the Enchanted Plaza. This is a can't-miss part of the event!
Winterland
Winterland is great!  Here you can find:
Twinkling white lights
Romantic igloos
Fre pit seating
A 32-foot long infinity tunnel at the entrance
An ice bar stocked with iced vodka
Twinkle Town
Here is a magical land filled with (what else?) twinkling lights!  You can also enjoy light bites and drinks while you take in great views of the Princess Resort while you sit around cozy fire pits.
Santa
What's Christmas without Santa?  You'll be able to get your photo taken with Santa.
And in 2022, the experience has gotten even better.  You get to have the ultimate Santa Claus experience.   This means you can:
Meet Mrs. Claus
Enjoy storytime with Santa
Drink milk & eat specialty cookies
Experience the Elf Academy
Get up to ten digital photos
Holiday Character Appearances
Santa's not the only famous holiday character!  Santa's gone out of his way to make your experience even better by inviting his friends Princess Noel, Graham, Selfie Elfie, Twinkles, Shivers, and Peppermint Penguin to the event.  They'll be walking throughout the property throughout the event.  They'll also have a dance performance at both 5:00 PM and 9:00 PM!
Chateau Champagne
Chateau Champagne is a brand new activity for 2022!  And this activity is perfect for those ages 21 years old and older wanting to add a little romance to your holiday fun.
You follow a trail through the romantic setting of Winterland to a candlelit path.  This path leads you to an ultra-luxe retreat set against a backdrop of an Alpine Chalet.  There are fire pits nestled waterside under Tivoli lights and you get amazing views of Lagoon Lights and the live entertainment.
For an extra charge, you can book a semi-private fire pit.  This gets you:
an all-inclusive menu
your own bottle of Moet Imperial Brut
Festival cocktails
Truffle Goouda fondue
Assorted artisanal petit fours
Shellfish tower
Artisanal s'mores board
Coupon
If you're looking to save money on a visit to Christmas at the Princess, then check out these great deals available on Groupon.  You can save up to 30% on single-day admission with self-parking included.
Save this for later – pin it to your favorite travel or holiday Pinterest board!