If you click on the links in this post, we may earn money from the companies mentioned in this post, at no extra cost to you. You can read the full disclaimer here.
Few things in life live up to your memories.  But Biergarten was an experience that exceeded mine.
See, I first went to Biergarten, the sit-down buffet restaurant at the Germany Pavilion of the World Showcase of Epcot theme park at the Walt Disney World Resort in Orlando, Florida, as a child.  So it had been years since I had been.
But during a recent trip, my family decided to try it again.  And boy, were we glad we did.
See, we were staying at Disney's Beach Club.  Beach Club is a really short walk to the entrance of the World Showcase, so it was really convenient to go to Biergarten.  We were able to stay at the Beach Club on a super discounted rate, and if you too would like to stay there for at a huge discount, check out our Beach Club tips.
So we got a reservation beforehand, which I recommend doing (there are a lot of advantages to getting advanced dining reservations, and we go over these advantages here).  And when we got there, we were seated early on.
Atmosphere & Set-Up
When you enter, you immediately feel like you've been transported to Germany at night (sort of like in the Mexico Pavilion).  I love all the decorations around the restaurant, like the windmill.
Even the bathroom was decorated with great German decor.
Our server was really great, too.  I love that Disney has started back their international program.  Our server was from Hamburg in Northern Germany.  It was really neat to hear authentic stories.
I also like how the restaurant is set up.  I did worry it would be long tables without backs like a traditional German biergarten.  But luckily we had our own table with comfortable seats that had backs.  I was very thankful for this.
They also set up the restaurant with tiered seating, almost like a stadium or theater.
This way, everyone can get a good view of the entertainment.  And speaking of the entertainment…
Entertainment
A fun thing about this dining experience is you get entertainment as part of the experience.  They have traditional German music with traditional German instruments.
You can even get up and dance to the music.  There is space in front of the stage.
I love the part where you could make a toast during your meal.  It was all very festive and fun.  It really enhanced the experience.
How it Works
Biergarten is a traditional buffet.  There is a section behind all the tables where you can get your food.  It is also beautifully decorated.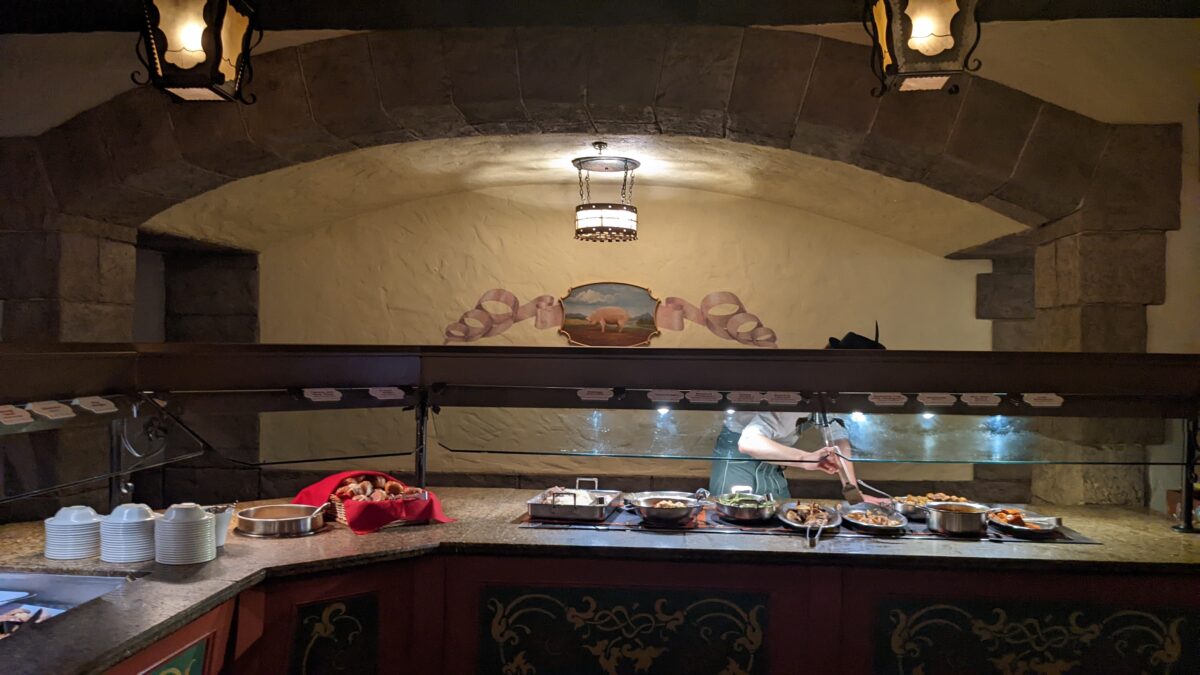 You can get as many helpings as you want.
Because of that, I recommend that you not eat too much before you go so your appetite is as large as possible.  For example, we went there for lunch, so we made sure to have a light breakfast.  So if you get a lunch reservation, then you might want to eat a light breakfast like this.
Biergarten Epcot Menu
The buffet was outstanding and far exceeded my expectations.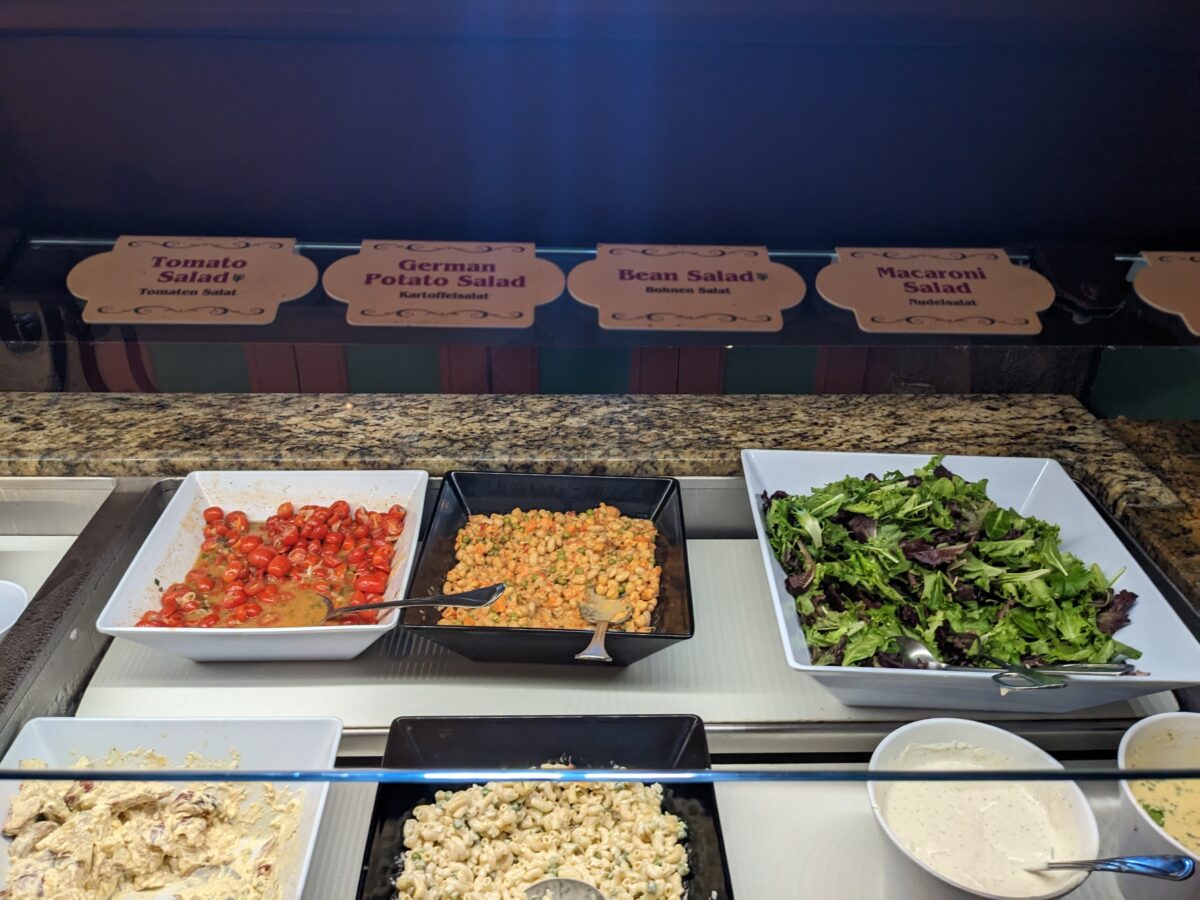 They downplay the food available on the website and give you just a partial listing.  Now, that may be because the food changes from time to time based on availability.  So the food available when I was there may not completely match what food your family will get.  But it can still give you an idea of what you can expect.  Here is the food that was available to us:
Sauerkraut

Pork Schnitzel (Schweineschnitzel)

Meatballs (Frikadellen)

Red Wine Sauce (Rotweinsauce)

Sausage Selection

Seasonal Fish with Vinaigrette (Fisch mit Vinaigrette)

Roasted Chicken (Gebratener Hühnchen)

Roasted Potatoes (Geröstete Kartoffelecken)

Ring Bologna

Liverwurst (Leberwurst)

Green Beans (Gruene Bohnen)

Sausage Salad (Weurstchen Salat)

Beet Salad (Rote Bete Salat)

German Potato Salad (Kartoffelsalat)

Bean Salad (Bohnensalat)

Macaroni Salad (Nudelsalat)

Tomato Salad (Tomaten Salat)

Cucumber Salad (Gurkensalat)

Assorted Cheese (Verschledene Käsesorten)

Mixed Greens (Grüner Salat)

Multiple Dressing

Ranch Dressing

Mustard Dressing (Senf Dressing)

Cheese and Beer Soup (Käse Und Biersuppe)

Pretzel Roll (Laugenbroetchen)

Potato Pancake

Black Forest Cake (Schwarzwälder Kirschtorte)

Bavarian Cheesecake (Bayrischer Käse Sahne Kuchen)

Blueberry Crumble Cake (Blaubeer Streuselkuchen)

Apple Strudel (Apfelstrudel)

Applesauce (Apfelmus)

Pineapple (Ananas)

Sour Cream (Saure Sahne)

Berry Compote (Rote Grütze)

Vanilla Sauce (Vanillesosse)

Chocolate Chip Cookies

Brownie
Food Review
First of all, I have to start out with the consensus favorite of my family, and that was the Pretzel Roll.  I had never eaten a pretzel roll quite like that before, and now I am hooked.  It is delicious like a pretzel yet really soft like a dinner roll.  It's the perfect marriage of flavors.
Speaking of food I hadn't tried before, the pork schnitzel was really good.  I had never had it before and wasn't sure what to expect (well I suppose maybe I had it at Beirgarten as a kid, but I don't remember).  But I loved it!   I hate to be cliche here in saying what it tasted like, but it was a bit like, well, chicken.  It tasted a bit like really good chicken nuggets.  At any rate, I really liked it.
The meatballs were really good.  They can be a bit spicy on their own, though, so you might want to add the red sauce to it.  We found it helped.
There are some great salads here.  My personal favorite salad was the Beet Salad.  I had never put cheese, mixed greens, and beets together, and I have now incorporated that into a sandwich I've been eating at home for lunch and I love it.  Though it's not as good as it was at Biergarten – that was really good beets.  I kept going back to the buffet to get more beets.
Another favorite of my family was the tomato salad.  It had stewed tomato & onion and was really good.
The German Potato Salad was delicious, though a little on the tangy side.
The potato pancake was also really good.  It was better than the one we had at Universal's Mardi Gras Event.
The desserts were all delicious.
Even those in my family who don't like sweets as much (which is definitely not me, by the way) liked them.  I loved how German-themed they were too.  But even the desserts I was more familiar with were great, too, like the chocolate chip cookie was nice and soft.
Conclusion
My family absolutely loved our experience at Biergarten restaurant.  We loved the authentic German feel right from the decorations to the server.  We really enjoyed the live music with authentic German music and instruments.  And we especially loved the delicious food and loved that they had a lot of food available.  Biergarten is by no means cheap (what is in Disney World, though?) but we thought the experience was more than worth it.
You will need a ticket to Disney World in order to go to Biergarten.  You can find out how to get discounted Disney World tickets here.  And if you are planning on booking a room at a Disney World hotel, check out this hack to save you money on your stay.