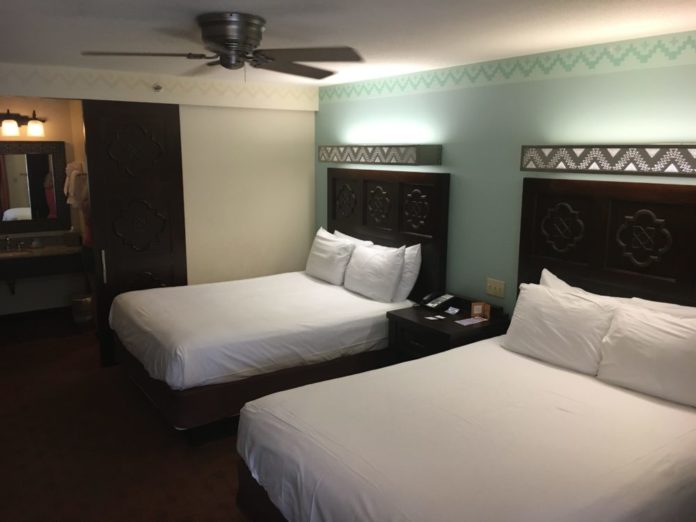 If you click on the links in this post, we may earn money from the companies mentioned in this post, at no extra cost to you. You can read the full disclaimer here.
If you want to stay on-site at Walt Disney World Resort in Orlando, Florida at an official Disney hotel, there are 3 categories of Disney hotels: value, moderate and deluxe.  Today, we're going to talk about the two most affordable options: the value and the moderate hotels. The Disney Value hotels are Art of Animation Resort, All Star Movies Resort, All Star Sports Resort, All Star Music Resort and Pop Century Resort.  The Disney moderate hotels are Caribbean Beach Resort, Coronado Springs Resort, Port Orleans: French Quarter and Port Orleans: Riverside (technically, Fort Wilderness is considered by Disney as a "moderate hotel", but for the sake of this blog entry, I'm not including it because it is a lot more expensive than the other moderate hotels and a lot different).  My family and I have stayed at all the Disney value and Disney moderate hotels so I know the differences between the two categories, so today I am going to discuss 6 advantages of staying in a moderate hotel and 6 advantages of staying in a value hotel.
Moderate:
Better Rooms: Everything about the rooms at moderate hotels are larger.  The beds are queen instead of double in rooms for 4, the bathroom area is larger and there's just a lot more room for your stuff than in value resorts.  If you value space and like larger beds, then the value hotels will suit your needs better.
Better Pools: This is not to say the pools at the value hotels aren't great, because they really are; I am in particular partial to the Art of Animation Big Blue Pool and how you can hear music underwater.  But the moderate hotels have better overall pool complexes. The value hotels do not have hot tubs or pool slides like the moderate resorts do, and the moderate hotels have some really great slides, especially the slide at Coronado Springs.  So if visiting the pools is a part of the Disney experience your family really likes, then I would book a moderate resort.

Port Orleans French Quarter

Sit-Down Dining Options: With the exception of Port Orleans: French Quarter, all of the moderate hotels have sit-down dining options (like the Maya Grill at Coronado Springs, Boatwright's Dining Hall at Port Orleans: Riverside and Sebastian's Bistro at Caribbean Beach Resort) in addition to food courts.  The value hotels just have food courts, which do limit your dining options.
Bus Stops Outside Your Room: The value resorts (and Port Orleans: French Quarter) have one bus stop to the Disney parks, but the rest of the moderate resorts have multiple bus stops.  This can be really nice if your room is not very close to the main building, especially at night because you can get right off your bus and back to your room quickly.
2 Vacations in 1

: So one thing I like about moderate hotels is that the theming is so great in all of the moderate hotels that it is almost like you get two vacations in one.  At Port Orleans: French Quarter, you really feel like you're walking around the French Quarter. At Port Orleans: Riverside, you feel like you've escaped into yesteryear around the Mississippi River.  At Coronado Springs, you feel like you've taken a Mexican vacation and at the Caribbean Beach Resort, you feel like you've escaped to a Caribbean island. There is not quite the same feeling at the value hotels where, in my opinion, you really feel like you are at Disney World and just at Disney World.  Now this is not a bad thing necessarily since I do love Disney World, but it is really neat to be able to experience Disney during the day and a new vacation at night.

More Extra Activities: The moderate resorts offer more "extra" things, in my opinion, that make your stay even more special, like campfires activities at night that you can get at moderate resorts but not value hotels. You can also get a horse & carriage ride at the Port Orleans resort, and children ages 4 to 12 years old can take a pirate adventure cruise at Caribbean Beach Resort.  Those are the sort of extra thing that a stay at a moderate resort can get you over a value hotel.
Value:
Price: Let's face it, the main advantage the value hotels have is the price.  They are significantly cheaper than the moderate hotels, with the exception of the suites at All Star Music & the suites at Art of Animation. You can often find very good deals for value hotels – especially the All Star Resorts – at Hotels.com, Undercover Tourist and Best of Orlando (you can actually get great deals for moderate hotels on these websites, too, but they will probably be more expensive than the value hotels unless you time it right and snag an amazing deal).
More Disney Character Decor: If you're visiting Disney World because you love Disney characters, then you may enjoy a stay at the value hotels more than a stay at the moderate hotels.  You'll get a kick out of seeing Baloo or Roger Rabbit at Pop Century, Buzz Lightyear or Sorcerer Mickey at All Star Movies, the Three Caballeros at All Star Music or Donald Duck, Huey, Dewey & Louie at All Star Sports, Timon & Pumba at Art of Animation, etc.  You don't have that kind of thing at the moderate resorts.
More Appealing to Young Children: Now this of course is not a hard and fast rule as every child is different.  But part of the appeal of the moderate hotel theming can be really lost on kids, especially young kids.  Now, all Disney hotels are appealing to kids. There are always a number of pools, slides, playgrounds and extra Disney touches to make them great.  But your three-year old will probably be more impressed with a huge Crush at Art of Animation or Woody at All Star Movies than they would be to recognize New Orleans street signs at Port Orleans: French Quarter or appreciate the influence of Northern Mexico and Southwest America in the architecture at Coronado Springs.

Easier to Walk Around: Another advantage of the huge Disney and other oversized decor of the value hotels is that it makes it easier to find your room.  Last time I stayed at Art of Animation, I knew to look for the huge King Triton at night to find my room. Last time I stayed at All Star Music, I looked for the huge boot to the find the country section to find my room.  Last time I stayed at Pop Century, I looked for the huge Rubik's cube to find my room in the 1980s section. But at moderate resorts, the theming is often similar from one section to the next which makes it difficult to find your room, especially at night when it is dark (and when you really want to find your room and put your feet up at the end of a long day!).
Better Options for Big Families: Coronado Springs is the only moderate hotel that offers suites, and the suites are quite expensive and are really more aimed at people visiting for a business conference.  All Star Music and Art of Animation, on the other hand, have more affordable suites options aimed towards families and can accommodate up to six people plus one child under age three in a crib.
More Straightforward Bus Options: Now, earlier I mentioned that one advantage of moderate hotels is that you could get a bus stop outside your room.  At the value hotels, they just have the one bus stop out in front. But that can actually be a good thing because it does make for a more straightforward bus system process.  One thing I like about the bus system at the value hotels is that they have clear markings for each each bus stop (like say EPCOT, Hollywood Studios, Magic Kingdom, etc.) and you line up for it whereas at the moderate hotels, there are no lines for specific parks.  This isn't really a problem say midday when there aren't a lot of people at the bus stop but it can get super hectic in the morning because when, say, a Magic Kingdom bus pulls up people are pushing their way to the front and that can get a bit chaotic. Another negative of the bus system for moderate hotels is that because there a bunch of individual bus stops, at the end of the day you may forget which section you're in and not know which bus stop to get off at; for example, it's not going to be super obvious to you when you're at Port Orleans: Riverside that you're staying at Alligator Bayou.  But at the value hotels, with one bus stop, you know where to get off. And here's one more positive about the value hotels: they all have their own bus stops during the peak times of year (All Stars are combined at offpeak times) but since Pop Century & Art of Animation are so close to each other and the All Star hotels are close to each other, you can actually take the bus back to a different hotel and find your room which is great if, say, you just miss your All Star Movies bus and you see an All Star Music bus pull up.
Pin this for later – save it to Pinterest!