If you click on the links in this post, we may earn money from the companies mentioned in this post, at no extra cost to you. You can read the full disclaimer here.
I've been to a lot of great character experiences at the Walt Disney World Resort in Orlando, Florida.  But one of my favorites has been the character dining experience at Hollywood and Vine.
Hollywood and Vine is a restaurant right in the front of Hollywood Studios.  I love its location at the front of the park and its fun California theming.  But on top of that, you get great character interactions with four classic Disney characters: Mickey Mouse, Minnie Mouse, Goofy, and Pluto.
Now, there are other character dining experiences your family can enjoy at Disney World.  But what really sets the lunch and dinner experience at Hollywood & Vine is that the experience changes depending on the season you are visiting.
Last winter, my family atttended Minnie's Holiday Dine at Hollywood & Vine.  The restaurant was decorated for Christmas time.  The characters had their best holiday outfits on (including Goofy in a Santa suit and Pluto with reindeer ears).  You can read our review of this event here.
Last spring, we attended a delightful Minnie's Springtime meal which reminded me of Easter lunches I used to attend at the Officer's Club with my family when I was a kid (you can read our review of Minnie's Springtime Dine here).
And now, just in time for the spooky season, it's time for Minnie's Halloween Dine!  My family couldn't wait to go when we visited Disney World this past week.  It was super convenient for us because we could use the Skyliner to get there since we were staying at the Pop Century Resort.  It was a fun thing to do for lunch on the day we were going to Mickey's Not So Scary Halloween Party.
So how did we like it?  Well, you'll soon find out!
Atmosphere
Let's start with the atmosphere.  You get a great Halloween feeling right away with the great photo opportunity at the front of the restaurant.
They also added Halloween decorations throughout the restaurant.
And it's fun throughout the restaurant.  One thing I really liked was the music they played.  If you've ever listened to Sorcerer Radio's seasonal station during the Halloween season, then you'll recognize a lot of the music.  It's great Halloween songs that really get you in the atmosphere.  An added bonus for us is that it made us even more excited for the Halloween party that night!
Character Interactions
As usual, the character interactions were great.  I will say I think we interacted with the characters more during our springtime meal, but we still got to interact with all the characters.  Mickey tended to spend longer with each family, which meant you saw him less but you had a great experience.
One thing that really stood out about the character interactions is how good all the characters were with the children.  They interacted with kids a lot and the children there had such a blast.
Oh, and I really loved all the Halloween costumes the characters had on.
I loved Mickey Mouse's vampire costume.
Goofy looks great dressed as a cowboy.
I loved Minnie Mouse's Halloween dress as well as her purple spiderweb gloves and her tights.
And Pluto was, well, Pluto!
Minnie's Holiday Dine Food
But as much as I enjoyed the character dining experience, the characters are not actually the main reason I keep coming back.  The main reason is actually the delicious food.  It has changed a bit with each season, but the quality never drops.  There is always so much great food here.  So much so that I would advise you to not eat too much for breakfast if you go for lunch and not each too much for lunch if you attend the dinner Minnie's Holiday Dine.  Because you want to have a full appetite since it is a buffet (this is one of the tips I give for all Disney character dining experiences).
So, yeah, there is a lot of food available during this dining experience.  It includes:
Herbed Focaccia
Spitzweck Rolls
Salad Bar with

Mixed Greens
Cherry Tomatoes
Olives
Onions
Eggs
Crumbled Feta
Ranch Dressing
Balsamic Dressing

Variety of Fresh Fruit
Artichoke Salad
Cucumber Salad
Chicken Noodle Soup
Vegetarian Chili
Sour Cream & Chive Whipped Potatoes
Salmon with Miso Glaze, Wasabi Cream & Wasabi Peas
Salmon Cakes
Poulet Marine Au Four
Caramelized Brussels Sprouts
Olive Oil Crushed Potatoes
Mexican Street Corn
Beef Stew with Root Vegetables
Roasted Pork with Spicy Mustard Sauce
Roasted Butternut Squash
Macaroni & Cheese with Shrimp & Bacon
Meatballs with Barbecue Sauce & Pineapple
Roasted Mushroom with Farro Risotto
Crispy Tofu with Asian Glaze
Broccoli & Carrots
Cumin Rice
Penne Pasta & Marinara
Green Beans
Baked Chicken
White Rice
Potato Barrels
Corn Dogs
They also have two carving stations, for turkey and Strip Loin.  They also had some great desserts.  There's an ice cream machine as well as:
Creme Brule Cheesecake
Peanut Butter & Jelly Tart
Carrot Cake Cupcakes with Cream Cheese Icing
Sugar Cookies
Chocolate Chip Cookies
Mississippi Mud Pie
Apple Crisp
Seasonal Bread Pudding
It works like a standard buffet, where you can walk through the buffet anytime you want.  All the food is clearly labeled, which I like.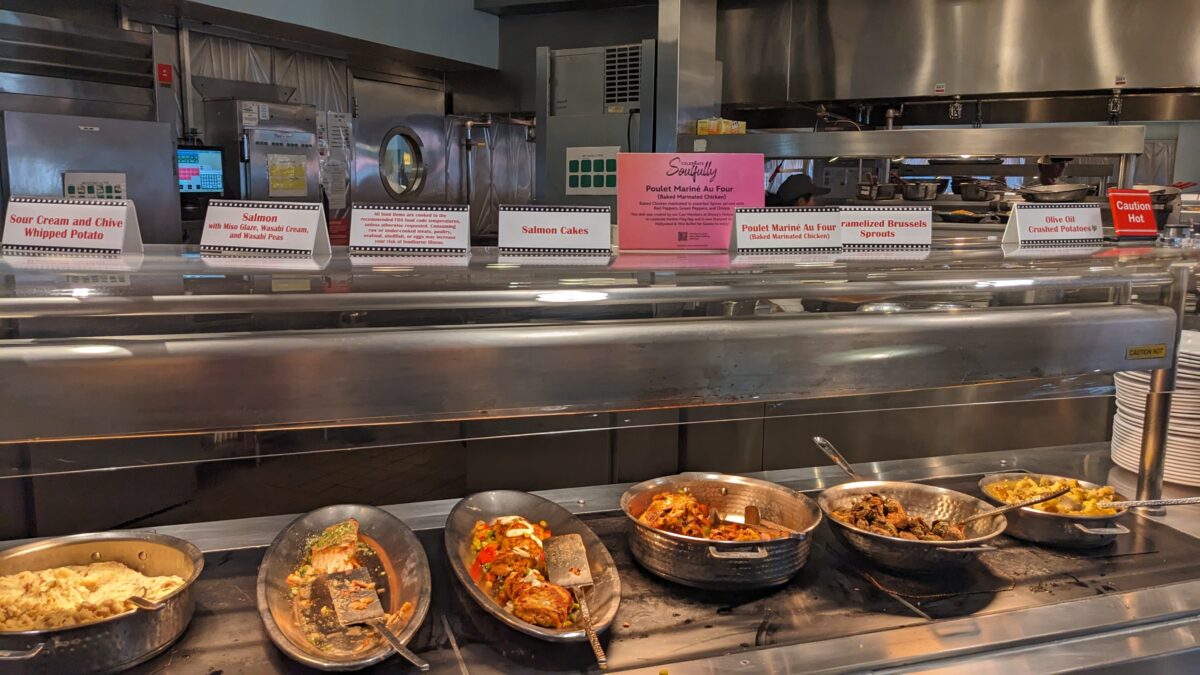 Minnie's Holiday Dine Food Review
So what did we think of this food?
The sour cream & chives whipped potatoes were something my entire family could agree on that we loved.  We had had this at previous meals, and it was still great.  It's just some of the best potatoes you can eat.
The beef stew also got rave reviews.  The meat was tender and flavorful.
The carved turkey was, as described by one of my family members, one of the best pieces of turkey she had ever had at a restaurant.
The salmon at the past dining experiences had been a favorite, but they changed the seasoning on this.  It was still very good, though we did not like it as much in the past.  But we do still recommend it.
The cumin rice was really good.  We had never had this before and it made us wish we had the recipe!
The mushroom risotto was delicious.  It was nice and creamy.
My personal favorite was the macaroni & cheese with shrimp and bacon.  I thought all the tastes blended so well together.  But I should say that shrimp is one of my favorite foods and a family member that doesn't like shrimp nearly as much as me didn't like it as much.  So I guess a big part of whether or not you'll like this dish depends on your opinion of shrimp.
Other food options we liked were the potato barrels and the white rice.
The desserts were also great.  The Mississippi Mud Pie in particular is a favorite of my family.  The creme brule was well received, even with a family member who does not care for dessert.  The peanut butter and jelly tart was well received.  The carrot cake was good, though like with the shrimp dish I mentioned earlier, your opinion of it was really dependent on whether or not you like carrots.
Conclusion
Minnie's Halloween Dine is a great experience my family highly recommends.  Between the delicious all-you-can-eat buffet food, wonderful character interactions, and great Halloween mood and atmosphere, it is a wonderful addition to any fall Disney World vacation.