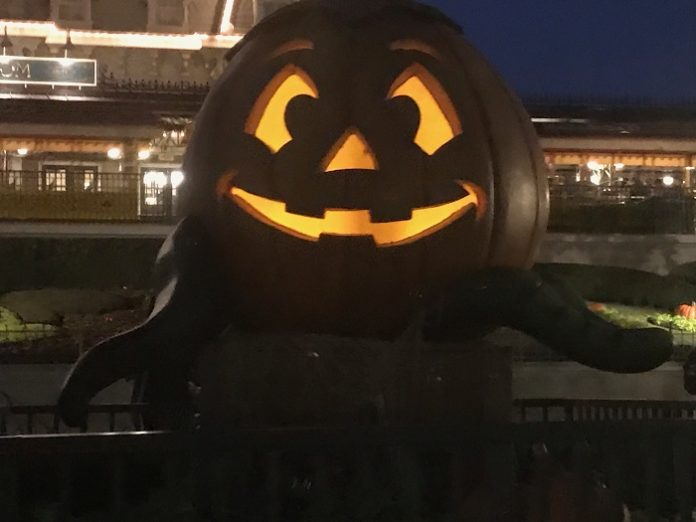 If you click on the links in this post, we may earn money from the companies mentioned in this post, at no extra cost to you. You can read the full disclaimer here.
If you like Halloween and you like visiting Disney World, then you may have wondered if you should go to Mickey's Not-So-Scary Halloween Party.
Like the name suggests, it's all about celebrating Halloween at Disney World in a fun, family friendly way – but luckily, it's not just held on Halloween! You can enjoy this fun event in August, September, October and November.
If you're wondering if you should go, my answer is definitely a resounding yes!
But if you're undecided – or you're already planning on attending but don't know what to expect – then take a look at our complete guide to Mickey's Not-So-Scary Halloween Party and have all your questions answered!
What is Mickey's Not So Scary Halloween Party?
Mickey's Not-So-Scary Halloween Party is a ticketed event at Walt Disney World (specifically, at the Magic Kingdom). Like Mickey's Very Merry Christmas Party at the Magic Kingdom and H2O Glow Nights at Typhoon Lagoon, your ticket is completely separate from park admission.
The Not-So-Scary party is held from 7:00 PM to midnight on select nights. If you have tickets to the party, you can get into the Magic Kingdom park as early as 4:00 PM, even if you don't have/don't want to use tickets to the Magic Kingdom for that day.
To give you an idea of what the party is like, check out this virtual tour of the event. And be sure to read on, as we'll go into more detail about everything you can expect to enjoy!
Will Mickey's Not So Scary Halloween Party be back in 2023?
Yes! Due to the pandemic, the Halloween party was not held in 2020 or 2021. But just like last year, Mickey's Not So Scary Halloween Party is back in 2023!
What can I do at Mickey's Halloween Party?
There is so much to do at Mickey's Not-So-Scary Halloween Party! We've broken down the main activities into sections. It's up to you how you want to spend your time – some people make photo ops with characters their priority, others love the shows and some are all about the candy! Let's take a look at the fun things you can do at this Halloween event.
Boo To You Parade
Mickey's "Boo-to-You" Halloween Parade is fantastic – in fact, it's my personal favorite part of the whole party!
The parade, set to the catchy, upbeat "Boo To You" song, is full of energetic performers, spectacular floats and tons of favorite Disney characters. If you love villains, you won't be disappointed – but there are plenty of positive characters, too.
Check out the parade we took at a Mickey's Not So Scary Halloween Party we went to in August this year:
The 2023 parade includes such favorites as Minnie Mouse, Clarabelle Cow, and Daisy Duck (in brand new Halloween costumes – dressed as the Sanderson Sisters from Hocus Pocus, no less!), Mickey Mouse, Rapunzel, Flynn Rider, Alice in Wonderland, Vanellope von Schweetz, Frontierland's Country Bears and Adventureland's own Pirates. Some new additions made an appearance as well, such as a new car for Cruella DeVille, Ursula with Flotsam and Jetsam, Gaston, and more!
You have two chances to catch the parade during the Halloween party (9:15 pm & 11:15 pm). If Disney parades are your thing, I recommend watching it the first time so that if you love it as much as I do, you can see it again during the second showing!  If you know you'll only want to watch it once, then the second parade time is generally a little less crowded.
The Boo-To-You parade begins in Frontierland and ends up down Main Street. There is something truly magical about viewing the parade on Main Street with Cinderella Castle in the background. However, be advised that this prime viewing location usually has people sitting and staking out their spot well over an hour in advance.
Other Halloween Shows & Entertainment
In addition to the parade, there are a number of great shows to watch during the party!
Hocus Pocus Villain Spelltacular
This show, featuring the Sanderson sisters (Winifred, Mary and Sarah) from the cult favorite 1993 film Hocus Pocus, is perhaps the most popular.  The sisters enlist the help of such Disney villains as Dr. Facilier, Oogie Boogie and Maleficent. Of course, there's fun music, dancing and special effects, too! This show is held on the stage in front of Cinderella Castle – 8:35 pm, 10:45 pm and 12:00 am. During the month of October, there's also an additional performance, at 7:40 pm.
Disney's Not So Spooky Spectacular
This impressive fireworks show is sure to delight! In the fun-filled 12 minute fireworks display, hosted by Jack Skellington (from The Nightmare Before Christmas), some classic Disney favorites encounter a haunted house. Mickey Mouse, Minnie Mouse, Donald Duck and Goofy will come across dancing skeletons, waltzing ghosts and spooky Disney villains. Fireworks, lasers, projection effects and more will help the story come to life!  The fireworks show will be held at 10:15 pm.
You can see this fun fireworks celebration here:
The Cadaver Dans Barbershop Quartet
Keep an eye (or ear) out for the Cadaver Dans – it's Halloween meets the Dapper Dans with this fun musical group! You can enjoy their melodies and puns in Frontierland. You might enjoy one of the following songs:
"Ghost Riders In The Sky"
"Grim Grinning Ghosts"
"Rawhide"
"Cruella DeVil"
"Happy Trails To You"
"The Oogie Boogie Song"
"Home On The Range"
"Boo"
"Darkness On The Delta"
"Trick Or Treat"
"Tumblin' Tumbleweeds"
"Lone Prairie"
"Why Do They Call Me A Tenderfoot"
"The Headless Horseman"
"WaHoo"
The Cadaver Dans perform intermittently between 7:00 PM and 10:50 PM.
Rusty Cutlass
This lively pirate band performs in Adventureland (near the Pirates of the Caribbean ride, of course!) intermittently between 7:15 PM and 11:50 PM.
Disney Junior Jam
This dance party is perfect for little ones! Celebrate with favorite characters from Disney Junior shows. The Disney Junior Jam is located inside Cosmic Ray's Starlight Cafe, a restaurant in Tomorrowland. And the restaurant is also open during that time, so it can also be a convenient place to get a meal or a snack.
Zom-beatz Bash
Have you ever wanted to attend a dance party with Zombies, Cheerleaders, Aliens and Werewolves? Well, now's your chance! The Zom-beatz Bash takes place at the Rockettower Plaza Stage in Tomorrowland.
Trick-or-Treating, Specialty Food & Dining Options
Trick-or-treating at the Halloween Party is a fun way to enjoy some sweets and snacks included with your party ticket.
The 2023 treat locations are follows:
Market Street – Main Street USA (until 8:00 pm)
Tortuga Tavern – Adventureland
Walt Disney's Enchanted Tiki Room – Adventureland
Tom Sawyer Island Dock – Frontierland
Country Bear Jamboree – Frontierland
Columbia Harbour House – Liberty Square
Mickey's Philharmagic – Fantasyland
Ariel's Grotto – Fantasyland
Pinocchio Village Haus – Fantasyland
Gaston's Tavern – Fantasyland
Near TRON Lightcycle / Run – Tomorrowland
Monsters, Inc Laugh Floor – Tomorrowland
Cosmic Ray's Starlight Cafe – Tomorrowland
Walt Disney's Carousel of Progress – Tomorrowland
You can also locate the trick-or-treat locations by the large inflatable marker out in front of them.
For guests with food allergies, you can ask a Cast Member for a special teal-colored bag for your treats. At each treat station, instead of getting a treat you'll get a teal token. You can then redeem the teal tokens for special treats at Allergy-Friendly Centers in Liberty Square and Main Street USA.
Now, if you're in the mood for a special holiday-themed treat and you'd like to buy something yummy, you definitely have options for that! (After all, Disney isn't one to turn down opportunities to make money.) There are delicious desserts and specialty food for sale all over the park.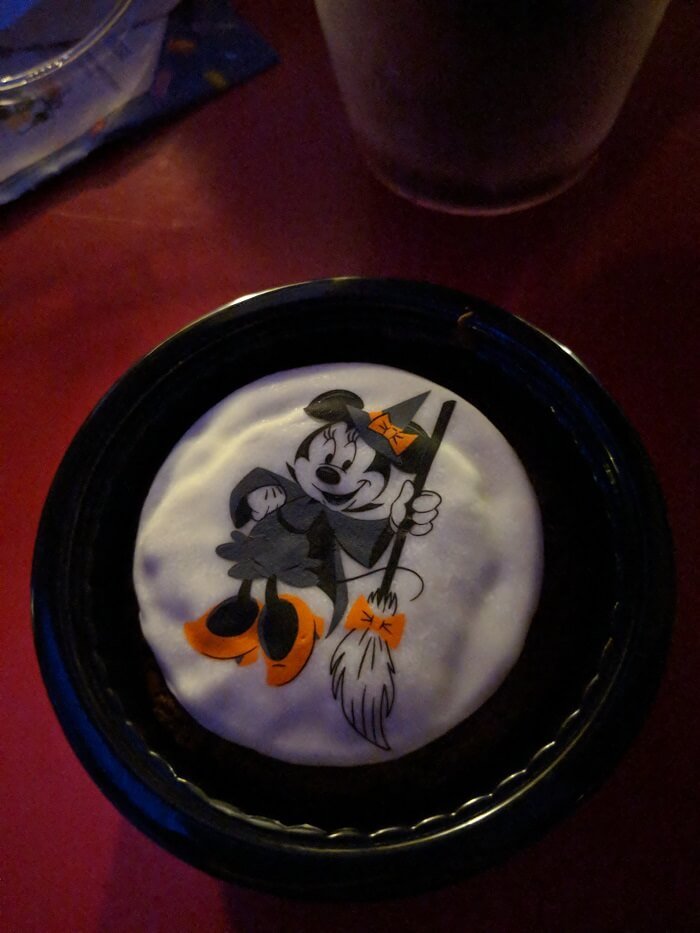 Check out these specialty food options throughout the Magic Kingdom in 2022. The ones marked with an asterisk (*) are only available during Mickey's Not So Scary Halloween Party. Otherwise, you can also order these sweet treats during normal park hours.
Plaza Ice Cream Parlor
Monster Cookie Ice Cream Sandwich*
Main Street Bakery
Casey's Corner
Pain and Panic Hot Dog
Winifred's Elixir of Youth
Cosmic Ray's Starlight Café
Bayou Burger
Donald Candy Corn Sipper (starting early October)
Auntie Gravity's Galactic Goodies
Not-So-Poison Apple Pie Milk Shake*
Sweet Candy Corn Soft-serve Swirl Cone
The Friar's Nook
Hades Hot Dog*
Un Poco Loco Tots*
Donald Candy Corn Sipper (starting early October)
Cheshire Café
Binx Pastry Tail
Cold Witches Brew Coffee
Popcorn Cart near Cinderella Castle
Mexican Spiced Hot "COCO" Brownie
Snack Cart near Cinderella Castle
M&M's Peanut Butter Churro
Pecos Bill Tall Tale Inn & Café
Sweet Almond Corn Cake*
Donald Candy Corn Sipper (starting early October)
Golden Oak Outpost
Sunshine Tree Terrace
Jack-O-Lantern Float*
Halloween Candy Glow Cube*
Sleepy Hollow Refreshments
Grave Digger Milk Shake*
Worms and Dirt Funnel Cake*
Chilling Chamber Pop
Donald Candy Corn Sipper (starting early October)
Ice Cream Cart near Haunted Mansion
Various Popcorn Carts
Glow Mickey Mummy Premium Popcorn Bucket
Halloween Candy Glow Cube* (starting early October)
To learn more about these specialty food items in detail, click here.
Want to take your sweets experience to the next level? One of these special dining experiences (additional fee required) might be perfect for you! Please note that this information is for the 2022 events. We'll let you know about the 2023 parties once they are announced.
Disney's Not So Spooky Spectacular Dessert Party with Plaza Garden Viewing
This dessert party takes place at the Tomorrowland Terrace Restaurant and starts an hour and a half before the fireworks begin.
It's a chance to enjoy some fabulous Halloween goodies:
Chocolate-dipped strawberries
Cupcakes
Cheesecake mousse with chocolate crumble topping and crisp pearls
Pistachio white chocolate crunch bars striped with purple chocolate and sprinkled with orange sanding sugar
Cheeses
Seasonal fruits
Sparkling beverages
Signature lemonades
Coffee
Tea
Beer (for those 21 years old & older)
Wine (for those 21 years old & older)
And more!
When it gets closer to the fireworks show, Cast Members will lead Dessert Party-goers to a special standing location in the Plaza Garden, which will provide great views of Disney's Not So Spooky Spectacular over Cinderella Castle.
If you're interested, advance reservation is strongly recommended. Starting August 9, 2022, you can book the party on the Walt Disney World website or call (407) 939-1872. The price is $99 (includes tax and gratuity) per guest for ages 10 and older and $59 (includes tax and gratuity) for guests ages 3 to 9.
Please note that you'll need to have tickets to the Halloween Party in order to attend the Dessert Party. Also, please be advised that the fireworks show may be delayed or cancelled due to weather, but the Dessert Party will not be cancelled for weather.
Disney's Not So Spooky Spectacular Dessert Party at Tomorrowland Terrace
This dessert party may seem quite similar to the dessert party we just talked about – after all, they both involve enjoying desserts at the Tomorrowland Terrace – but they are actually entirely separate (held at different parts of the Terrace).  There are also a few other key differences.
For example, at this dessert party, you view the fireworks show from the Tomorrowland Terrace itself.  In the Plaza Garden Viewing version, you leave the Terrace to go stand in the Plaza Garden to view the fireworks.  It's a matter of preference as to which you prefer.
The Tomorrowland Terrace offers views that are a little off center (as in, the fireworks don't appear directly over Cinderella Castle), and you might have a view that's a bit obstructed by trees or the roof of the Terrace.  As you have an indirect view of the Castle (as opposed to standing directly in front of it), there is a chance that you might not be able to enjoy the full effect of the projections onto the Castle.
On the other hand, you get to sit down during the show, not stand.  Also, overall it's a bit more of a relaxed atmosphere (since you don't have to worry about changing locations during the dessert party).
The dessert party with Tomorrowland Terrace views costs $115 for guests ages 10 and older.  For ages 3 to 9, the price is $69. Please note that the price does include tax and gratuity.
Just like the other dessert party, advanced reservations are strongly encouraged. You can reserve a spot online at the Disney World website or by calling (407) 939-1872 – reservations are available starting August 9, 2022.
Also, like the other dessert party, you must have a Not-So-Scary Halloween Party ticket in addition to the fee for the dessert party.  Rain or shine, the party will not be cancelled, regardless of whether or not the fireworks are delayed or cancelled due to inclement weather.
Rides at Mickey's Not-So-Scary Halloween Party
Are the rides at Disney World really your thing? Are you not really in the mood for celebrating Halloween and just want to hit the top attractions?
Well, not to worry! Many of your favorite rides will be open during the party. In fact, sometimes the wait times are actually shorter than usual, as there are so many extra things for guests to do instead of the rides. The shortest lines are generally during the parades, especially the first parade. Near the end of the party is also a great time to get in line, as many people have already started heading home/back to their hotel.
Now, if you love rides but would rather have a ride with a Halloween twist, then you'll be happy to know that there are a few rides that have a special holiday overlay.
Space Mountain
This fun, indoor coaster will have a new, Halloween-inspired soundtrack – and go completely dark!
Mad Tea Party
This attraction is enhanced with special lighting and music effects, starting at nightfall.
Monsters Inc. Laugh Floor
The Monsters Inc. Laugh Floor show even gets into the fun! Enjoy new interactions as the cast of monsters learn about this Halloween holiday that the Human World enjoys.
Pirates of the Caribbean
Keep an eye out for some unexpected pirates during the ride!
Other Rides Open During Mickey's Not So Scary Halloween Party
Jungle Cruise
TRON Lightcycle / Run**
Seven Dwarfs Mine Train
Haunted Mansion
Peter Pan's Flight
Dumbo the Flying Elephant
"it's a small world"
The Magic Carpets of Aladdin
Tomorrowland Transit Authority People Mover
Buzz Lightyear's Space Ranger Spin
Astro Orbiter
The Many Adventures of Winnie the Pooh
Prince Charming Regal Carrousel
Under the Sea ~ Journey of the Little Mermaid
Swiss Family Treehouse
Tomorrowland Speedway
The Barnstormer
** – Please note that in order to ride the Tron attraction, you'll need to enter the Virtual Queue using the My Disney Experience app. This queue opens up at 6:00 PM. You'll only be able to enter the Virtual Queue once. And there will not be any standby lines, so don't forget to join the Virtual Queue if you'd like to ride Tron during the Halloween Party.
How can I save on Mickey's Not-So-Scary Halloween Party tickets in 2023?
If you're looking to save money on Mickey's Not-So-Scary Halloween Party at Disney World, then you should purchase your tickets beforehand online. You can save up to $9 per ticket if you buy at least a day in advance. This is a simple way to get a discount on both adult tickets as well as children's tickets for ages 3-9.
Looking to save even more money?
Ticket prices vary based on dates, so if you have some flexibility in your vacation plans, you can choose a date for cheaper prices.
The prices tend to be more expensive on Fridays as well as the closer it gets to Halloween.
Here are the days when Mickey's Not-So-Scary Halloween Party is cheapest
Tues 8/15
Fri 8/18
Tues 8/22
Fri 8/25
Tues 8/29
You can also check out the full list of dates (we'll cover that next!). Please note that all of these dates are subject to availability and can sell out.
Mickey's Not So Scary Halloween Party 2022 Dates
The 2023 dates for Mickey's Not So Scary Halloween Party are: August 11, 15, 18, 22, 25 & 29; September 1, 4, 8, 10, 12, 15, 17, 19, 22, 24, 26, 28 & 29; October 1, 3, 5, 6, 9, 10, 12, 13, 15, 17, 19, 20, 22, 24, 26, 27, 29 & 31; and November 1.
Once you've decided on the date you want to attend, make sure you buy your tickets in advance here to save up to $9 per ticket. However, if you are an Annual Passholder or a DVC members, you should purchase in advance through Disney online to get an additional savings for some dates.
To make sure you're paying as little as possible for Mickey's Not So Scary Halloween Party tickets, be sure to check out our 3 Ways to Save at the Halloween Party.
More Tips for Mickey's Not-So-Scary Halloween Party
Hopefully, you're convinced by now that this fun Disney Halloween event is not to be missed!
If you're still not sure, you can see our list of 50 Reasons to Attend Mickey's Not So Scary Halloween Party.
And now that you know all the fun you can expect at a Halloween Party event at Disney World, check out a few more tips to make sure you have the best experience possible!
Stay On-Site
While you certainly don't have to, staying on-site during your trip can help relieve stress and provide a smoother experience, as you know that Disney will provide transportation to and from the Halloween Party and your Disney hotel.  Also, you won't have to worry about driving back to your hotel after midnight in case you stay at the party the entire time.
We find that using Disney Vacation Club rentals is the best way to save a ton of money on your Disney hotel stay – and you don't have to be a DVC member to do it! We go over that in this DVC Rental Video here. You can also take advantage of someone else's DVC reservation who can't make it to Disney during those dates – we talk about confirmed reservations here.
Another way to go is to use a website that gives you a discount on Disney hotels. We've compiled a list of the 10 best websites to use to save you money on your Disney World hotel.
Take It Easy the Morning of the Party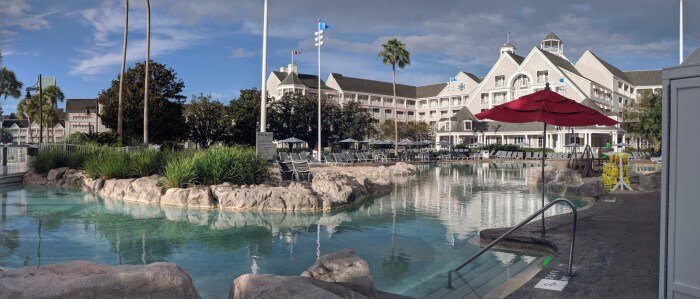 Now, you can definitely have a jam-packed day at any of the parks and still have a blast at the Halloween Party.
However, you might want to take it easy earlier in the day, so that you'll be completely relaxed and well-rested for the evening.
One way to do this would be having a "pool day" for the first part of the day – sleeping in a bit, then hitting the hotel pool (instead of going to one of the parks in the morning).
Another strategy might be to visit a different park in the morning, then return to your hotel in the middle of the day for a nice nap (or relaxing dip in the pool).
Know the Costume Rules
Dressing in Halloween costume is optional but can be a lot of fun! However, Disney World does have requirements, mostly for safety reasons.  Here's what you need to know about the rules:
Masks are NOT allowed for guests ages 14 and older.
Masks are allowed for guests 13 and under, but eyes must still be visible. Also, the mask cannot cover the entire face.
(Ages 14 and older) Layers or props that surround the whole body are strongly discouraged – you may have to go through additional screening.
(Ages 14 and older) Costumes cannot reach or drag the ground (such as full-length dresses).
(Ages 14 and older) Capes cannot go below the waist.
(Ages 14 and older) Headwear can be worn but can't cover the face.
(Ages 14 and older) The following is fine to wear: themed T-shirts, blouses, sweatshirts and hats, as well as transparent wings, plastic light sabers, toy swords and tutus.
If you dress as your favorite character, don't sign autographs or pose for pictures (in other words, don't act as if you're a Disney Cast Member).
Costumes must be family-friendly.
Don't wear anything that's offensive, objectionable, violent or obstructive.
Costumes may not contain any weapons that look like or could easily be mistaken for an actual weapon.
Costumes may not include anything that could accidentally strike another guest (such as sharp or pointed objects or materials).
Disney reserves the right to remove anyone or deny admission to anyone that is wearing anything that they consider inappropriate or could detract from the experience of other Guests.
Shoes must be worn at all times.
Keep Your Costume Options Open
You most likely won't be facing cold temperatures at a Halloween Party at Disney World, so keep that in mind when choosing your costume. If the costume is very heavy, you may end up pretty hot.
On the other hand, weather in Florida can be so fickle, and the event is at night – consider packing an extra something (a sweater, tights/leggings, a long-sleeve shirt) you can add to your costume on your trip. Depending on the last minute forecast, you might want to wear it with your costume, or bring it with you.
Also, being Florida means rain is certainly a possibility. Consider what you might want to do in case it rains, whether that means an umbrella, clear poncho, color-coordinated poncho, etc.
With that advice in mind, if you're looking for a costume, we've put together a collection of the 100 best Disney Halloween costumes for kids, as well as the 80 best Disney Halloween costumes for adults.
And if you want to wear something Halloween-themed without getting in full costume, you don't want to miss our list of the Top 50 Disney Halloween Shirts or our list of the Top 30 Disney Halloween Spirit Jerseys!
Even More Halloween Party Tips
We at Green Vacation Deals have also put together some additional tips for Mickey's Not So Scary Halloween Party.
Other Orlando Halloween Events
If you're visiting the Orlando area during the Halloween season, you might want to enjoy some other local area holiday events.  Be sure to check out our list of the top 7 Orlando Halloween events for both family friendly and actually scary events!
And if you're looking for a theme park event that's on the same level as Mickey's Not-So-Scary Halloween Party when it comes to frights & scares, consider SeaWorld's Halloween Spooktacular. This event also has trick-or-treating for the kids – and it's even included in the cost of a regular SeaWorld Orlando park ticket.