If you click on the links in this post, we may earn money from the companies mentioned in this post, at no extra cost to you. You can read the full disclaimer here.
Recently my family and I stayed at the Crowne Plaza Pittsburgh South and had a wonderful time.  You can find a good deal for this hotel here.  There are many reasons why I think this hotel is a great choice.  You'll be able to find out why in this review when I outline ten great reasons.
1. Across the street from Mall & Dining
One of the main advantages of this hotel is the location.  In this case, it is great that this hotel is across the street from the South Hills Village Mall.  Its close proximity to the mall makes it great if you want to shop here.  My family and I are big Disney and Steelers fan, so we loved that it had official Steelers and Disney stores.
Its proximity to the mall also means that you are close to lots of dining options, like TGI Friday's or the food court at the mall.  Additionally, you're also close to Giant Eagle, Target and other stores if you need anything on your trip.  We weren't there long but we made more than one stop to Giant Eagle.
2. Convenient for Kennywood
The main reason my family made this trip was to visit Kennywood (see our Kennywood travel guide here).  We are big Steelers fans, and we wanted to check out the new Steelers Country section and Steel Curtain roller coaster.  We found this hotel to be a good location for a Kennywood visit.  It was a little over thirty minutes from the theme park, so it wasn't necessarily convenient.  However, it was a very easy drive and you didn't have to mess with any downtown Pittsburgh traffic.  And by being close to the mall and Kennywood, it gave us more than one thing to do on our short summer trip.
3. Close to the T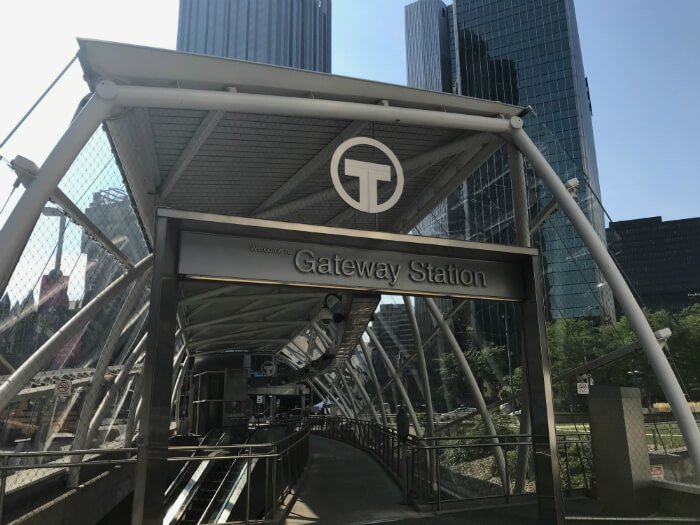 But let's say you're visiting Pittsburgh and want to get to other parts of Pittsburgh.  Whether it's for sightseeing or sports games (like the Steelers, Pirates, Penguins, University of Panthers, etc.), there are a lot of reasons to get there.  You may think Crowne Plaza Pittsburgh South might be too inconvenient to get to other locations, but luckily it is not.  That is because there is a T stop is in the mall parking garage.  By "the T", I am referring to Pittsburgh's incredibly convenient Light Rail Center.  So basically this hotel is convenient no matter what you want to do during your Pittsburgh trip!
4. Great Rooms
While the location is a big reason to choose a hotel, you always want the hotel you choose to have good rooms.  And this is definitely the case with Crowne Plaza Pittsburgh South.  Most importantly, the beds were extremely comfortable.  And I liked how they had two queen beds for a family of four.  It was also aesthetically pleasing.  There was also plenty of room for our luggage.  And our room had great views of the mall.
5. Fitness Center
Want to stay fit during your trip to Pittsburgh, Pennsylvania?  Not a problem at a Crowne Plaza Pittsburgh South!  This hotel has a great fitness center you can use.
6. Pool
Another great way to work out (or relax) is the hotel's outdoor pool.  There's a seasonal pool you can use that is a great way to cool off after a hot day in Pittsburgh or at Kennywood!  And if you're here in the winter, you'll appreciate the nearby firepit!
7. Business Center
Need to take care of business during your vacation in the Steel City?  Crowne Plaza Pittsburgh South has you covered with its convenient business center.  You'll be able to use their computers or printer.
8. Aesthetically Beautiful
When you're walking inside or outside this hotel, you'll be impressed with how beautiful the hotel is.  You can definitely tell this a quality, above-average hotel.
9. Onsite Dining & Food
If you want to stay inside and not bother to go out to the mall, you can order room service.  You can also head downstairs to the restaurant in the hotel, which has a great menu.  There's also a convenient shop in the hotel where you can pick up snacks (I got great chips here).
10. Great for a Wedding
I've outlined how this hotel could be a great hotel for many reasons: a summer trip to Kennywood, a shopping outing, a trip to a Pittsburgh sports game, etc.  But did you know this hotel is also a great choice for a wedding?  This hotel is really beautiful and is ideal for a wedding.  But in addition to having great facilities, this hotel also has a great reputation around Pittsburgh for being affordable and having a really accommodating staff.  So if you are looking for a hotel in Pittsburgh for a hotel, this would be a wonderful choice!