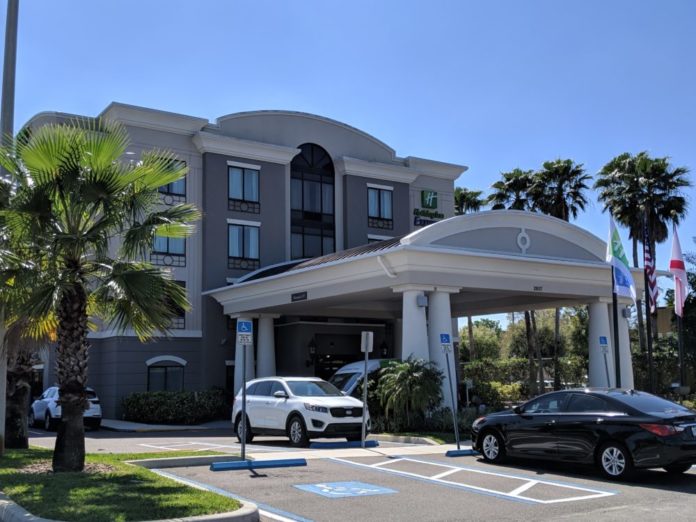 If you click on the links in this post, we may earn money from the companies mentioned in this post, at no extra cost to you. You can read the full disclaimer here.
A couple of weeks ago I stayed at the Holiday Inn Express & Suites Tampa USF – Busch Gardens.  I was in town because I wanted to attend the 60th Anniversary Celebration at Busch Gardens and wanted a hotel that was close to Busch Gardens Tampa Bay.  This hotel went above my expectations and made for a wonderful stay during my time in Tampa, Florida. I think your family would very pleased, too, at a stay here – here are 10 reasons why:
Shuttle to Busch Gardens/Walking Distance: This hotel is actually within walking distance, but it's not a quick walk.  I timed the walk at 21 minutes, so it was definitely doable (if you do walk it, then you'll walk across the street, walk along the sidewalk right by the wall that you will swear will go on forever, and then when you turn left make sure to take the Pedestrian Walkway to save time).  If you love walking and don't like to rely on shuttles then walk, but I would probably recommend the very convenient, complimentary shuttle that the hotel offers.
Busch Gardens Partner Hotel: Holiday Inn Express & Suites Tampa USF – Busch Gardens is an official Busch Gardens partner hotel, which means you get discounts in the park on dining & merchandise.  It also means you can book a vacation package through Busch Gardens and save a lot of money on your overall vacation. You can see Busch Gardens hotel packages here.
Good Location: As I said before, this hotel is very close to Busch Gardens & Adventure Islands water park and great for a visit there, but in addition it's a short drive from other Tampa attractions, like the Seminole Hard Rock Casino, the Florida Aquarium, the ports of Tampa, etc.
Great Rooms: The rooms were spacious with multiple chairs to sit in, a microwave & refrigerator, spacious bathrooms, etc.  This exceeded my expectations for a hotel that was so close to Busch Gardens Tampa Bay because often hotels that are close to attractions try to jam pack as many rooms together as possible, but this is not the case with Holiday Inn Express & Suites Tampa USF – Busch Gardens.  This beds at this hotel were also extremely comfortable and helped me great nights of sleep during my stay here.
Free Breakfast: I love when hotels offer a free breakfast, but this hotel went above & beyond in their breakfast.  I've been to hotels with a waffle maker, but this one actually had a pancake maker that was so easy all you had to do was literally press a button.  There were also delicious Cinnabon sweet rolls.
Free Parking: When you're staying at a hotel that's within walking distance of a popular theme park, you often have to pay for parking but that is not the case here, as this hotel has free parking (which helps you save money on your vacation).
Walking Distance of Good Dining: In addition to being in walking distance of Busch Gardens, you're also within walking distance of a number of restaurants, like Popeye's, Taco Bell, Red Lobster & Olive Garden, which is great if you don't have a car or don't feel like driving around looking for a restaurant at the end of a day at the theme parks.
Pool: Let's face it, Tampa can get hot, so it's great that you can cool off in their outdoor pool!
Fitness Room: The hotel also offered a fitness room, which is great if you want to work out during your stay in Tampa, Florida.
Great Customer Service: Even though all of these factors were enough of a reason for me to enjoy my stay here, perhaps my favorite part of this hotel was the great customer service.  Every time I ran into a hotel worker, they were so nice and accommodating. This really made my stay better.