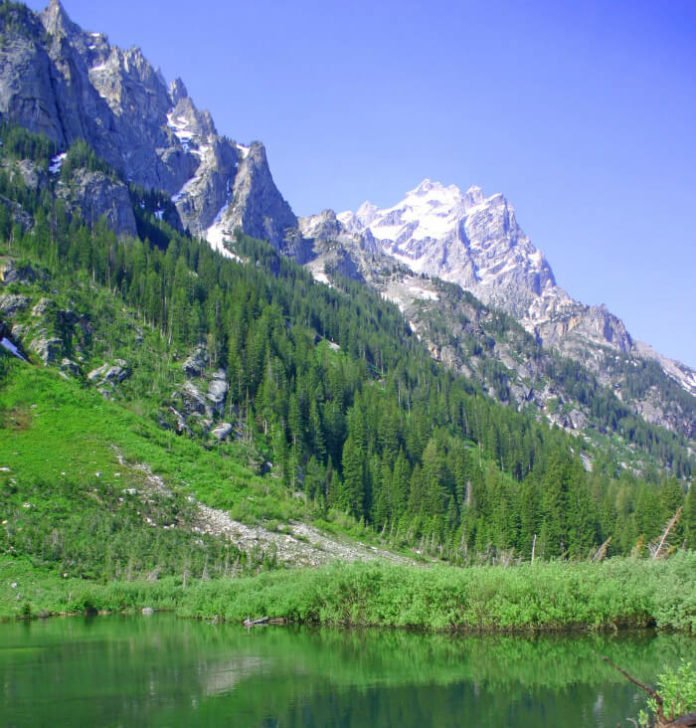 If you click on the links in this post, we may earn money from the companies mentioned in this post, at no extra cost to you. You can read the full disclaimer here.
Jackson Hole is a valley between the Teton Mountain Range and the Gres Ventre Range in Wyoming near the Idaho border.  The "hole" was used by the early trappers, known as "mountain men," as a term for a large mountain valley.
The valley was first settled by Native Americans, followed by fur trappers and then homesteaders.  The area has been renowned since the early 1800s for its incredible beauty and abundance of wildlife.  Dude ranches quickly became popular.  Jackson Hole is known as a paradise for winter sports.
The town of Jackson is located in the southern end of the valley.  It brags that it's the "last of the Old West."  Jackson Town Square is lined with wooden boardwalks.  Follow the boardwalk to the iconic Million Dollar Cowboy Bar with saddle bar stool seating.  Stroll on over to the Silver Dollar Bar in the historic Wort Hotel and see the bar top embedded with over two thousand uncirculated Morgan silver dollars.  Connect with your inner cowgirl or cowboy and join in the Western swing dancing at either of these bars.
The Town Square's 4 main entrances have large arches made of shed elk antlers collected from the nearby National Elk Refuge.  
Nearly 500 animal species live in this region.  You can see elk, moose, wolves, bison, bighorn sheep, pronghorn, bears and more.  One of the few grizzly bear populations in the U.S. can be found here.  See free roaming elk and bison herds.  Jackson Hole also has America's highest concentration of bald eagles on a stretch of the Snake River.  
Visitors come to Jackson Hole in the winter for skiing and snowboarding.  In the summer, people enjoy river rafting, fishing, hiking, biking, horseback riding, bird watching and other outdoor recreation.  Grand Teton National Park is 5 miles from Jackson Hole and Yellowstone National Park's South Entrance is 90 miles away.
If you'd like to visit Jackson Hole now would be a good time because Hotels.com has hotels with deeply discounted rates.  Here are some of the best deals.
Moose Creek Ranch       50% Discount

Flat Creek Inn       46% Discount

White Buffalo Club       39% Discount

Teton Valley Resort       37% Discount

Parkway Inn       25% Discount

Ranch Inn       25% Discount

The Lexington at Jackson Hole       25% Discount

Snow King Resort Hotel       22% Discount

Mountain Modern Hotel       21 % Discount

Elk Refuge Inn       20% Discount

49'er Inn & Suites       15% Discount

Antler Inn       15% Discount

Elk Country Inn       15% Discount

The Wyoming Inn of Jackson Hole       11% Discount

Alpenhof       10% Discount

Cobblestone Hotel & Suites – Victor       10% Discount

Golden Eagle Inn       10% Discount

Spring Creek Ranch       10% Discount

Teton Springs Lodge & Spa       10% Discount

Four Winds Motel       9% Discount