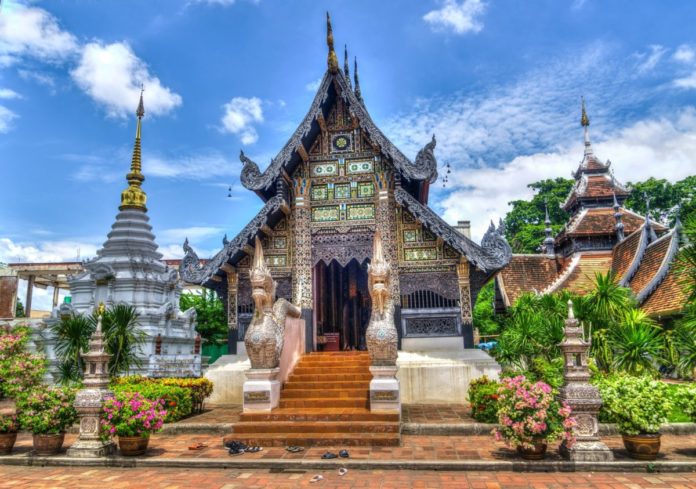 If you click on the links in this post, we may earn money from the companies mentioned in this post, at no extra cost to you. You can read the full disclaimer here.
Chiang Mai is located in northern Thailand on the banks of the River Ping.  The center of the city is the historical district with temples, old walls, and moats.  Surrounding that is a modern city with shops, excellent restaurants, and large hotels.
There's no time like the present to visit Chiang Mai because Hotelopia has some great deals on 4 and 5 Star hotels.  You can book the best for less right now.
iCheck inn Trams Square       $18

Mayflower Grande Hotel       $27

Woodfield Resort Chiang Mai       $32

Ketawa Pet Friendly Hotel       $34

Furama Chiang Mai       $36

Lotus Hotel Pang Suan Kaew Chiang Mai       $37

Chotana Villa Hotel       $39

zZz Crest Chiang Mai       $39

Holiday Inn Chiang Mai       $40

Harmony Resort Hotel       $42

Imperial Mae Ping Hotel, Chiang Mai       $42

Amora Hotel Tapae Chiang Mai       $44

Dusit Princess Chiang Mai       $48

Suansawan Resort Chiang Mai       $49

Chiang Mai Plaza Hotel       $50

Bamboori Boutique Resort Chiang Mai       $52

Nimman Mai Design       $53

The New Concept Perfect Residence       $56

Express Hotel Chiang Mai       $57

Duangtawan Hotel Chiang Mai       $61

The Balcony Chiang Mai Village       $62

Banthai Village Chiang Mai       $66

Siripanna Villas Resort & Spa Chiangmai       $72

Dusit D2 Chiang Mai       $75

Marndadee Heritage River Village       $77

Art Mai Gallery Nimman Hotel Chiang Mai       $84

Baan Saen Fang       $88

Flora Creek Chiang Mai       $91

Sala Lanna Chiang Mai       $91

De Naga Hotel Chiang Mai       $92