If you click on the links in this post, we may earn money from the companies mentioned in this post, at no extra cost to you. You can read the full disclaimer here.
Are you planning a family trip to Universal Studios Resort in Orlando, Florida?  Looking for an on-site hotel?  Luckily, Universal offers a lot of great onsite hotels.  And they come with great perks, like getting into the theme parks early.  Universal also has a great bus system so don't have to bother driving to the parks yourself.
But which hotel should you choose?  Hotels like Portofino Bay and Royal Pacific are great hotels, but they are a bit pricey.  If you are looking for something more affordable, Cabana Bay and Endless Summer: Surfside Inn are great choices. 
Cabana Bay Beach Resort and Surfside Inn & Suites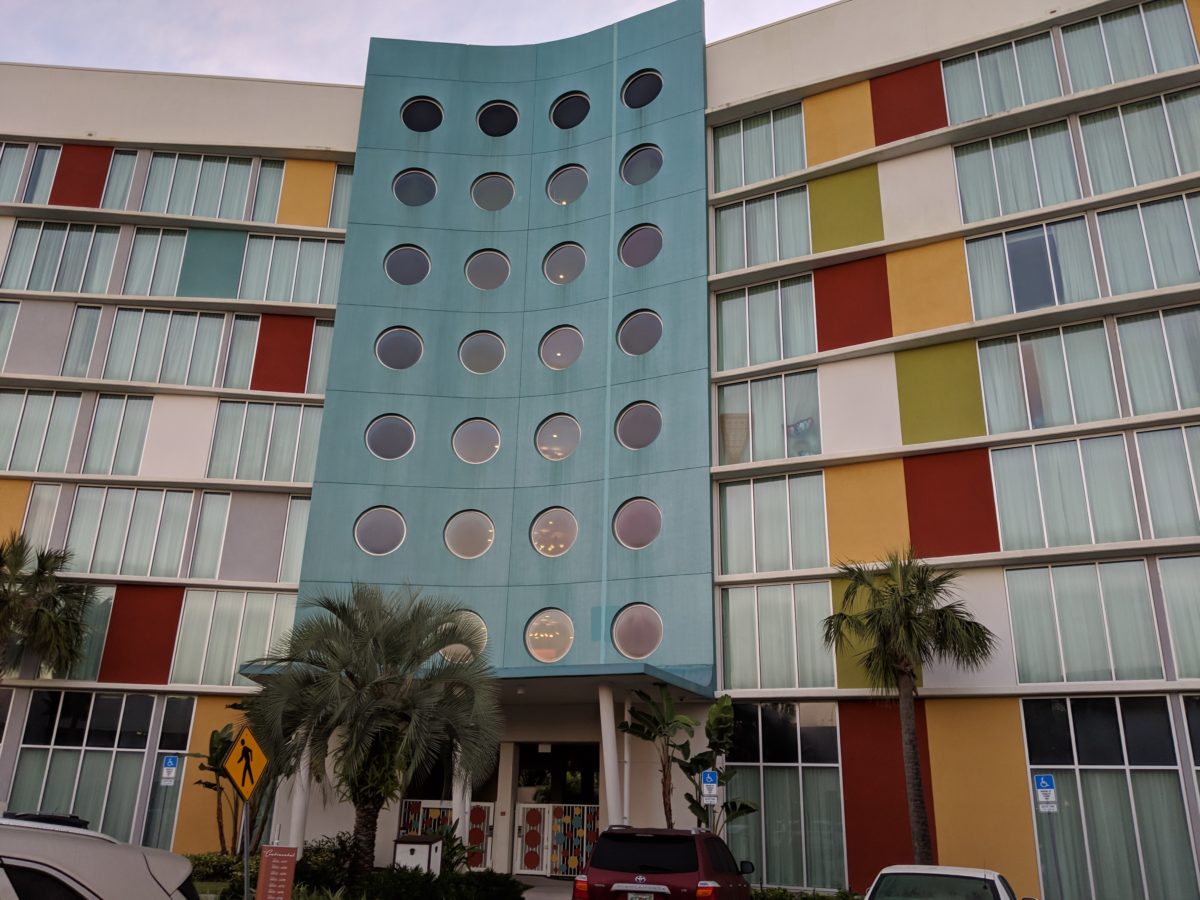 Both are much more affordable (to find the best price, book through Undercover Tourist). They are both also great for families. They have multiple suite options.  The suite I stayed in at Surfside Inn even have a total of three queen beds (Disney, please take notes).   
The great news with both hotels is that my family absolutely, positively loved staying at both.  Like, we absolutely did not want to leave. I think either would make for a great choice for your hotel.  They both have a wonderful fun theme.  Surfside Inn has a great surfing theme.  Cabana Bay has a great 50s & 60s retro theme.  They both have a laid-back, beach feel which I think is perfect for a vacation.  They both offer great small touches, like the TVs in the food courts. At Surfside Inn, you can watch clips of surfers. At Cabana Bay, you can watch clips of old TV commercials.  So both are just great choices for families.
But there are some things Cabana Bay offers that Surfside Inn does not.  So I think it's good to let you guys know what you're missing if you stay at Surfside Inn.  Especially if you have stayed in Cabana Bay in the past and you're trying Surfside Inn for the first time.  If these things don't both you or barely bother you, then I would choose the cheapest option. Because I think you'll like either.  And that cheapest option is most likely going to be Surfside Inn. But if these are a dealbreaker to you, then pay a little more and choose Cabana Bay.
Location
Surfside Inn & Suites is a bit farther away from the Universal theme parks than Cabana Bay.  That will change once Universal's fourth theme park, Epic Universe, opens.  But for now, Cabana Bay is closer.  Now, if you are just visiting Universal Studios, Islands of Adventure, or Citywalk, it's not a big deal.  Like we're talking maybe a couple more minutes in the bus.  So that's probably not a dealbreaker for you.
But when it comes to Volcano Bay, this could be more of a dealbreaker.  Cabana Bay is within walking distance of Volcano Bay.  This is really nice since Volcano Bay is a waterpark.  You can basically finish drying off as you walk.  But a lot of people don't even visit Volcano Bay.  Or don't really care about being able to walk to Volcano Bay.  Or don't even want to walk.  And if you are one of those people, then this shouldn't be a problem.
Dining Options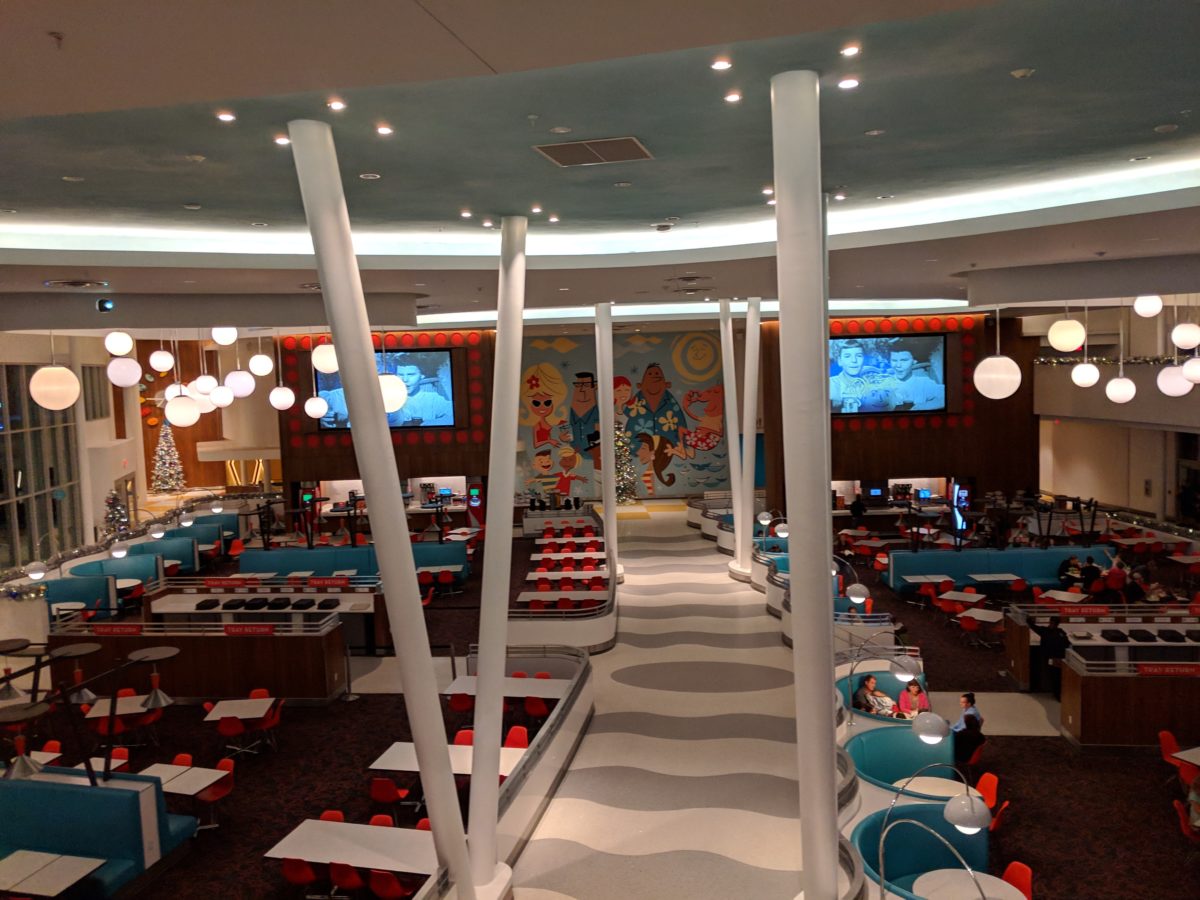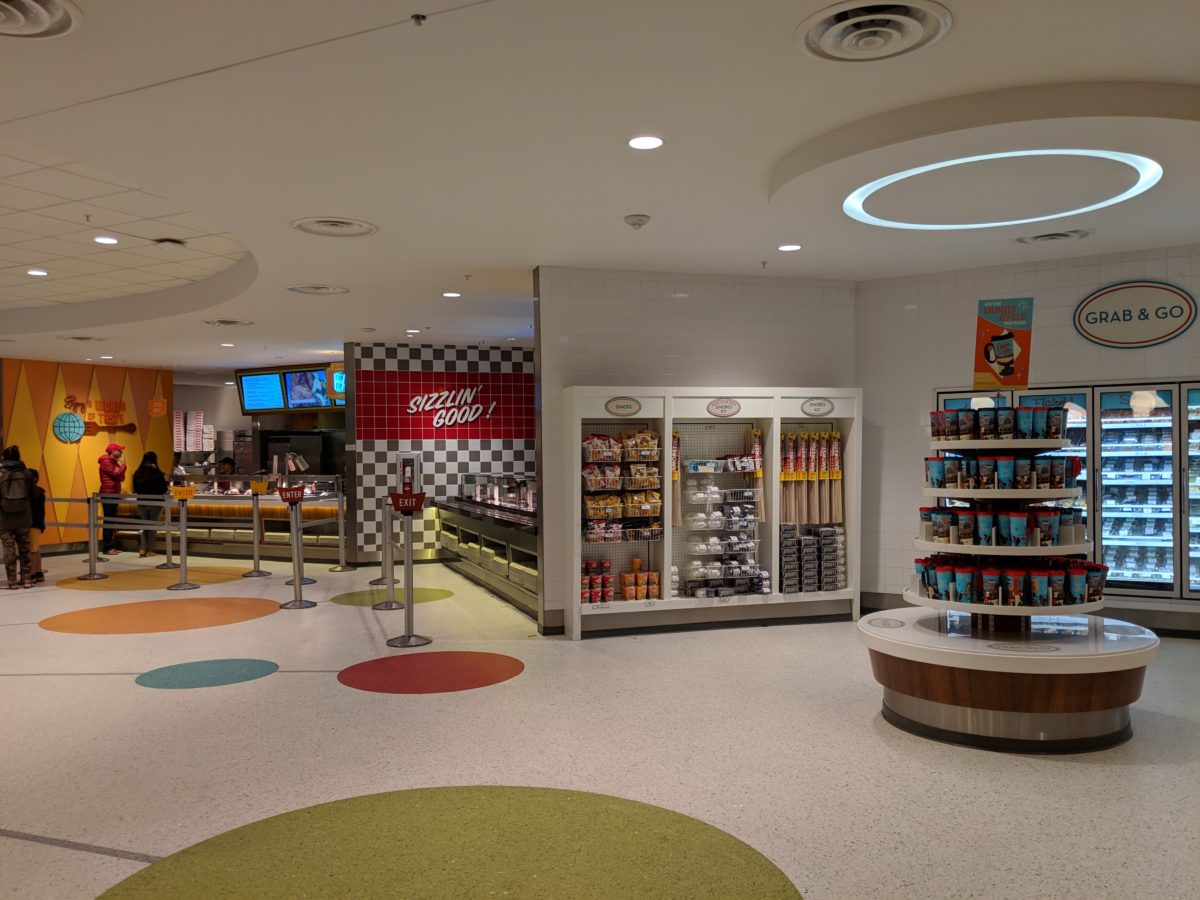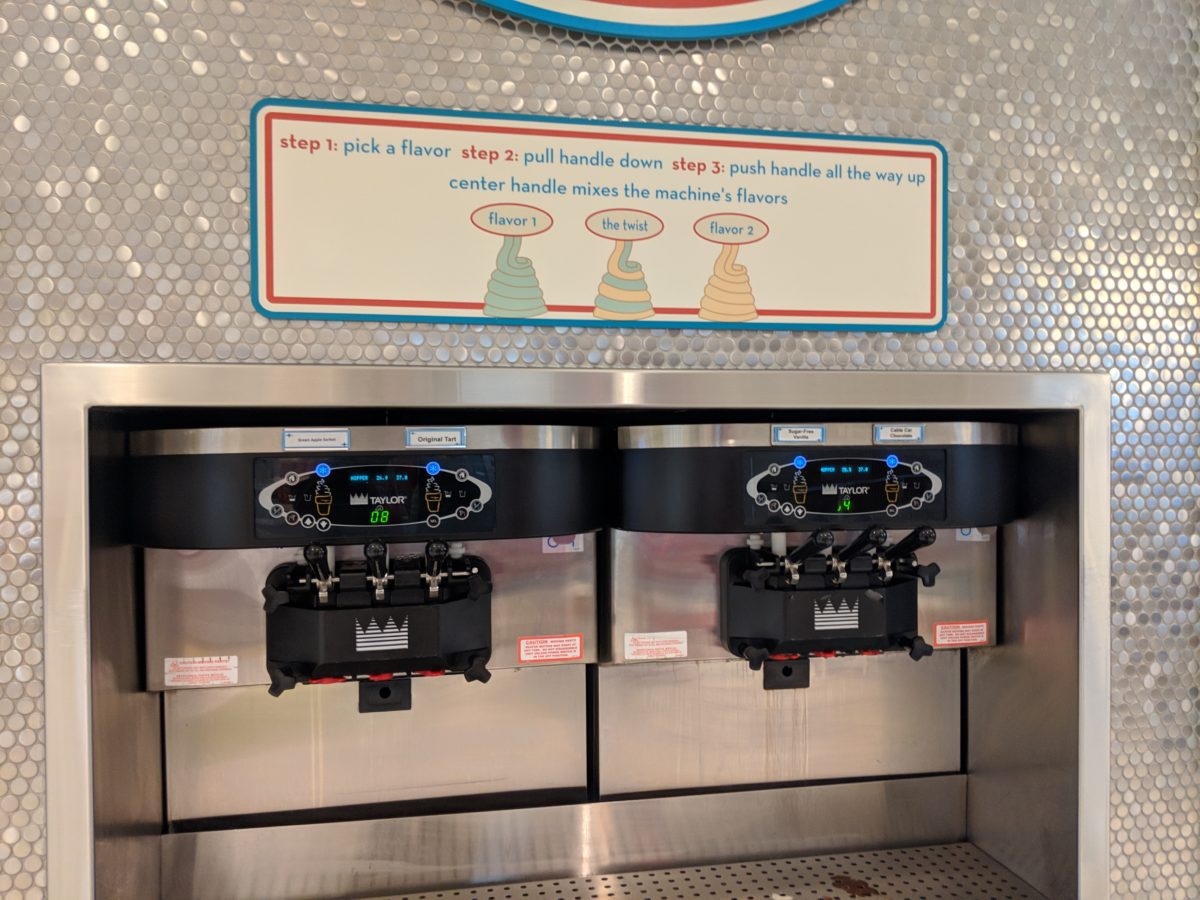 Now, first of all, Surfside Inn & Suites does have a number of dining options.  But they are a bit limited.  They have the Beach Break Cafe, which offers grab and go items.  This is where you can grab pre-made stuff and eat with the aforementioned surf videos.  Now, with grab and go, you may be thinking just a couple salad and sandwich options, but they actually do have a larger menu.  They even have things you might not expect at a grab and go, like pizza and burgers.  And for breakfast they have items like pancakes you might not expect at a grab and go.
But having said this, then can absolutely not compare to Bayline Diner at Cabana Bay.  Bayliner Diner is one of the best food courts I have ever seen at any hotel.  Their menu is so extensive you could probably eat there every day for a week for all three meals and eat different items each time.  A couple of the favorites for my family was the salad bar and the dessert station.  At the salad bar, you could make your own salads with the ingredients you want and then they weigh it and the price is based on this.  This is a great way to literally only pay for what you want.  And the same concept was true if you wanted frozen yogurt at the dessert bar.  These are neat touches that they just do not have at Surfside Inn.
Cabana Bay even has more dining options than this.  Their onsite bowling alley, Galaxy Bowl, has a restaurant with delicious food.  So if having lots of dining options is a dealbreaker for you, then choose Cabana Bay,
Pool Complex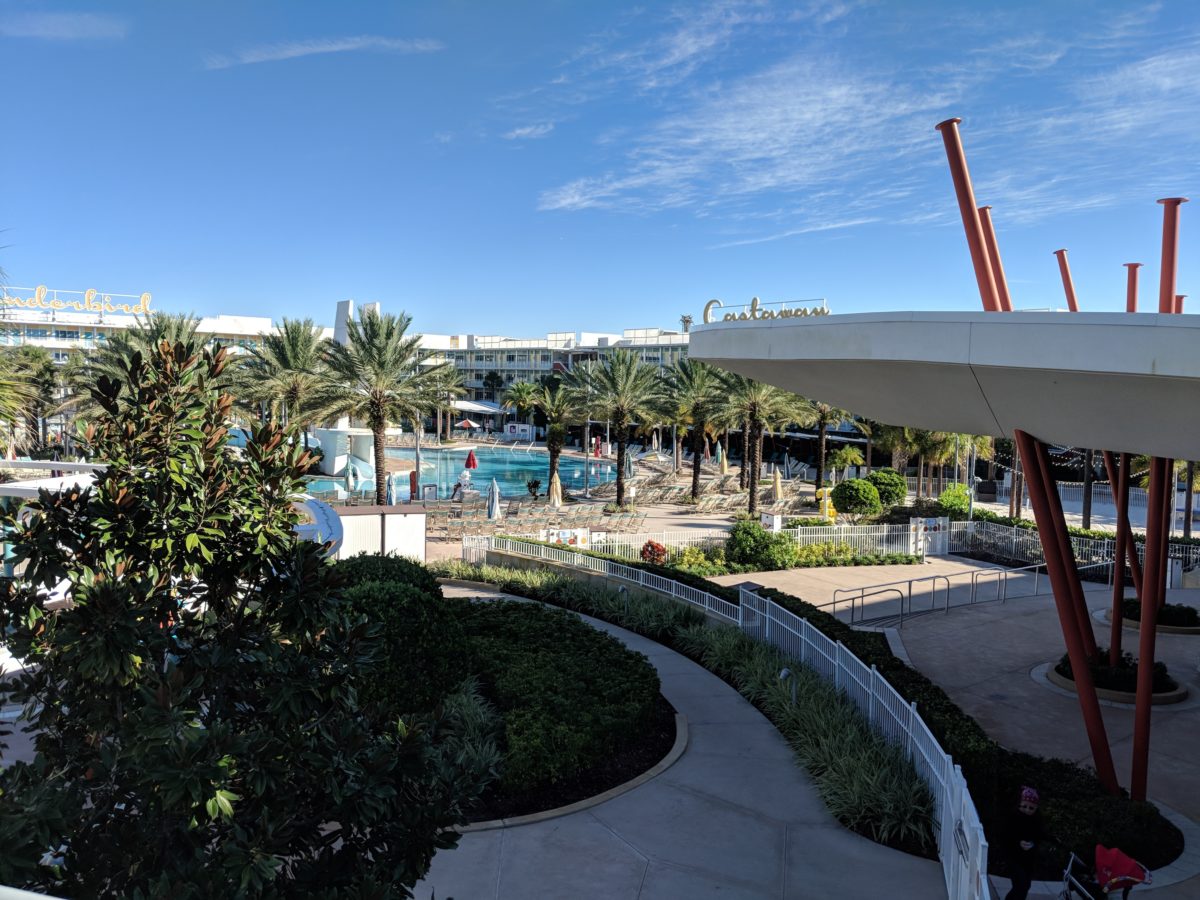 I really like the pool at Surfside Inn & Suites.  It is surfboard shaped, which is neat.  It's incredibly large, which is a huge plus.  You can actually swim in it, which you can't always do a large hotel.  And it is a zero entry pool, which I really like.
But having said this, it can't compare to the pool complex at Cabana Bay.  For starters, Cabana Bay has a lazy river.  There's a slide, too.  And there's a sandy lounging area where you can feel like you're at the beach.
But this may not matter to you.  Maybe you just want a pool.  Or maybe you're visiting to hit the theme parks and not the pool.  So in this case, it won't matter.  But if the pool is going to be a big part of your trip, you might want to choose Cabana Bay.
Recreational Activities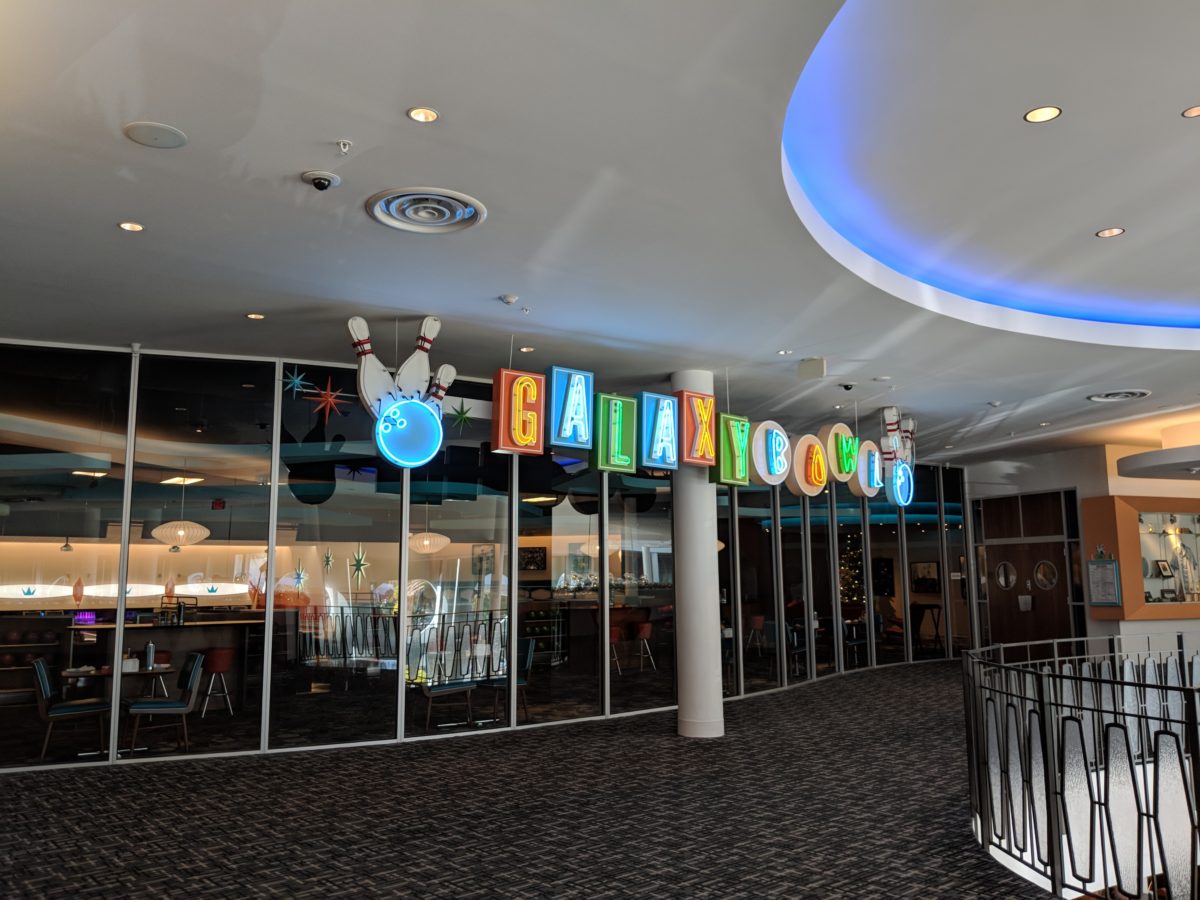 And finally, Cabana Bay does have more recreational items.  Mainly, as I mentioned before, it has bowling.  This just sort of adds on to what you can do during your trip.
But once again, this may not matter to you at all.  If you just want an onsite hotel where you can get Universal perks, then choose the cheaper option with Surfside Inn.  But otherwise, choose Cabana Bay.
Save for later – pin it to Pinterest!