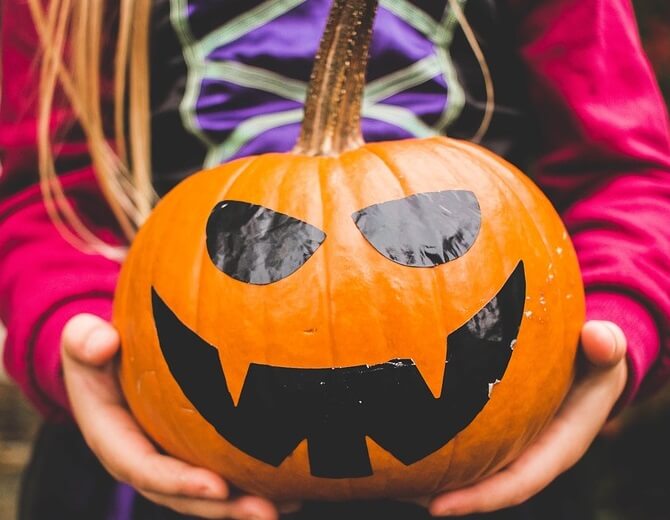 If you click on the links in this post, we may earn money from the companies mentioned in this post, at no extra cost to you. You can read the full disclaimer here.
If you'll be attending in 2022, make sure to check out these 10 tips for the Great Pumpkin Fest at Carowinds.
This Halloween, take your kids to the best family friendly Halloween event in the Charlotte area – the Great Pumpkin Fest at Carowinds!  
The Great Pumpkin Fest takes place on Saturdays & Sundays from September 15th to October 28th, and it will be more fun than scary.
It's included in your admission, and you can purchase discounted Carowinds tickets through Tripster.
Here are 10 reasons why I think your family will have a blast at the Great Pumpkin Fest at Carowinds:
Trick or Treating

: Because what is Halloween for kids without some good trick-or-treating?  Starting at 3:00 PM, kids can trick-or-treat through Camp Snoopy in a fun, safe environment

Count Snooptacula's Costume Party

: Kids can show off their Halloween costumes at this fun event at Camp Theater

It's The Great Pumpkin Picture Show

: Enjoy the 1966 class primetime special showing on the big screen at Harmony Hall

Haunted Homecoming

: Enjoy a cast of teenage dead-heads from Meat Cleaver High as they perform a retro rock review

Charlie Brown's Pirate Adventure

: Enjoy a great pirates themed PEANUTS show at Camp Theater

Linus' Pumpkin Patch & Bale Maze

: Make your way through a twisting path of cornstalks & hay bales towards a pumpkin patch, where children 12 and under can pick out a mini-pumpkin and decorate it and take it home!

Charlie Brown's Tractor Tour

: Children can enjoy a ride on a miniature pedal powered tractor!

Franklin's Game Corner

: Enjoy a variety of fun fall-themed festival games at Harmony Hall Arbor

Lucy's Mummy Pit

: Have fun & cool off in this bubbly & sudsy pyramid of mayhem

Sally's Craft Corner: Here's a great place where your kids can create great Halloween themed crafts, such as a spooky mask or a miniature pumpkin!