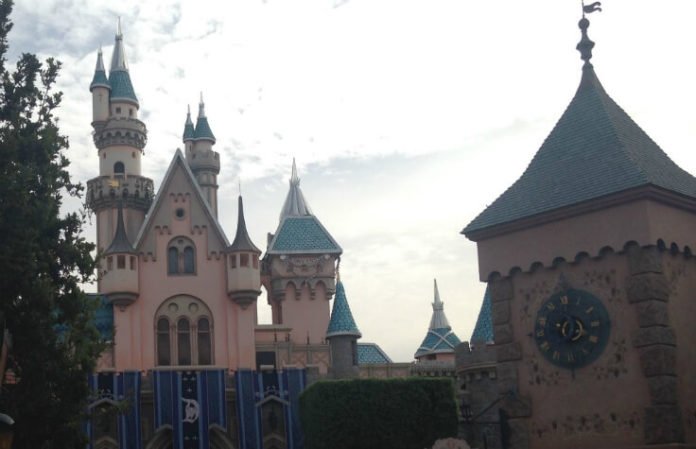 If you click on the links in this post, we may earn money from the companies mentioned in this post, at no extra cost to you. You can read the full disclaimer here.
Getting to take a vacation to Disneyland in Anaheim, California can be a dream come true.  No matter what your age is or you who you travel with, you are bound to have fun at Disneyland & California Adventure theme parks.
The only negative to a Disneyland trip is the cost.  Let's face it; a trip to Disneyland can get quite expensive.  Luckily, there are ways to help you save money to help make a great trip to Disneyland affordable.  In fact, I'm going to let you in on 10 ways you can save money on your vacation.
First, let's discuss tickets.  Here are three ways you can save money:
Book tickets through ParkSavers – ParkSavers is one of the most reputable resellers of Disney tickets, and you can get great deals on Disney tickets through this website. I have used them before for Disney tickets and have saved a lot of money.  You can save up to $159/person.  I highly recommend using them to get discounted tickets.
Get a Southern California CityPASS – Another way to save money on Disneyland tickets is to buy a Southern California CityPass. Now, this only saves you money if you are planning on visiting other attractions while you're in Southern California; in addition to getting tickets a 3-day park hopper ticket to Disneyland & California Adventure theme parks, you also get tickets to LEGOLAND California and SeaWorld theme parks, plus for an additional cost you can add on the San Diego Zoo or Safari Park.  Now, all 4 of those attractions are in the San Diego area, so if you are only visiting the Anaheim/Los Angeles area, then you may not be planning on going to any of those attractions and in that sense buying the Southern California CityPASS would be a huge waste of money.  But if you were planning on going to all of these attractions, then you can save a lot of money by buying the CityPASS.
Earn money through Swagbucks for Disneyland tickets: Swagbucks is a way you can make money online. You earn "Swagbucks" for tasks like answering surveys or watching videos, and then you can redeem them for Disneyland tickets.  This can take a little time, but I have used it for Disney tickets before and it has really saved me money.  Here is some more information about using Swagbucks for Disneyland tickets.
Now, let's discuss hotel rooms:
Book a Disney hotel through TripAdvisor: There are 3 official Disney hotels and if you want to stay at one of them, you can save money by going through TripAdvisor because they are always up-to-date with the current best deals for the hotels: The Disneyland Hotel, Disney's Grand Californian Hotel & Spa and Paradise Pier Hotel.
Stay at non-Disney hotel near Disneyland: One thing I like about Disneyland that is not the case with Disney World is that you can stay at a lot of hotels that are not technically "Disney hotels" but are within walking distance of Disneyland. I stayed at Residence Inn Anaheim Maingate and had a wonderful time, and I was able to walk each morning to the parks.  A couple of these hotels with great deals going are the Clarion Hotel Anaheim Resort & Quality Inn & Suites Anaheim.
Now, let's discuss meals:
Eat dinner at restaurants near Disneyland: The last time I went to Disneyland, I saved a lot of money by not eating dinner at the parks.  When you visit Walt Disney World Resort in Orlando, you are kind of in a bubble and it's hard to visit restaurants outside the resort, but once you walk outside Disneyland you are close to a number of reasonably priced dining options.  For example; my family really enjoyed getting a pizza at Pizza Press which is close by Disneyland.  It was reasonably priced, plus we saved money by sharing a pizza.  Then we went back to California Adventure later for World of Color.
Finally, let's discuss getting to the Disneyland Resort.
Get discounted flight: For some people, flying to Disneyland is a necessity, because if you live far off, the drive might be too impossible. But even if you say live in an area where you could drive, such as Salt Lake City, it could actually be cheaper for you to fly; it really just depends on the flight you get.  I personally have had great success finding discounted flights through Cheapoair.
Use Super Shuttle for transportation from the airport to your hotel: If you do want to fly into Los Angeles, you will need a way to get to your hotel; even if you stay at an official Disney hotel, there is no free airport transportation like there is at Disney World.  And if you only want to visit Disneyland & California while you're in the area and you're staying at a hotel within walking distance or one that offers free transportation, then you may not need a car rental.  In this case, I recommend booking a Super Shuttle to take you from the airport to your hotel; you can save a lot of money that way.
Get discounted car rental: If you fly into the Los Angeles area and you want to have a car so you can visit other places while you're in Southern California, such as Universal Studios Hollywood, then you may want to rent a car.  I have always found that OneTravel has great prices on car rentals.
And finally, there is a way you can pay very little for all of this…
Win a sweepstakes: This one is kind of a longshot, but there are often sweepstakes that could help you save money on a Disneyland vacation, whether the sweepstakes is for a specific trip to Disneyland or is for something that would help you save money on your trip (such as for an airfare voucher, hotel points that would help pay for your stay at a nearby hotel, gas cards that would save you money on gas, etc.).  At Green Vacation Deals, we update our readers every day with great current travel sweepstakes, so periodically check out our Sweepstakes page.