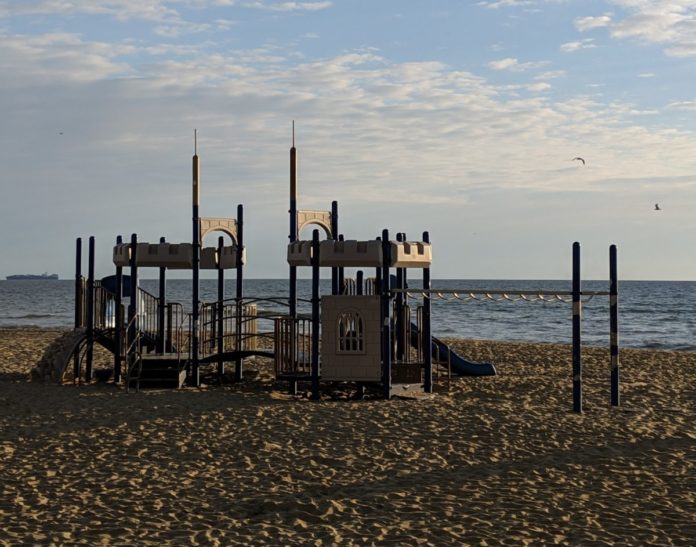 If you click on the links in this post, we may earn money from the companies mentioned in this post, at no extra cost to you. You can read the full disclaimer here.
Virginia Beach is an amazing travel destination for any age, but it can be an amazing place for families with children because there are so many things to do!
1. The Beach
Okay, first of all, we are talking about Virginia Beach, right?  So it is only natural that the #1 reason would be the beach!  Your kid will love running around the beach, splashing in the water and there are even great playgrounds on the beach, too!
2. Mini-Golf
Mini-golf is a fun way to spend your time at the beach, and Virginia Beach has some great mini-golf courses like Jungle Golf and King Neptune's Indoor 3-D Golf.
3. Ocean Breeze Waterpark
If you love swimming and getting wet (and if you're at the beach, you're at the right place!) then you'll love Ocean Breeze Waterpark, the only water park in Virginia Beach.  It's got rides, a tubing adventure, water slides, a kids' play area, etc.
4. iFLY
Do you have a daredevil child who has always wanted to know what skydiving was like?  Consider taking them to iFLY Virginia Beach.  It is a wonderful way to feel the sensation of skydiving just much safer for a first experience.  iFLY uses a flight tunnel to move air in a vertical column at speeds high enough to keep guests smoothly flying through the flight chamber.  You can book this experience here.
5. Game on Gaming Center
If your child loves games, then they'll love Game on Gaming Center.  They have a great variety of games, including popular hits like Fortnite, Mario Kart, Madden, Street Fighter, Roblox, PUBG, Overwatch, and more.  You can save up to 50% on two hours of gaming by clicking here.
6. AMF
In addition to an arcade, AMF has bowling, laser tag, and delicious food.  And you can save up to 71% off of bowling here.
7. Escape Room
If you want to spend time together as a family and work together as a family, then book an Escape Room (which you can do for up to 40% off here) so you can solve the clues and figure out how to escape the room together.
8. Scavenger Hunt
Want to go sightseeing in Virginia Beach?  A fun way to do it that can be really interactive with your children is through a scavenger hunt.  By searching for clues and solving puzzles, the activity becomes a lot more active and a lot less passive.  You can book a kid-friendly scavenger hunt of Virginia Beach here.
9. Wetland Zip Tour
If your children are older and physically able, they may really enjoy the thrill of ziplining.  A Wetland Zip Tour is really neat because it is a 90-minute tour of the wetlands but from a really cool viewing point.  It combines the fun of sightseeing and the adrenaline of a thrilling activity.  Click here to book this activity.
10. Dolphin Tour
Do your children love animals?  Do they love dolphins?  They will be fascinated by a dolphin tour, then.  You can book a dolphin tour for up to six people at a savings of up to 25% off by clicking here.
11. Splash House VB
Does your kid love to paint?  Painters young and old can enjoy making art at Splash House VB.  You get a canvas, three paint colors, and unlimited tools to use in a studio space for up to one hour.  Your child can bring home a really special souvenir from their Virginia Beach trip if they do this activity.  And you can book this activity at a discount of up to 59% off by clicking here.
12. Movies
Sometimes you just need a break from the beach and you want to be in an air-conditioned place in the afternoon.  And that's something the movies will always offer.  You can book a movie ticket here.
13. Haunted Walking Ghost Tour
Now, not all kids will want a ghost tour.  If your kids scary easy, then this is one you'll want to skip.
But this Haunted Walking Ghost Tour is a kid-friendly tour.  On this tour, you walk down the boardwalk and hear stories about pirates (like the legendary Blackbeard pirate), witches, and more.  So there are a lot of stories your kids could become fascinated by.
14. Let's Play Paintball
Paintball is another fun activity your family might enjoy doing together.  At Let's Play Paintball, you can enjoy fun games together, like Capture the Flag, Speedball, Woodsball, and Elimination.  You can click here to book an Infantry Paintball Package.
15. Hunt Club Farm Petting Farm
If your kids love animals then they will love the Hunt Club Farm Petting Farm which has ponies, goats, sheep, chicken, alpacas, llamas, donkeys, a bird aviary and much, much more!
16. American Indoor Go Karting
Enjoy go-karting and an arcade at American Indoor Go Karting.
17. SkyZone Hampton
Over in nearby Hampton is SkyZone, which is a great place to take your kid when you want them to burn off some excess energy.  Their trampolines are a lot of fun – and affordable if you click here for a great coupon.
18. Virginia Living Museum
Virginia Living Museum is nearby Newport News is also a fun excursion with kids.  Now, not all kids like museums.  But not all museums have animals and dinosaurs.
They have a Dinosaur Discovery Trail with realistic one-third to full-size dinosaur replicas from the Jurassic and Cretaceous periods.
And they are home to 250 different species of animals, like the American red wolf, the bald eagle, the coyote, fish, white-tailed deer, turtles, and more.
You can book a skip-the-line ticket for the Virginia Living Museum here.
19. Busch Gardens
About an hour away from Virginia Beach lies the wonderful theme park of Busch Gardens, so if you are spending some time in Virginia Beach you might want to get away for a little bit and check out this wonderful theme park.  This is a great theme park for all ages. You will love the beautiful gardens, theming to different European countries (England, Scotland, Ireland, Germany, France, and Italy) and Canada, while your children will love the great children's rides throughout the entire park.  If you have teenagers, they'll love the roller coasters and theme parks and if you have little ones, they'll love the great dragon themed play area and the Sesame Street themed Sesame Street Forest of Fun with tons of rides for younger children.  You can buy discounted tickets by clicking here.
20. Ripley's Believe It Or Not!
Another fun family activity is Ripley's Believe It or Not! Odditorium, which is about an hour away from Williamsburg so if you do head out to Williamsburg, your family should have a lot of fun here.  They've got an Impossible Laser Race, a Moving Theater 4D and one of the Odditoriums that have made Ripley's so famous – and you can do all this at a discounted price by clicking here.