If you click on the links in this post, we may earn money from the companies mentioned in this post, at no extra cost to you. You can read the full disclaimer here.
Chances are if you have ever been to Magic Kingdom at the Walt Disney World Resort in Orlando, Florida before, you know about Casey's Corner.  Whether you've eaten there, thought about eating there, or just accidentally wandered into the restaurant while at the gift shops on Main Street.
But Casey's Corner is an iconic part of the Magic Kingdom.  It is a quick-service restaurant on Main Street with a great location.
Theming
Casey's Corner has a baseball theme.  It name is inspired by the 1888 poem "Casey at the Bat".  So it is accurately themed to turn of the century baseball in America, just like how Main Street is themed to early 20th century America.
You can see the baseball-theming in the menu selection.  The menu at Casey's Corner consists of food you would find at a baseball stadium.  The menu consists of Hot Dogs, Corn Dog Nuggets, Chili-Cheese French Fries, French Fries, Chili, etc.  Please note, too, that there are plant-based hot dog options.  So that could be an option if anyone in your group does not eat meat.
By the way, right now during the 50th anniversary, they have some neat items like Walt's Chili-Cheese All-Beef Foot-long Hot Dog and a 50th Celebration Hot Dog, which is a Beef Hot Dog topped with Strawberry-Bacon Jam, Powdered Sugar, and Crisp Funnel Cake Pieces.
You can see the baseball-theming throughout the restaurant.  I absolutely love the pennants on the wall.
And I love the pictures up at the restaurant.  They do a great job showing turn-of-the-century baseball.
The pictures depicting the poem are great.  And the Mudville and Visitors scoreboard sign is also a really nice nod to "Casey at the Bat".
The whole theming is really fun, especially if you like baseball, which my family does.
Seating
The seating inside the restaurant is really neat due to the great theming.
But despite the great theming inside, most of the seats for Casey's Corner are outside.
But sitting outside at Casey's Corner has huge advantages, mainly due to its wonderful location.  You get wonderful views of Cinderella's Castle from your seat.  Depending on when you eat, you could see a Character Cavalcade go by.  If you are eating there at night, you can see fireworks from your seat.
Of course, the negative here is that Casey's Corner becomes so popular around the time of fireworks that it can be almost impossible to find a seat.  There are only a few tables inside as it is, so if most of the tables outside are being used, you are left without a table.  One time I came here at night and while my family (after awhile!) lucked into getting a table, I saw people eating on trashcans, sitting on the side of the street eating, or (if they were lucky enough to find chairs) eating off of their laps.  So if you want to come here and ensure you can get a seat, you might want to come earlier in the evening, long before fireworks.
Another fun thing about eating outside at Casey's Corner is that sometimes you can enjoy great live music from Casey's Corner pianist.
The music really helps set the mood of Main Street, U.S.A.
Food Review
But even if the views are great outside and the theming is wonderful inside, you won't want to eat here if you hate the food, right?
Well, luckily that is not the case!  My family really loves the hot dog and French Fries here.
Here's a tip if you want a hot dog.  If more than one person in your group wants a hot dog, consider splitting a foot-long hot dog.
As you can see, the All-Beef Foot-long Hot Dog is about twice the size of an All-Beef Hot Dog.  But the foot-long hot dog meal costs $11.99 while the All-Beef Hot Dog costs $9.99.  So it saves you about $8 by ordering one foot-long rather than the regular size.  And if you do get French Fries as a side, the portion size is pretty good so you can share the Fries.
One potential negative I will note about this restaurant is due to its menu revolving around the baseball theme, it is not the most extensive menu.  So that is something to consider if you have picky eaters in your group.  If you don't like hot dogs or corn dogs, you can't really make Casey's Corner a place to go for a meal.
If you do love the theming and none of the main menu items, consider just going here for a snack or a dessert.  They often have great dessert items.  Sometimes, they are seasonal, like this Minnie Witch cupcake I got one year near Halloween.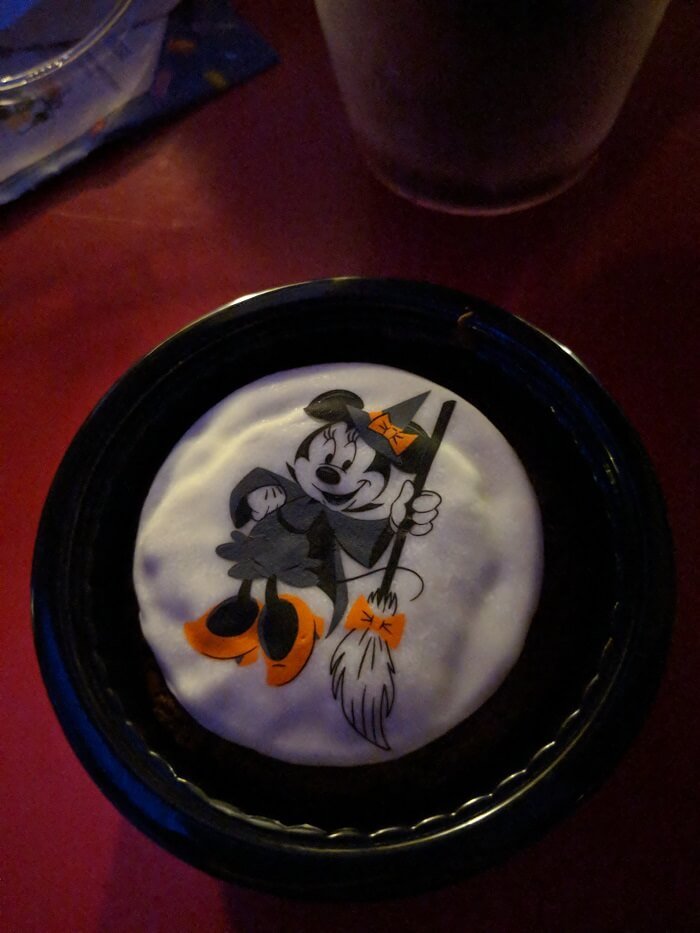 Right now, they have a great 50th Anniversary-themed dessert.  You can get a Pressed Penny Silk Pie, which consists of a Chocolate Tart Shell, a Silky Chocolate Filling, Sweet Whipped Cream, and a Chocolate-pressed Penny.
So while the theming is the main reason I love this restaurant, I really like the food here, too.  It is worth a visit for the food alone.
Disney World Tickets & Money Saving Tips
In order to go to Casey's Corner, you'll need a Disney World ticket.  You can find out how to get discounted Disney World tickets here.
If you're planning on visitng Magic Kingdom a lot, you can consider staying at a Magic Kingdom area hotel.  If you stay at the Contemporary Resort, Grand Floridian, or Polynesian Village, you can take a monorail or even walk to the Magic Kingdom.  Click on these links to find out how to save money when staying there:
Another hotel we love to stay at when we visit Magic Kingdom a lot of is the Wilderness Lodge.  You can take a boat from the Wilderness Lodge to Magic Kingdom, which I find to be a nicer form of transportation than the bus.  Learn tips on how to save money at the Wilderness Lodge here.