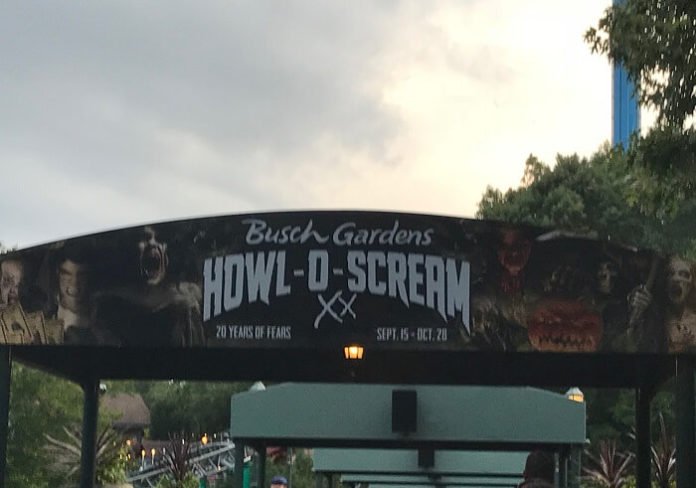 If you click on the links in this post, we may earn money from the companies mentioned in this post, at no extra cost to you. You can read the full disclaimer here.
If you are looking for a scary time this Halloween in the Williamsburg, Virginia area, then you have to check out Howl-O-Scream!  You can see some of the fun here in our video from our visit last week:
Howl-o-Scream features lots of shows, scare zones, and haunted houses that are scary and fun.  This is in addition to some of the great food and drink and rides that you get to experience at Busch Gardens.  We'll go over the fun haunted houses, scare zones and Halloween shows here.
Haunted Houses
Frostbite
Frostbite is a macabre icy grave.  You'll be exposed to a fog shrouded graveyard and a creepy cavern filled with frigid creatures.  The ice has teeth and the frost bites big time.
Circo Sinistro
Circo Sinistro is not of this world and not of this time.  What you see you will soon be.
Demented Dimensions
Demented Dimensions opens up a world where humans are hunted by monsters, where aliens are in control and ancient evils live once more.
Lumberhack
Lumberhack is where undead lumberjacks lie waiting for the unsuspected to come into their den of the damned.
Vault: Overtaken
Vault: Overtaken has Howl-O-Scream's favorite creatures of the night locked up in one location.  This includes Frankenstein, Igor, Fiends Nurses, and of course Jack!
Dystopia
In this haunted house, a new world order has risen.  You can join in or be forgotten.  Your choice!
Scare Zones
Ripper Row
Ripper Row has a murderer on the loose.  Keep your head down and your wits about you if you want to make it out alive.
Axe Alley
The Norsemen may have come to invade, but they had to settle for their own Viking funeral.  Their spirits are now restless and now walk around New France to unleash terror upon the land.
Vampire Point
Vampire Point is the perfect destination for bloodsuckers.  Try to escape the village before the vampires sink their fangs into you.
Sideshow Square
Sideshow Square is full of haunts, curiosities and plenty of scares.  Step right up to the Big Top if you dare.
Garden of the Souls
Garden of the Souls is where the dead roam free and they'd love to show you what waits in the afterlife.
Fools' Court
There's a new king at the Royal Palace and let me tell you, he's a real Joker. And when the Motley Fools hit the streets, the joke, unfortunately, will always be on you.  So make sure you steer clear of the jesters!
There are more haunted houses, mazes, scare zones, experiences and devilish shows.  If you love being spooked you will definitely love Howl-O-Scream.
Shows
Jack Is Back
Jack is back at Killarney and is part of a fun dancing disco celebration.
Night Beats Revamped
Just because they're undead doesn't mean they can't give you a great show!
Monster Stomp
Enjoy great percussion and dance in a darkly entertaining stage show.
Coupons
A great thing about Howl-o-Scream is that it is included in the price of your admission.  And you can get discounted admission here.