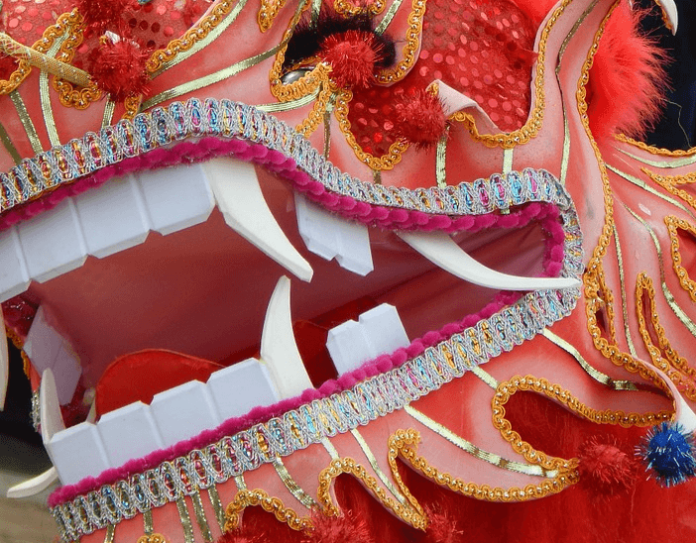 If you click on the links in this post, we may earn money from the companies mentioned in this post, at no extra cost to you. You can read the full disclaimer here.
Now is a great time to head to Shanghai Disneyland, because from January 7th to February 12th, the Shanghai Disney Resort will be celebrating the Magic of the Chinese New Year.
Here are 8 reasons why you should visit the parks during this great celebration:
Decorations: There are decorations all over the park that while paying tribute to the Chinese New Year, also have a distinctive Disney flair. You'll see Mickey-shaped lanterns, motivational door couplets, hanging talisman, floating lotuses & a "Golden Rooster Primula" in the middle of Gardens of Imagination.
Dragon Dance Cavalcade: The Disney Chinese New Year Celebration features a dragon parade, and you can become part of the action by taking part in the parade along with cast members – because the longer the dragon grows, the greater the luck for all!
Drum Ceremony: Following the belief that sound can drive bad luck away, each morning near the Storytellers Statue in the Gardens of Imagination you can hear a rhythmic drum ritual hosted by Minnie & Mickey.
Chinese New Year Wish Fulfillment: Experience a first-of-its-kind across Disney parks interactive program with the Chinese New Year Wish Fulfillment. After "Ignite the Dream: A Nighttime Spectacular of Magic & Light", a series of inspirational quotes & best wishes will be projected onto the Mickey-shaped lanterns on the towering Enchanted Storybook Castle.
Lunar Buffet Dinner: Lumiere's Kitchen in Shanghai Disneyland Resort is serving a special Lunar Buffet Dinner during the Chinese New Year Festival, where you can meet Disney characters (like Minnie Mouse) who will be wearing traditional Chinese outfits. Please note you will need a special reservation for this.
Snacks: You'll be able to enjoy delicious snacks in the parks exclusively available during the Shanghai Disney Resort Chinese New Year Celebration, like the Mickey/Minnie Popcorn Bucket.
Shopping: If you love Disney as much as me, then I know you'd love to have Disney themed momentos from this celebration, which you can pick up at the park. You can pick up a lucky bag at Avenue M Arcade, Mickey & Minnie's Mercantile, World of Disney Store, Intergalactic Imports or Doubloon Market, and you'll have the chance to win a magical prize hidden in select bags.  Plus, there will be great saving for merchandise bought during this celebration: For now through February 25th, you can get a 40% discount on any purchase with 2 or more Grand Opening item (except for limited editions).  You can also get 10% off select items if you make a purchase at Avenue M Arcade before 12:00 PM. Also, if you spend 380 RMB on a single receipt at select merchandise locations across Shanghai Disney Resort you can then purchase 1 cinch sack blanket set for 70 RMB
Characters: See Mickey Mouse & his friends don traditional Chinese outfits during this celebration throughout the park – making for a wonderful photo opp!