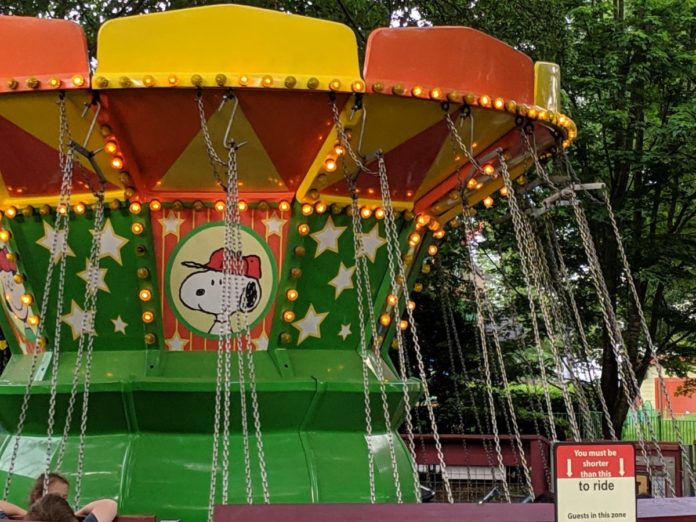 If you click on the links in this post, we may earn money from the companies mentioned in this post, at no extra cost to you. You can read the full disclaimer here.
A summer vacation in Kansas City, Missouri can't be complete without a visit to Worlds of Fun, the amazing KC theme park that has been entertaining families since 1973!
This great theme park has so many fun rides and attractions that make it an appealing place to visit.
For all you thrill seekers out there, Worlds of Fun has a lot of great attractions:
Mamba, the tallest and most iconic roller coaster at Worlds of Fun
Patriot, a roller coaster where you'll go as fast as 65 miles an hour and go through a series of 4 inversions
Boomerang, a thrilling roller coaster ride that spins you upside down
Prowler, a wooden roller coaster that was named the best new ride in the world by Amusement Today in 2009
Timber Wolf, the first wooden roller coaster in Worlds of Fun that also received top accolades as the best wooden roller coaster for over eight years
Cyclone Sams, where you feel like you're in the vortex of a storm in a twisting adventure complete with video simulation, special effects and creative theming
Fury of the Nile, a fun whitewater rafting ride
SteelHawk, where you can soar 301 feet in the air in a suspended seat with no floor below you
Detonator, a 2-towered thrill ride where you rocket towards the sky
Falcon's Flight, one of Worlds of Fun's newer rides which has 28 two-seater gondolas that spin riders one hundred feet above the ground
RipCord, a Skycoaster attraction where you can experience a 189-foot tethered free-fall
Zulu, a high-speed circular ride that raises to a 90-degree angle
Bamboozler, a high-speed circular spinning thrill ride
Spinning Dragons, a great family roller coaster that reaches a speed of 30 miles (making it better for family members who are still getting used to roller coasters, but thrilling nonetheless)
There are also other great rides for families, too, that are not as wild (but still incredibly fun!):
Viking Voyager, a classic flume ride that is one of Worlds of Fun's opening day rides
Mustang Runner, a ride new to Worlds of Fun in 2017 where guests in 2-person cars are rotated in the air clockwise or counterclockwise
Sea Dragon, where riders in a 10-row boat are swung up to heights of 55 feet
Scrambler, where 2-passenger cars spin around a fast-paced circular ride
Fjord Fjarlane, a high-speed circular ride with 2-person gondolas
Flying Dutchman, a high-speed circular ride where guests ride in boat-shaped cars
Le TaxiTour, where you can operate one of the 4-person replicas of antique taxis
Nordic Chaser, where your mini ship will rotate around a circuit
The Grand Carousel, an iconic class ride with jumping horses and chariots
Skyliner, a 60-foot Ferris Wheel
Autobahn, a fun bumper car ride
Worlds of Fun Railroad, a fully functioning replica of the great steam engines from the turn of the century
There are also great rides for the youngest guests at Planet Snoopy, a Peanuts-themed section with children rides:
Snoopy vs. Red Baron, an iconic ride where kids can fly around in a biplane with Snoopy
Cosmic Coaster, a great children's roller coaster
Linus' Launcher, a ride where guests are turned, elevated and slanted while they face down on the ride
Beagle Brigade Airfield, where guests can fly in colorful airplane-shaped trams
Flying Ace Balloon Race, where children and parents can soar 40 feet in their own balloon
Woodstock Whirlybirds, where children can spin their nest around with the steering wheel in the middle
PEANUTS 500, a ride where kids and their parents can ride around in their own race car!
Sally's Swing Set, where families can swing together 17 feet towards the sky
Charlie Brown's Swing Ride, where guests are gently spun on swings
Snoopy's Rocket Express, a great ride where you ride along in your own rocket and get great aerial views of Planet Snoopy
Camp Bus, where guests who enter the bus experience fun as the bus goes up, down and all around!
PEANUTS Road Rally, where families can enjoy cruising around Planet Snoopy in a super-sized monster truck
Kite Eating Tree, where kids are gently bounced 20 feet in the air
Woodstock Gliders, where children can control their own flight with the ride's movable wings
PEANUTS Turn Tyke, a circular ride where children are able to drive their own car
Linus' Beetle Bugs, where children are bounced along in a colorful beetle
Lucy's Tugboat where children & adults can both enjoy "riding the waves" on Lucy's tugboat
Snoopy's Yacht Club, where children ride their boats along a circular "open seas"
Snoopy's Space Buggies, where children bounce up in down in an outer space ride
Snoopy's Junction, a children's train ride with Snoopy as the conductor
Pigpen's Petting Farm, a great petting zoo with amazing animals like llamas, goats, rabbits & more.
So if you are looking to head to Worlds of Fun this summer, then you're going to want a find a ticket for a good price.  But here at Green Vacation Deals, we've got your back; you can save $23 on tickets here.