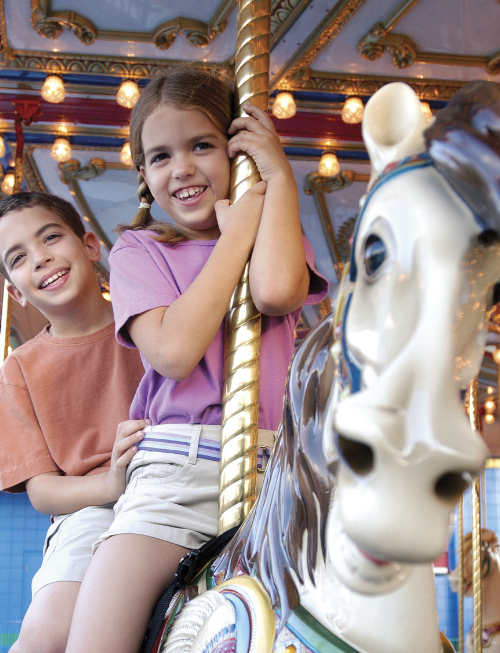 If you click on the links in this post, we may earn money from the companies mentioned in this post, at no extra cost to you. You can read the full disclaimer here.
Keansburg Amusement Park
Keansburg Amusement Park has been entertaining families vacationing in New Jersey since it was first started as a boardwalk back in 1902.  Now, not only can you enjoy the amusement park, but there is a water park across the street, Runaway Rapids.  Visiting there can make an already great beach vacation even better.
Keansburg Amusement Park Attractions
There are a lot of rides that can keep families amused all day:
Tilt-a-Whirl: This refurbished ride is just as fun as it was when it debuted in the 1930s
Moby Dick: One of the park's most popular attractions, you and 23 other riders will spin around in a clockwise & counter-clockwise motion
Mini-Train: This train has been running for over 70 years and will provide great fun for children and bring back great memories for adults!
Antique Cars: These restored pedal cars have been in use at Keansburg Amusement Park for over 70 years – and now they're ready for some new young riders!
Looping Star: This roller coaster is Keansburg Amusement Park's newest attraction
Sea Serpent Roller Coaster: This mini-roller coaster is great for children who aren't quite ready for a wilder roller coaster – and parents or guardians can ride, too!
Jump Around: Navigate your baja buggy through the desert while bouncing along on this award-winning new ride
Happy Swing: Another new ride where kids and parents can "swing" together
Swing Ride: A much gentler swing ride for younger children
Pharaoh's Fury: An Egyptian-themed swinging boat that moves back and forth in a 180-degree arc.
Red Baron: Kids (and parents!) can enjoy flying in the air in these WWI biplanes reproductions
Roto-Whip: This ride, where two-seater cars go around a circular track, has been a favorite at Keansburg Amusement Park for over 50 years
Cliffhanger: Lay flat on your tummy and soar at high speeds through the air in one of Keansburg's wildest rides
Double Shot: Get blasted up to 10 stories straight up before this ride plunges you back down.
Chaos: An exciting thrill ride with spinning disks
Log Flume: Slide down the flume in this animal-themed Log Flume that glides under the Sea Serpent Roller Coaster tracks
Balloon Ferris Wheel: Enjoy riding in a balloon-shaped car that operates like a Ferris Wheel
Super Slide: A mat slide where you start 30-feet up and then quickly go down the multi-dipped slide.
Tea Cups: Up to 4 people can spin around in this fun tea cup ride
Carousel: A classic horse and animal-themed carousel
Skyfighter: Children love flying in their plane while manning one of the Skyfighter's cracking machine guns
Loop-O-Plane: Riders get propelled in a 360-degree upside-down motion in this fun ride
Rockin' Tug: You'll feel like you're out to sea on this boat ride
Magic Ring: Kids can pick their ride (race car, motorcycle, Jeep, etc.) and enjoy the working parts and buzzers while the vehicles move around in a circle during this ride.
Oval Kiddie Whip: A fun restored ride that whips riders around curves
Tornado: Twist & turn your vehicle with up to three other riders in this fun ride for children, teens and adults
Fire Engine: Kids can steer their own private fire engine in this ride
Boats: Vintage boat ride where kids can enjoy a steering wheel and a bell to ring
Wave Swinger: You'll rise 16 feet in the air on this swing ride
Jolly Caterpillar: Kids go around the track on this colorful caterpillar in a gentle up & down motion
Frog Hopper: "Hop" up and down on the ride that has quick and gentle drops
Mini-Himalaya: A mini version of the Himalaya that kids can enjoy
Air Planes: These restored kid planes are a lot of fun for children
Raiders: Kids can feel like a Raider of the lost ark in this play area with tunnels, suspended bridges, nets to climb and more.
Rock Climbing Wall: You can use a beginner or advanced lanes depending on your skill level on this rock climbing wall attraction
Motorcycles: Kids can have a motorcycle riding experience
Rio Grande: You can enjoy the train as a conductor or in the caboose on this ride
Bumper Cars: Drive and bump your way through this refurbished track
Merry-Go-Round: This restored ride has been entertaining guests for almost 80 years
Runaway Rapids Attractions
Runaway Rapids, the water park at Keansburg, also has a lot of great attractions:
Volcanic Revenge: An uphill waterslide where, after you plunge down the hill, you'll be propelled back uphill and then down again!
Mega Bunga Falls: Go down feet-first on this slide ride and then drop into the splashdown pool
VooDoo Encounter: A high-speed pipestyle tube slide
Castaways Creek: A fun lazy river with swinging fish you can grab, waterfalls to go under, and water detonators that surprise tubers when they release air bubbles that cause a water explosion!
Mountain Blast: A fun, rolling slide you can ride with a partner or by yourself
Soaring Thunder: A mat slide down where you plunge head-first and can race a friend
Nestea Plunge: A Tarzan-style rope swing over water
Interactive Play: A fun water play area for children with water valves, paddle wheels, sprayers, water guns, and lots of slides.
Water Mushroom: A gentle waterfall structure that continually gushes water over guests in the play area
Moon Walk: An obstacle course where you hold the rope above you and walk across moon pads
Comfort Cove: A warming pool beneath Mega Bunga Falls
Lost Lagoon: This heated spa pool is a nice way to relax
Toddler's Reef: A water play area designed specifically for toddlers with fun features like a dancing fountain, climbable jeep, dolphins, sand castles and more
Keansburg Amusement Park Coupons
If you are looking for coupons for Keansburg Amusement Park, then you have come to the right place!  You can get coupons for both Keansburg Amusement Park & Runaway Rapids by clicking here.  You can save up to 30% on amusement and water park packages.  So while you are planning a trip to Keansburg, New Jersey, make sure you get your tickets here first so you can save your family a lot of money!