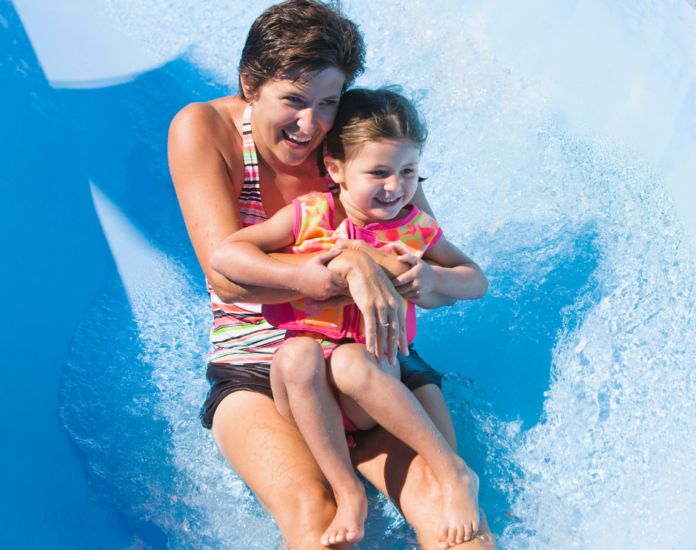 If you click on the links in this post, we may earn money from the companies mentioned in this post, at no extra cost to you. You can read the full disclaimer here.
Magic Springs Theme and Water Park have been entertaining families in Hot Springs, Arkansas since 1978.  A summer vacation in Arkansas can't be complete until you visit this fun amusement park!
How do I get discount tickets to Magic Springs?
The best way to get discount tickets to Magic Springs Theme and Water Park is with a discounted season pass or family vouchers, where will you be able to save up to 17% off.
Does Magic Springs have a lot of thrill rides?
Yes, Magic Springs offers guests tons of thrill rides that are sure to entertain even the largest daredevil this summer. There's Brain Drain, which is a 13-story drop tower. There is Sky Shark, where you can experience the thrill of bungee jumping, hang gliding and skydiving all at the same time. There's Plummet Summit, where you splash down a 50-foot drop. You'll spin over 70 feet in the air on The Hawk. And of course there are great roller coasters like the Gauntlet, X Coaster, Big Bad John and Arkansas Twister that all coaster lovers enjoy riding each year.
Does Magic Springs have rides just for kids?
There's a lot for kids to enjoy at Magic Springs, so it's a great place to bring the children if you're in Hot Springs, Arkansas over the summer. There is a classic carousel ride and a bug-themed Ferris wheel (Bugga Booga Wheel) that your kid will love – and will look great in photos. Your kid will love spinning around Fearless Flyers, Looney Ballooney or Krazy Kars or going up and down on Clown Around. The miniature train ride, Kit 'n Kaboodle Express, is also a big hit with children. Your children can also experience a very gentle freefall on Lil' Leapin' Lizards.
Are there any rides at Magic Springs that parents and children can enjoy together?
Yes, there are many rides appropriate for families at Magic Springs Theme Park. You can enjoy some of the children's rides with them, like the Carousel ride. There's also the pendulum style Rum Runner Pirate Ship that slightly older kids and you can enjoy together. The Diamond Mine Run Roller Coaster is a great starter roller coaster you can enjoy with your children, and the Log Flume is also a great ride for you to enjoy with your kids if they want a flume ride and you don't want the ride to be too wild. Your kids will enjoy driving themselves at the Ozark Mountain Taxi Company. And of course, the whole family can enjoy the Razorback Roundup Bumper Cars!
What kind of rides do they have at the water park?
The fun doesn't stop at the theme park at Magic Springs; there's a lot of fun to be had at Crystal Falls, Magic Springs' water park, too! Enjoy tube slides at the High Sierra Slide Tower and side-by-side racing on Rapid Falls Raceway. Enjoy 3 speed slides, 4 tube slides and a play pool at Seven Falls. Boogie Blast, the FlowRider wave simulator, is my favorite attraction at Crystal Falls, where you can feel like you're surfing at the beach – and you'll also feel like you're at the beach at Crystal Cove Wave Pool. Children will have fun at the water play area, Splash Island or the other play area for children, Bear Club Bend. Adventurous kids will love Grizzly Creek Splash Zone where they can enjoy the slides and the suspended bridge. And everyone can relax at the Bubble Up Pool and chill out at the Magic Spring!