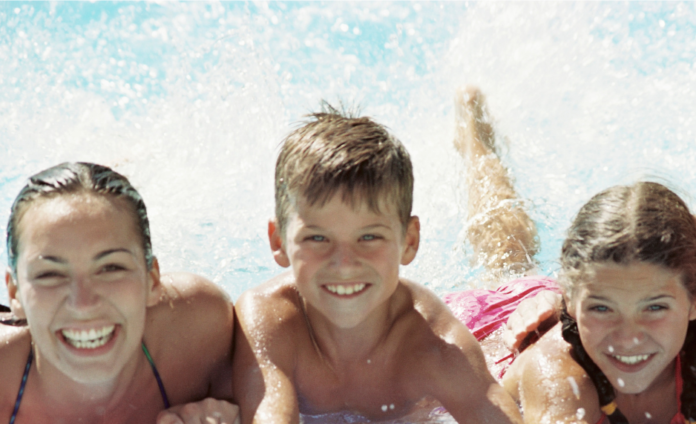 If you click on the links in this post, we may earn money from the companies mentioned in this post, at no extra cost to you. You can read the full disclaimer here.
Wings and Waves Waterpark
You may have been to a waterpark before, but I guarantee you that you've never been to a waterpark like Wings and Waves Waterpark in McMinnville, Oregon before.  This waterpark is actually part of the Evergreen Aviation & Space Museum and that's part of what makes it so special.  Because how many waterparks do you know of where you can slide out of a real an actual real Boeing 747 aircraft?  Or a waterpark where you can learn about the effects of water in our lives while you have fun at the waterpark?
But if you think this is just a few slides that are part of a museum, then think again!  This Portland area indoor waterpark is the largest waterpark in all of Oregon and has tons of great attractions.  We'll talk about those attractions now.
Wings and Waves Attractions
There are a lot of rides that fun for all ages:
Splashdown Harbor: Guests love this 91,000-gallon wave pool that's bookended with 2 large Apollo rockets.  It has six unique wave motions, depth charges and bubblers.  A really neat feature of this wave pool that really makes it unique from other waterparks is the 20-foot-wide high-resolution video screen.  Here, you'll be able to see everything from NASA splashdown videos to feature films.  You can find this wave pool at the center of the water park.
Sonic Boom: An enclosed, high-energy slide that gives riders the impression they are soaring through the park in an open cockpit.  You get unique glances of the Evergreen 747 during this fun ride.
Mach 1: If you are a thrill junkie, then you will love this high-velocity body slide!  You'll aerodynamically race over sudden drops and rushing speedways on the Mach 1.
Nose Dive: The quick drop in the ride can fittingly rival the thrills of flight.  You can enjoy a smooth decline before a final, spectacular splash into the landing pool.
Tail Spin: You'll shoot down an enclosed tube in this fast-paced slide.  Along the way, you'll surge through bursts of light and dark since parts of the tunnel are transparent.
Youth Slides: Not everyone is tall enough for the park's signature 747 slides.  But that's okay because Wings and Waves has a few slides for the younger guests: a Messerschmitt Bf-109 slide and a P-51 Mustang slide.
Aqua Play: Aqua Play is also a great attraction for children attending the water park.  It's a multiple-level structure that is themed like an Oregon forest (and, in keeping with the aviation theme, it's topped with a helicopter!).  Kids can enjoy one of 3 slides, dozens of water guns, spouts, etc.   They can play with Smokey Bear & learn how to prevent forest fires.  They can also get splashed by water from the 300 gallons of water that comes out of the huge firefighting bucket.
Leisure Pool: Those looking for some relaxation can hang out in the pool or hot tub.  You can also enjoy swimming in the pool or shooting basketballs in the pool as well.
Vortex Pool: Want a wilder pool that will whip you around in a fast, smooth pace?  Then try the Vortex Pool, which is located next to the Leisure Pool.
In addition to these waterpark attractions, there are hands-on exhibits throughout the park that teach you the effects water has on the natural world & society.
Wings and Waves Coupon
Looking to save money on a visit to Wings and Waves this summer?  Then click here to take advantage of a great coupon.  You can save up to 25% on admission with this discounted price.