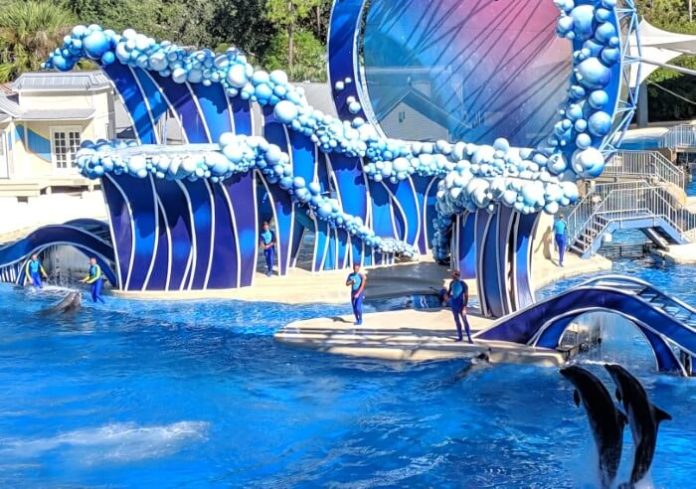 If you click on the links in this post, we may earn money from the companies mentioned in this post, at no extra cost to you. You can read the full disclaimer here.
It's that time of year ago!  No, not Christmas, but the Black Friday sale at SeaWorld Orlando!  Or should I say Blue Friday?  Either way, these are deals you will want to take advantage of so you can save a lot of money!
They are already available now through December 2nd, so you need to act quickly to take advantage of these low prices.
Here are some of the highlights of the sale.
Single-Day Ticket Deals
There are some great deals if you're only spending a day at SeaWorld Orlando.
You can save 60% on a weekday ticket and buy one for just $40.99.  This is the cheapest ticket out there.  You will have to visit by January 31, 2020.  There are a few black out days (including, obviously, Saturday or Sunday).  But if your days are flexible, this is the best deal.
You can also save over 50% on an any-day ticket.  This ticket is just $50.99.  Like the other ticket deal, you will need to visit by January 31, 2020.  This is what you should buy if you know you can only visit on the weekend.  It's also good if you want to attend SeaWorld's Christmas Celebration.  That event only takes place on the weekends.  Here's a video from it from last year:
Multiple Park Tickets
Let's say you want to visit more than one park during a trip to Florida.  Then you save a lot of money on these multiple park tickets.
You can currently save over 50% on a 2 park ticket which gets you one visit each to SeaWorld & Aquatica.  Aquatica is SeaWorld's award-winning water park.  You can see a video of Aquatica here:
The cost of this 2-park ticket with the sale is just $61.99.  Like with the other deal, there are select blackout dates and you have to visit the parks by January 31, 2020.
The other 2-park ticket is for SeaWorld Orlando & Busch Gardens Tampa Bay.  I just got one of these tickets for my dad so he could go with me to SeaWorld's Christmas Celebration and Christmas Town at Busch Gardens.  It's a really great deal because it only costs $71.99 and you get to visit both parks.  Like the other deals, you will need to visit the parks by January 31st and there are select blackout dates.
Animal Experiences
SeaWorld is known for its wonderful animal experiences.  You get them just by visiting the park, but there are special, more in-depth and up-close experiences you can get.  And these are currently on sale for 50%:
Dolphins Up-Close Tour
Penguin Up-Close Tour
Dine with Killer Whales
These make amazing gifts for the animal lover in your life, by the way.  My family's favorite is Dine with Killer Whales.  You can read our review here.
Other Deals
There are other great deals available as part of this sale.
Buy one SeaWorld or Aquatica All-Day Dining Deal, get one free
Buy 4 All Season Dining Plans for the price of 3 (This is an amazing deal!)
50% off Quick Queue Unlimited
50% off Year-Round Quick Queue
Deals like this don't come around every day.  Seriously, they are just once a year. Act now before these deals swim away!