If you click on the links in this post, we may earn money from the companies mentioned in this post, at no extra cost to you. You can read the full disclaimer here.
What is the All-Day Dining Deal at SeaWorld Orlando?
The All-Day Dining Deal is a way you can pay for all your meals beforehand.
With the All-Day Dining Deal, you can get a meal once every 90 minutes. For adults, a meal consists of 1 entree, 1 side or dessert and 1 regular sized, non-alcoholic drink (soda or iced tea). For children ages 3-9, this would be a Kids meal.
You'll get a wristband, which must be worn at all times and shown each time you get your meal.
Please note that you are not allowed to share or take out your meal – you can't have 1 person purchase All Day Dining to feed your whole family.
What restaurants are included with SeaWorld Orlando All Day Dining?
Waterway Grill
Location: Near Infinity Falls
Includes: Tastes inspired by regions around the Amazon
One of our favorite dining options at SeaWorld Orlando, Waterway Grill includes tasty options such as fresh salads and grilled meats. There is plenty of indoor seating, which is definitely appreciated on hot (and cold!) days. You can read our full review of Waterway Grill here.
Adults can also stop by the Waterway Bar for their choice of Craft Beers.
Expedition Café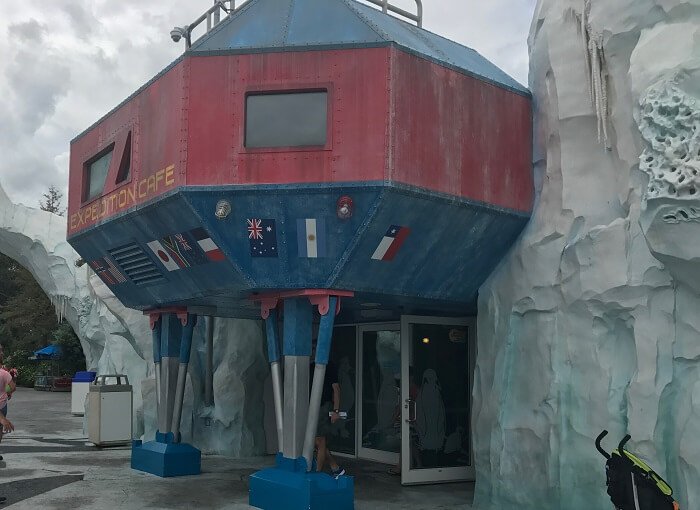 Location: Near Antarctica: Empire of the Penguin ride
Includes: A variety of food from the countries involved in the original Antarctic exploration
This dining location is excellent if you have a variety of tastes in your party. You can choose from American, Asian and Italian menu options.
After purchasing your food, you can choose outdoor seating or head to a separate indoor dining area.
Read more about Expedition Cafe in our full review here.
Altitude Burger
Location: Near the Wild Arctic ride
Includes: Burgers (as the name suggests!) and pizza
Altitude Burger's signature dish is (you guessed it) the Altitude Burger. There's also a Build Your Burger option (that includes grilled chicken instead of a hamburger patty). And if you'd rather have pizza, you can enjoy a BBQ Chicken pizza or Truffle Veggie pizza. You can dine outside at this location. Find out more in our full review of Altitude Burgers.
Seafire Grill
Location: Next door to Flamecraft Bar, near the bridge that leads to Shamu Stadium
Includes: Lots of chicken-centric options (both fried and grilled)
If you don't like chicken, you might want to avoid Seafire Grill. The menu mainly consists of chicken tenders, fried chicken sandwiches (regular or spicy), grilled chicken wraps, grilled chicken sandwiches, grilled chicken salads… you get the idea! In our experience, the chicken is a bit spicy whether the menu indicates it or not, and definitely flavorful. Indoor seating is available.
Be sure to check out our full review of Seafire Grill for more information.
Voyager's Smokehouse
Location: Across from Seaport Theater and also close to Sea Lion & Otter Stadium
Includes: Bar-B-Que
If you love Bar-B-Que, you'll definitely want to enjoy a meal at Voyager's Smokehouse. Considered by some to be the best BBQ in Orlando, this location offers such entrees as St Louis Spare Ribs, Smoked Brisket, BBQ Chicken and more.
Panini Shore Café
Location: Near Mako
Includes: Sandwiches/Paninis
As you might guess from the name, you can order paninis at this counter service food stand. Mobile ordering is also an option.
While there is no seating immediately in front of the Panini Shore Cafe, you can find tables nearby with a beautiful view of the water.
We go into more detail in this Panini Shore Café dining review.
Lakeside Grill
Location: Waterfront dining near the entrance to Sky Tower
Includes: Burgers, Fish & Kabobs
This family-friendly restaurant offers tasty selections like a Mediterranean turkey burger, Greek salad kabob and Parmesan garlic fries.
You can dine indoors (next to a 600-gallon aquarium!) or on the outdoor patio.
We go over what it's like to eat at the Lakeside Grill in this dining review.
Captain Pete's Island Hot Dogs
Location: Near Stingray Lagoon
Includes: Nathan's World Famous Hot Dogs (and other treats)
You can munch on Pete's famous fries and hot dog platters as well as enjoy soft drinks and specialty beverages at Captain Pete's.
Is it worth it?
In addition to the financial benefits of the deal, there are some other benefits. Because you purchase the dining in advance, you don't have to worry about budgeting money for meals when you're at the park. This can make budgeting and planning a little easier. There's also the convenience of having your wristband instead of having to worry about payment methods.
However, the most important benefit is, of course, the fact that it's a good financial deal!
Let's do a little estimating – and to make it simpler, let's take a look at the prices before taxes.
For example, let's say you order an entree at one of the restaurants listed above for about $16 (which is on the lower end of what you would be able to order at most of the restaurants). Let's say you also get a dessert for about $6 (again, this is definitely on the cheaper end) and a soda for about $5.50. That comes to $27.50. If you do this at both lunch and dinner, that's $55.
But the All-Day Dining Deal is only $49.99! So you've already saved money – and if you choose more expensive entree or dessert/side, you've saved even more money.
And since the All-Day Dining Deal lets you redeem it once every 90 minutes, you can also stop by one of the participating restaurants in between lunch and dinner for extra soft drinks or iced tea and extra snacks (sides or desserts).
If you're planning on having both lunch and dinner at the park, this is probably going to be a very good deal for you.
When wouldn't it be a good deal?
Well, you might be planning on enjoying a dining experience that's not included in the All-Day Dining Deal (like eating at Sharks Underwater Grill). Or you might not plan on spending a full day at the park.  In those cases, the Deal may only cover one meal for you – so it's probably not a good idea financially (unless you know you'll be stopping by once every 90 minutes a few times for drinks and snacks).
All-Day Dining Tips
While dining is all day, not all restaurants are open all day!
Be sure to check out the hours for each restaurant at the beginning of the day so you can plan accordingly.
Check the SeaWorld Orlando website about restaurants and dining options on the day of your visit for the most up-to-date information including hours.
Keep this in mind when you're planning your day; and if you have a particular restaurant that is at the top of your list, make sure you stop by before that particular restaurant closes. Typically, the restaurants will serve those who get in line before closing, but lock the doors once it's closing time.
Similarly, keep in mind that the restaurants sometimes get crowded within a half hour or so of closing, especially if it's a busy park day (such as on the weekends). You may have to wait in line for quite some time.
Save this for later – pin it on Pinterest!