If you click on the links in this post, we may earn money from the companies mentioned in this post, at no extra cost to you. You can read the full disclaimer here.
If you spend a day at SeaWorld Orlando theme park, then you are probably going to want to eat at some point.  So if you are looking for a great restaurant to eat at, then check out Expedition Cafe!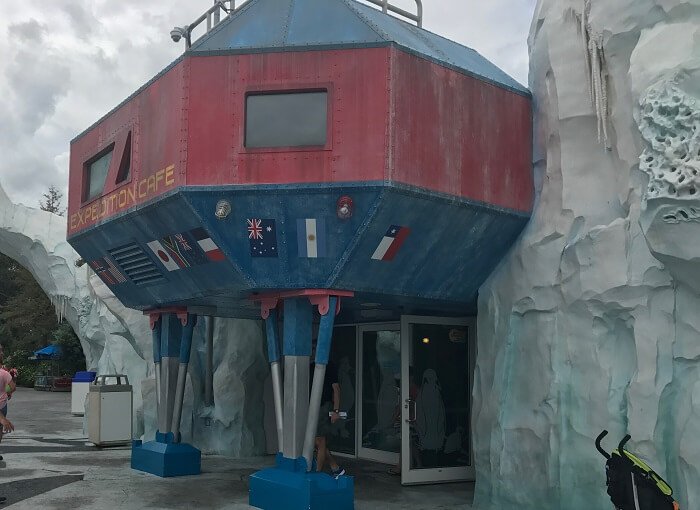 Expedition Cafe is a quick-service restaurant located across from Antarctica: Empire of the Penguin.  It is part of the Antarctica section of the park.  So if you are looking for the restaurant, look at the signs up at the park that mark directions to that attraction.
If you have just entered the park, then stay to the left side to get there.  It is in between the Journey to Atlantis ride and Sea Lion & Otter Stadium.  Sometimes you can see it from a distance because of all the ice decorations in the Antarctica section.
So why do I suggest visiting this restaurant?  I'll give you some of the reasons why I think you should eat there.  And then I will tell you how you can save money on tickets to SeaWorld!
Theming
My favorite thing about Expedition Cafe is the wonderful theming of the restaurant.  Since it is in the Antarctica section, the theming is that you are an explorer in Antarctica.  There are a lot of great small touches here.  If you eat inside (which I will talk about later), there are a lot of great, creative decorations that help set the mood.
I also really like the music they play.  It's a (I assume) made-up radio station that is playing music from Antarctica.  The talking between songs, and the choice of songs, is all very creative and just makes the whole experience more enjoyable.
Extensive Food Options
Another wonderful thing about this restaurant is how many different food options you have.  See, part of the theming of the restaurant is representing different countries who have had explorers in Antarctica.  So, you can eat different cuisines here.  That makes it a lot easier if your family has different tastes.
For example, they have an Italian section.
You can get pepperoni or cheese pizza.  They have Chicken Caesar Salad or Caesar Salad options.  They also have sides, like Garlic Bread with Marinara Sauce.
Expedition Cafe also has a section for Asian food.
You can get Orange Chicken, Teriyaki Chicken, or Vegetable Stir Fry.  They have some great side entrees here, too, like Vegetable Egg Rolls, Fried Rice, and Steamed White Rice.
And they also have an American section.  You can get food like Hand-Breaded Chicken Tenders, Crispy Chicken Sandwiches, and other food like that.  Sides include French Fries, Loaded Fries, and Macaroni and Cheese.
So with all these different food options, you are more likely to find something for your whole family.
Please note that the food they serve there does change from time to time (I still miss the Fettucini Alfredo they used to serve here!).  So some of these foods may be different when you go.  But since they have a large selection, you should still be able to find a food you like.
If you do the refillable mug option, you can refill your drink here, too.
I will say, though, that if you are refilling it with Coke, you might want to go to the refill station by Journey to Atlantis.  It's very close by, and last time I got Coke here it wasn't very good.  So you can try it here but if it doesn't really taste like Coke, you can dump it out and refill it at the station near Atlantis.
This restaurant also has some great dessert options, like Cheesecake, Chocolate Cake, Carrot Cake, etc.  And remember, you can use your Dining Pass to get a dessert.  Which brings me to my next point.
Covered Under SeaWorld Dining Plan
SeaWorld has a great Dining Plan Option.  You can get a daily dining plan that gets you a meal once every hour during a day at SeaWorld.  That means 1 entree, 1 dessert or side, and 1 (non-alcoholic) drink.  If you get a kid's option for this, then the entree will be a kid's meal.
It's a really great deal.  We go over the math here that clearly shows how much money you save with the All Day Dining Pass.
So you can save money by buying a ticket with an All Day Dining Pass.  And then you can use it at Expedition Cafe, which I like.
Food Taste
But just because it is covered by the Dining Plan doesn't mean it's the best food.  And just because they have a lot of options doesn't mean the food is the best.
But don't worry.  The food here is really great.  I've had great food here.  The chicken tenders are really good.
But my favorite is the pizza.
My mother once remarked that it was the best pizza she had ever had at a theme park.  I think it's really good, especially for a theme park.  So if you are in the mood for some good pizza, come here.
Seating
I love visiting Orlando, but unfortunately, it can get rather hot.   So I really like that Expedition Cafe has indoor seating because not all restaurants at SeaWorld Orlando do.
Now, the first you do when you get there is get in line to order your food.  Please note that the line can get long on busy days (like when I last went here, on New Year's Eve), though that is true for pretty much every restaurant at SeaWorld on busy days.
Anyway, after you pick out your food, you walk outside to pay.  But there is a building nearby that has indoor seating.  It is marked "Air Conditioned Seating".
It has great theming, too, which we showed you earlier.
And it is often very cold.  Now, the last time I went here on New Year's Eve it was surprisingly hot given the time of the year.  And I felt it wasn't quite as cold here, but maybe that is because of the time of year.  Every time I have been here in the summer or fall, they have made it cold and it did a great job cooling me off.  At any rate, if you do come in here and don't feel it is cooling you off enough, go to the back.  If you can get one of the tables that is farthest from the door, you'll be the most comfortable.
But if you do like eating outdoors, you can eat outdoors because there is seating outdoors, too.
Oh, here is one negative about seating in general at Expedition Cafe.  Most of the tables are picnic tables.  Which I feel does fit the theming.  But if you need more back support, you should consider a different restaurant that has chairs with backs, such as Seafire Grill.
SeaWorld Tickets
Looking to save money on SeaWorld tickets?  I'm sure you didn't forget I told you how!
Well, you should buy your tickets ahead of time.  You can do that here.  They have some really great sales going on right now that I know you are going to want to take advantage of!
Other SeaWorld Dining Options
Everyone who reads this blog knows my family loves SeaWorld Orlando.  So we've reviewed a number of the restaurants that are on their dining plan.