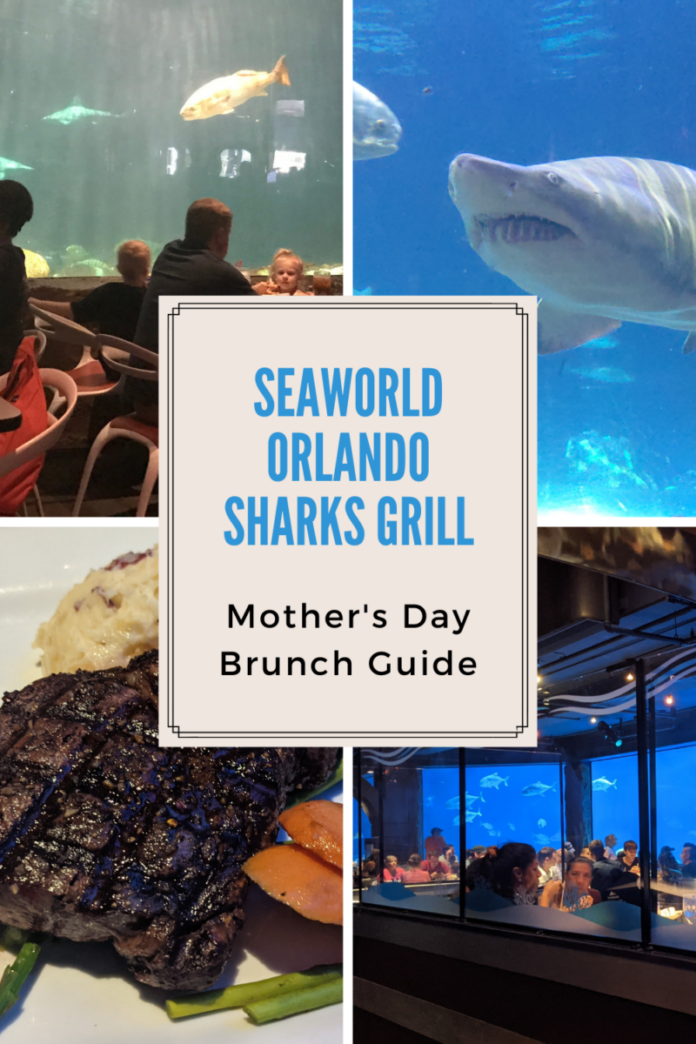 If you click on the links in this post, we may earn money from the companies mentioned in this post, at no extra cost to you. You can read the full disclaimer here.
Looking for a truly special way to treat Mom this year?  How about doing it with a luxury meal in a luxury setting?
You can do just that at Mother's Day at Sharks Underwater Grill!  If you are not already familiar with Sharks Underwater Grill, it is the premier restaurant of SeaWorld theme park in Orlando, Florida.  They serve delicious food in an upscale but family-friendly environment.
But what makes it truly special is the first word in the name of the restaurant.  And that is the sharks! You can watch amazing sharks swim by as you eat.  All the seats at the restaurant have great views of the shark.  I have eaten at multiple tables throughout the restaurant and had a wonderful experience every time.  It is truly awe-inspiring to watch these amazing creatures.
And then, of course, there is the wonderful meal!  They have a great menu planned for Mother's Day this year.  You pay for one price ahead of time, and they get to enjoy a four-course meal.
Mother's Day Menu
1st Course
Strawberry Fields Salad with a Spring Mix, Toasted Walnuts, Diced Apples, Strawberries, Goat Cheese & a Balsamic Vinaigrette
OR
Lobster Bisque with Lobster Chunks, a Creamy Broth, and Crème Fraîche
2nd Course
Filet Mignon: tenderloin cooked to your specifications & topped with garlic herb compound butter, & accompanied by smashed roasted Parmesan potatoes & Veg dU jour sprinkled with Pink Himalayan salt
OR
Salmon Piccata: sustainable, pan-seared salmon topped with garlic and caper butter sauce and accompanied by smashed roasted Parmesan potatoes & Veg du jour sprinkled with pink Himalayan salt
OR
Chicken and Waffles: Buttermilk fried chicken paired with homemade cheddar waffles & bourbon maple syrup
OR
Shrimp & Grits: Pan-seared Cajun garlic shrimp, creamy grits, smoked Gouda & tomato gravy with red bell peppers and scallions
OR
Everything Bagel Eggs Benedict: Everything bagel, shaved smoked ham & grill-herb marinated chicken breast with arugula and homemade hollandaise
Dessert
Raspberry Chocolate Cheesecake with raspberry coulis & fresh whipped cream
Extras
And that's not all! If you book online, you can add on bottomless mimosas for $15 per adult.
Mother's Day Reservations
The cost for this amazing experience is $65 per adult, $30 for children, for everyone over the age of three years old.  Any guests younger than three years old can come for free!
You'll need to make a reservation ahead of time, which you can do by clicking here.
Please note that in order to go to the restaurant, you will need admission to SeaWorld Orlando.  But don't worry; you can get discounted tickets to SeaWorld by clicking here.
Please also note that if you or anyone in your group have food allergens, such as soy, milk, wheat, peanuts, tree nuts, or egg, then you'll need to speak with a restaurant manager or supervisor.  You can request recipes and product packaging labels before consuming any food items.