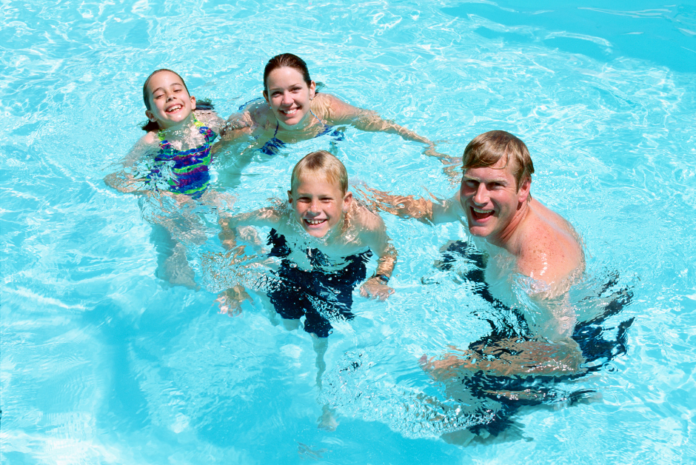 If you click on the links in this post, we may earn money from the companies mentioned in this post, at no extra cost to you. You can read the full disclaimer here.
Splash Kingdom Waterpark
The summer can get very hot in Texas and Louisiana.  But if you are lucky to be near a Splash Kingdom waterpark this summer, you'll be able to cool down right away – and have  a lot of fun!
Splash Kingdom has water park locations all over Texas and Louisiana:
Nacogdoches, Texas
Canton, Texas
Greenville, Texas
Weatherford, Texas
Shreveport, Louisiana
Nacogdoches
One of Splash Kingdom's five locations is in Nacogdoches, Texas, and there are a lot of great attractions there.
Rides
Timber!
Climb up the 40-foot slide tower to ride the Timber! ride.  You'll speed down a dark, enclosed tube in this ride.
Lumberjack
Right next to Timber! is Lumberjack, an open-air body slide.  Since it's located right next to Timber!, you could actually race someone who's riding Timber! at the same time!
Buzz Saw
Another way you can race a friend is the incredibly exciting Buzz Saw ride, a definite favorite at the park!  These are thrilling fast slides where, at the end, you'll drop into a ten-foot pool.
Log Jam
One of my favorite parts of a waterpark is the lazy river, so I'm glad the Splash Kingdom at Nacogdoches has a great lazy river!  You get to relax in the slowly moving water in a single tube, double tube or lifejacket, which are provided free of charge.
Kids Treehouse
Your children are going to love the Kid's Tree House attraction at Splash Kingdom Nacogdoches!  It consists of a treehouse themed water play area with 5 different water slides.  Kids can splash around the area in 1 foot of water.  There are spray trees and a big giant dump bucket that will get them wet, which is definitely needed in the hot summer sun!
Activity Pool
So we all know that East Texas  can get hot in the summer, but you'll stay cool by splashing around the 150,000-gallon Activity Pool at Splash Kingdom.  This great pool has a waterfall and an open swim area.  If you have kids or other people in your party who want to swim and you do not care to, you can always relax in a lounge chair under a huge umbrella nearby.
Weatherford
The Splash Kingdom water park at Weatherford, Texas has a wild west theme, which is apparent in many of the rides and attractions.
Rides
Wave Pool
Cool off in a 220,000-gallon pool with alternating wave cycles.  This huge wave pool starts off shallow, like the ocean, and gets up to 5 and a half feet deep (tubes and life jackets are available, free of charge).  There are lots of chairs available so if you want to just relax while people in your group have fun at the wave pool, you can!
Lazy River
The Lazy River at the Splash Kingdom Weatherford location is unique because built into the beautiful Parker County terrain so at times on this ride the walls of the hillside around you are up to 20 ft. high.  This makes you feel like you are literally floating in a canyon river, which is really neat.  It is about 700 feet long and tubes and life jackets are available for free.
Snake Pit
There are five exciting slides that are part of the Snake Pit.  The King Snake is an open slide that will take you in a circular motion until you land it water-filled pit area.  You also continuously circle around the closed slides, the Green Mamba and Sidewinder slides, until you are placed in the water-filled pit area.  You'll shoot straight from the slide tower to the pit on the closed Water Moccasin slide.  The Copperhead is also a straight shoot, but it is a open slide rather than a closed slide.
Canyon Racer
Canyon Racer is a fun slide where you can race your friends or family on side by side slides.  Mats are provided for free.
Wrangler
Ride alone – or grab a partner – on this fun open tube slide.
Coyote
Coyote is a fun enclosed tube slide that shoots out into an open air drop.  Like the Wrangler ride, you can ride alone or with a partner.
Gold Rush Falls
You can really see the wild west theme in this attraction!  Gold Rush falls is a great kids' play area that's designed to look like an abandoned mine shaft.  The "mine shaft" is attached to four slides.  There are two other kiddie slide houses for toddlers.  Additionally, there is a huge tipping bucket that soaks guests with water!
Wagon Trail Springs
Another children's water play at Splash Kingdom Weatherford is Wagon Trail Springs.  There's a splash pad of only a few inches of water kids who can't swim can splash around in (it's fun for those who can swim, too, though).  Water is always coming down for the trees in this structure so this is a great way to stay cool!  There are also kid-friendly slides in this complex.
Shreveport
Splash Kingdom in Shreveport is the only Splash Kingdom outside of Texas and in Louisiana.  It has a lot of great attractions, including a lot of slides!
Wave Pool
You can start off in the shallow end and then reach depths of 6 feet (life jackets are available).  The wave pool produces alternating wave cycles and is just a lot of fun!
The Plunge
Slide down a steep and sharp yellow drop slide into twelve feet of water on The Plunge.  Please note that this attraction is only for strong swimmers as you drop into very deep water.
Cannonball
Race your friend down one of two twin green enclosed slides.  Like the Plunge, you'll land in 12-foot deep water and you'll need to be a strong swimmer.
The Pipeline
The Pipeline is an enclosed body slide where you lay down, cross your arms & legs & speed on down the slide into 12 feet of water.  Once again, to do this, you'll need to be a strong swimmer.
Geaux! Slide! Win!
Geaux! Slide! Win! is a high thrill, purple and gold body slide.  It involves fast acceleration, steep drops and, finally, a catch pool finish.
Airstream
This body slide also involves quick accelerations, steep drops, and a finish in a catch pool.  It is single-rider and blue and green.
Cotton Candy
Cotton Candy is a highly thrilling pink slide.  Like the other two ride, it involves steep drops and quick accelerations as well.
Flash Flood
Flash Flood is another classic Splash Kingdom slide with great thrills, steep drops and big splashes.
Bonzai
On this thrilling slide, you'll experience a quick acceleration, steep drops and a run-out to slow you to safety.
Monkey Business
If you are looking for a water slide that's a bit less of a high thrill than the others, then try Monkey Business.  It is considered a moderate thrill slide.  It is a single-rider, open slide featuring fun curves.
Brett's Blaster
Another fun moderate thrill slide is Brett's Blaster.  This is also a single-rider, open slide with curves and a run-out.
Lazy River
Cool off and relax in this 4-foot deep lazy river.
Kid's Castle
Kid's Castle is Splash Kingdom Shreveport's children's water play area.  The water depth is only ten inches and the castle includes very small slides for the little ones.
Kingdom Falls
Kingdom Falls is a great water play area for all ages!  There is a huge dump bucket and Spray ground that will keep everyone cooled down this summer.  There are also fun slides, too.
Activity Pool
Relax or swim at the activity pool.  There are depths for the whole family, and it actually gets as deep as 10 feet.
Sand Volleyball
Check a volleyball for free out of the retail shop and then enjoy playing volleyball on the sand with your friends or family!
Greenville
The Splash Kingdom in Greenville, Texas pays homage to the area's strong aviation history.  There is an aviation theme throughout this water park.  In fact, Splash Kingdom Greenville is also known as Splash Kingdom Air Patrol.
Goose and Maverick
Two of the favorite slides at Splash Kingdom Air Patrol are these huge tube slides, Goose and Maverick.  You could ride alone or with a friend.  You can enjoy the gorgeous Texas sky on the uncovered green slide.  The white slide, on the other hand, is fully covered.
Splash Landing
Splash Landing is just an awesome ride, but the best part about it would have to be the antique airplane fuselage that the slides go under.  It was actually donated by Greenville's own L3 Communications.  These two body slides move fast and then you're dropped four feet into ten feet of water.
Wave Pool
Splash Kingdom Air Patrol has the largest wave pool out of all the Splash Kingdom water parks.  There's a buzzer that lets you know when the waves are about to start.
Dogfight
Dogfight consists of 4 close range body slides that twist and turn around each other.  It's a race to the bottom, where the slide ends in a water run-out.
The Jet Stream
This 4 foot deep lazy river will move you along at a leisurely pace.  It is decorated with air patrol memorabilia.  The Jet Stream is also partially shaded by airplane hangar (love that in the summer!).
Splashport Kids Area
The Splashport Kids Area is surrounded by one and a half feet of water.  There are water slides coming out of every part of the Splashport Kids Area structure.  And you are bound to stay cool with all the water coming out of the water sprayers and the huge water bucket.
Canton
The fifth Splash Kingdom waterpark location is in Canton, Texas.  They have a lot of great attractions, too.
Royal Flush
Royal Flush is a single-person, high thrill, enclosed ride.  You'll slowly swirl around a bowl until you descend into a catch pool with seven feet of swirling water.
Volcano Mountain
Volcano Mountain is a volcano-like structure with two open body slides.  This is considered a moderate thrill so it's exciting but not too wild.  After the slide, you'll be dropped into a teen feet pool.  Only strong swimmers are encouraged to do this ride.
Paradise Island
Paradise Island consists of two slides surrounding a great spray ground area.  One of the slides is enclosed and one is open and faster so you can pick based on which experience you want.  This is also considered a moderate thrill ride.
Wave Pool
The wave pool at Splash Kingdom Canton is a 350,000-gallon pool with alternating wave cycles that reaches depths of 5 feet.  It is really fun to ride the waves on this ride!
Flow Rider
If you loved the wave pool, then you may want to try Flow Rider, too.  The Flow Rider surf machine creates a wonderful surfing and boogie boarding experience.
Mat Racer
You and your friends can grab a mat and race each other to the bottom of these four side-by-side slides.
White Lightning
White Lightning is a great fast enclosed tube ride that involves single or double rider enclosed tube slide steep drops, splashes, and a 3' 6" catch pool.
Blue Thunder
Blue Thunder is a lot like White Lightning, except it is an open tube slide.
Kids Castle
Kids Castle is a great attraction for children.  It only has ten inches of water so it's not too deep for kids.  It boasts 11 different slides that are appropriate for children.  There are also a lot of sprayers and splash toys around Kids Castle.  Basically, there are just a lot of fun things here for kids.
Lazy River
The Lazy River at Splash Kingdom Canton has 1,000 ft of continuous current and makes for a wonderful way to relax.
The Express
The Express, like the name suggests, is very quick.  Like we're talking 3 seconds from top to bottom.  It's a highly thrilling slide that is one of the fastest at Splash Kingdom.
Pink Panic
Pink Panic is a great, enclosed single rider body slide.
Splash Kingdom Discount Tickets
Here at Green Vacation Deals, we always strive to find the best deals for our readers.  Here are the best deals you can get.
If you want to save money on Splash Kingdom Nacogdoches tickets (up to 37%), then click here.
You can save up to 37% on tickets to Splash Kingdom Canton by clicking here.
If you want to save up to 37% on tickets to Splash Kingdoms in Greenville, Shreveport and Weatherford, then click here.