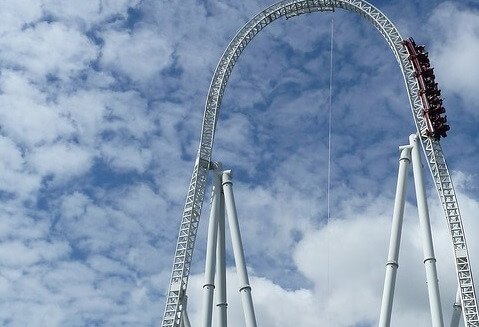 If you click on the links in this post, we may earn money from the companies mentioned in this post, at no extra cost to you. You can read the full disclaimer here.
Enjoy a fun day at the THORPE PARK Resort and save money with this ticket deal.
THORPE PARK Resort is a major theme park located in Surrey about 20 miles from central London.
On Viator, you can purchase a THORPE PARK Resort Admission Ticket with Meal Deal, which gets you:
All day admission to enjoy the theme park's more than 30 rides, attractions & live events including

Saw – The Ride: One of the world's first horror-movie themed roller coasters
The Swarm: United Kingdom's first winged rollercoaster
Detonator: Bombs Away: Thrill ride where you drop from 100 feet
Vortex: Giant swinging, spinning pendulum
Depth Charge: A 40 foot ride down a 4 lane super-slide
Rumba Rapids: A water raft ride
Monkey's Banana Ride: A traditional swinging ship ride
Storm in a Teacup: A classic teacup ride
Rocky Express: A train ride that may leave you dizzy!
Wet Wet Wet: Water slides the whole family can enjoy
Amity Beach: Exclusive for families with young children, you can kick back and relax while your child has fun on water slides and the pool
Angry Birds 4D Experience: A high tech movie theater with a 4D experience
Stealth: A roller coaster where you go from 0 to 80 miles per hour in under 2 seconds then get fired 250 feet high
And many more!

Free meal of pizza, pasta or a hot dog
By buying the meal & tickets together, you'll save money!