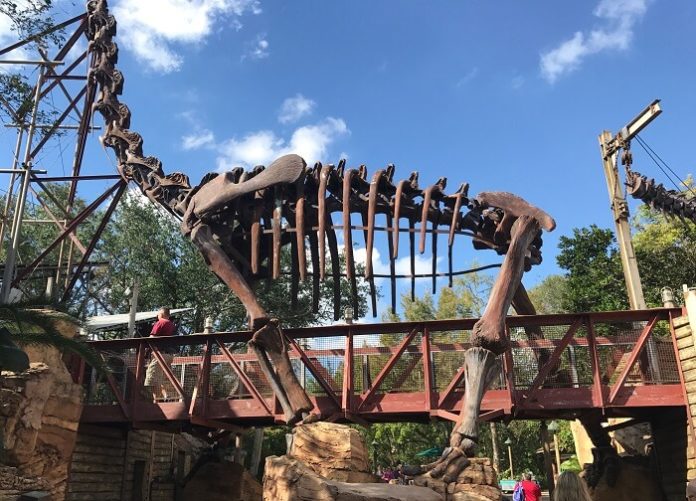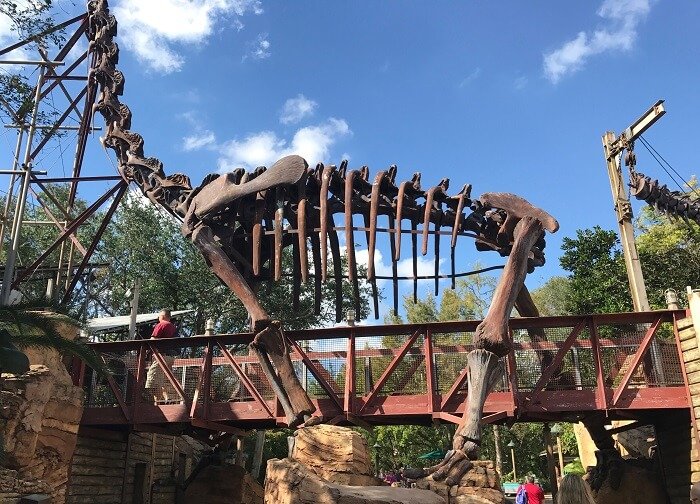 If you click on the links in this post, we may earn money from the companies mentioned in this post, at no extra cost to you. You can read the full disclaimer here.
If you or your child love dinosaurs, then I'm sure you would love a vacation with a dinosaur feel to it.  Well, there are 7 places you can go in Central Florida that would be fun for any dino lover:
Dinosaur World Florida
The name says it all, doesn't it? This is Central Florida's only attraction solely dedicated to dinosaurs, and it's conveniently located in Plant City between Tampa & Orlando.  There's over 200 life-sized dinosaurs, kid's fossil digs, artifact exhibits, paleontologists on hand to answer questions – basically everything a dinosaur lover could want.  And here's how you can save money on Dinosaur World tickets.
T-Rex Restaurant at Disney Springs
T-Rex Restaurant is a great restaurant even without the inclusion of dinosaurs (the food is delicious, by the way).  But dinosaur lovers will love the huge animatronic dinosaurs at the restaurant. And since it's in Disney Springs, you don't even need Disney World tickets to go to this restaurant!  You can read our review of the restaurant here.
It's not a cheap restaurant, however.  But here is a way to save at T-Rex.
Universal's Islands of Adventure
The Jurassic Park exhibits at Islands of Adventure at Universal Studios Orlando Resort has some great dinosaur attractions themed with the Jurassic Park movies. You can look at dinosaur fossils and enjoy seeing a (animatronic) raptor being hatched at the Jurassic Park Discovery Center.  You can meet Blue from Jurassic World at Raptor Encounter!  Camp Jurassic is a great playground for kids, especially if they love dinosaurs.  And if you like rides, there's Pterandon Flyers, a kid's ride and Jurassic Park River Adventure, more of a thrill ride you or older children may enjoy.  Visit Undercover Tourist to find great deals on Universal Studios tickets.
DinoLand USA at Animal Kingdom
Dinosaur lovers can also enjoy the DinoLand USA section at Animal Kingdom, one of the parks at the Walt Disney World Resort in Orlando, Florida. You'll be able to see "Dino-Sue", an exact replica of the most complete Tyrannosaurus Rex found to date.  There's also an elaborate dinosaur-themed children's playground and dinosaur-themed rides, including a thrill ride with animatronic dinosaurs (appropriately titled DINOSAUR).  Here's how you can save money on Disney World tickets.
Orlando Science Center
The Orlando Science Center has an exhibit going called Dino Digs, where you'll be able to examine fossil replicas of dinosaurs & prehistoric sea creatures. In this interactive exhibit, you'll be able to compare reptiles & dinosaurs to see the similarities or differences and examine fossilized dinosaurs eggs in the dig pit.  Definitely something you'd want to check out as a dinosaur fan.
LEGOLAND Florida
If you're looking for more dinosaur-centric rides, then checkout LEGOLAND Florida, a great theme park aimed towards kids. Your dinosaur-loving child will love Coastersaurus.  There are also huge LEGO dinosaurs there.  You can also visit Undercover Tourist to find the best prices for LEGOLAND Florida tickets.
Ripley's Believe It or Not!
Among other cool & interesting things you can find in the Ripley's Believe it Or Not Odditorium are authenticated dinosaur eggs that you may want to check out!  Visit here for great prices on admission to Ripley's Believe It or Not!