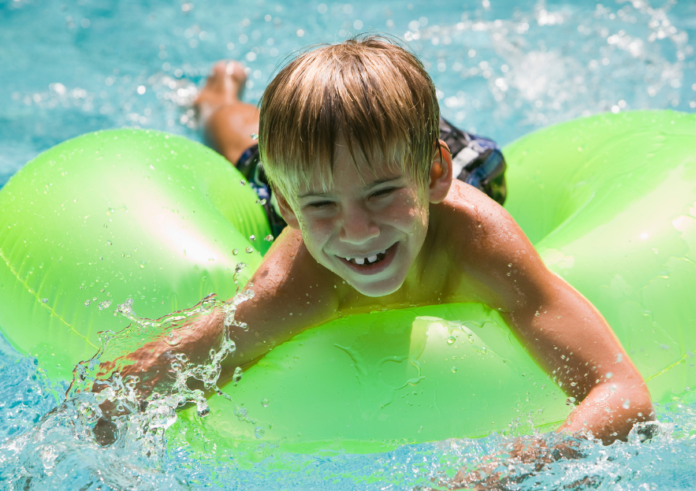 If you click on the links in this post, we may earn money from the companies mentioned in this post, at no extra cost to you. You can read the full disclaimer here.
West Edmonton Mall Waterpark and Galaxyland
The West Edmonton Mall in Edmonton, Alberta, Canada, is the largest shopping mall in North America.  It is home to more than 800 stores and services and over 100 dining venues, but it is more than just a very large mall in the traditional sense.  My two favorite parts of the mall are Galaxyland, the mall's indoor theme park and World Waterpark, the mall's indoor waterpark.  Today, we'll go over the great features of each – and let you know how you can save money at these fun parks.
Galaxyland
Galaxyland (formerly known as Fantasyland until a court battle with Disney) is the largest indoor amusement park in North America and the second-largest amusement park in the entire world.  Knowing this, it should be no surprise to you that there are a lot of things to do here, but you might be surprised by the wonderful variety of activities there are that are great for a range of ages.  You can find out about all of them in our guide here.
Galaxy Quest 7D Theatre
What if I told you that could experience the thrill of a roller coaster and an interactive shooting gallery – all without leaving your seat?  This is possible at Galaxy Quest 7D Theatre!  It's a state-of-the-art digital theatre experience with surround sound, 3D effects, and the newest laser technology.  And you can get your picture displayed on the screen if you are the best sharpshooter!  By the way, now playing at Galaxy Quest 7D Theatre is Road Fighters (a post-apocalyptic thrill) and Werewolves (where poisonous gas was unleashed in London at the turn of the century turning people into werewolves).
Mindbender
At Galaxyland, you have the opportunity to ride in the world's largest indoor triple-loop roller coaster: Mindbender!  You'll get to reach a maximum speed of 97 km/h and experience upwards of 5.6 Gs on this thrill ride.
Space Shot
Space Shot is definitely a ride thrill riders are not going to want to miss – it is the world's tallest indoor tower ride!  You'll take off from the ground at 55 km/hours and then the ride will reach a height of 120 feet in the air.
Cosmic Bounce
If you're not ready (or tall enough) for the Space Shot ride, you can try the miniature version in Cosmic Bounce.  It's a family-friendly, scaled-down version where you climb upwards and then drop in short, exciting bursts.
Galaxy Orbiter
A high-speed roller coaster that tours the entire Galaxyland.
HAVOC
On this brand new, thrilling ride, you'll achieve heights of 45 feet and speeds of up to 27 km/hour.
Zero Gravity
You get to control the direction & intensity of the ride on Zero Gravity.
Flying Galleon
Enjoy the thrill of sailing on the Flying Galleon ride.  This Spanish-themed ride rocks back and forth and picks up speed until you're completely vertical.
Ropes Quest
A 3-story ropes course where you can complete obstacles while you're suspended above the ground.
Lazer Vault
In this attraction, you'll navigate your way through a maze of laser obstacles.  You can get a good score by getting through the maze quickly and without tripping many lasers.
Quirks in the Works
In this fun target shooting game, you'll try to defeat the alien "Quirks" by hitting as many targets as possible while your car moves through the attraction.  But the flashing lights, loud sounds, & other surprises won't make this easy!
Cosmic Spinner
This ride involves separate cars that spin independently, traveling up & down in a circular motion.
Dragon Wagon
Dragon Wagon is a great beginner roller coaster for children.
Autosled
This is a great middle-level roller coaster for those that are ready for something wilder than the Dragon Wagon but not something as wild as the Orbiter.
Solar Spinner
A teacup-style ride where you can spin through the atmosphere on your own planet!
Swing of the Century
A fun swing ride where you'll get up high in your swing and travel around in a circular motion.
Time Freak
The object of this game is to hit as many lights as possible.  The faster you do it, the more points you get.
Galaxy Express
Ride a slow-moving train that travels over bridges and through dark tunnels.  It's a kids' ride parents can ride, too, and it gives you great views of the park.
Cosmo's Space Derby
A fun, laser-filled, double-seated bumper car ride in the dark.
Haunted Castle
This haunted house is more intense than you might across at say a carnival – in fact, you have to be 16 years old or older to enter.  It is a dark and twisted journey that is guaranteed to play on some of your greatest fears!
35th Aero Squadron
Kids fly around in a circular motion in individual planes for 2.
Carousel
Kids love Galaxyland's classic Carousel ride!
Balloon Race
A fun Ferris Wheel ride for where you go around in individual balloons.
MotoJump
Kids can experience the thrill of riding miniature dirt bikes & ATVs by riding one around a circular track.
Galactic Rodeo
Galactic Rodeo is a great space arena for children where they can wrangle intergalactic beasts.
Galaxy Kids Playpark
Children can enjoy playing on bridges, climbing obstacles, slides, and ball pools in this multi-level playground.
Fun House
The Fun House is a black-lit enclosure that's filled with quirky rooms & furnishings.  Warning: this is probably not a good idea if you have a fear of dark and enclosed spaces.
World Waterpark
World Waterpark is home to some of the best and most unique waterpark attractions in Canada – and even in the world!  Some of these rides are pure thrill rides, while others are great for the whole family.  See for yourself in our descriptions of the amazing attractions you can find at World Waterpark:
Blue Thunder Wave Pool
Splash around in Canada's largest indoor wave pool.  Blue Thunder truly gives guests an experience like they're at the beach.  At the deep end, you can get waves as high as 4.5 feet.  In the shallow end, you can wade into the shallow water.
SkyFlyer Zipline
Did you know that World Waterpark is home to the world's largest indoor zipline?  The SkyLiner Zipline is a 470-foot zipline that crosses over the entire Blue Thunder Wave Pool.  You'll reach speeds of 40 km/hour while you zipline.  You also get amazing views of World Waterpark on the SkyFlyer Zipline.  You can also get an amazing photo on this ride that will look great on social media!
Cyclone
This ride, which is one of the newer attractions at World Waterpark, is sure to excite any thrill seeker!  It's an 85-foot tall waterslide where you'll be propelled to a near-vertical 360-degree loop before you slide down onto a high-speed landing ramp.  This ride involves speeds of 40 miles per hour and a move from 0 to 2.5 Gs in less than two seconds, so it is bound to get your heart pumping!
Slideboarding
This ride combines the fun of a water slide with the fun of a video game!  This is an interactive water slide, video game attraction where you match the coloured lights to the buttons on your slideboard in order to get high scores and reach new levels of the game.
Sky Screamer
This thrilling ride is not for the faint at heart!  This ride stands 85 feet above the park.  Each slide has an electronic trap-door launch system.  Riders will free fall to the bottom.  This ride has speeds of up to 37 miles per hour.  Again, this ride was definitely made for the ultimate thrill-seeker!
Tropical Typhoon
On this ride, you will slide down a high-speed flume.  You will around the whirling bowl of water.  The ride ends with you plunging into a 10-foot splash pool!
Blue Bullet
Blue Bullet is one of the tallest slides at World Waterpark but also one of the most narrow.  This makes the slide faster and the twists and turns are sharper and steeper.  So that makes this slide even more thrilling that just a standard waterslide!
Howler
Howler is a classic waterslide that culminates into a steep drop into a splash pool.
Sun Runner
This is a great ride for the entire family.  It is both a single and 2-person double-tube slide, so you can ride by yourself or find a friend or family member.
Corkscrew
This ride involves two completely enclosed slides that twist, turn & ultimately drop into a splash pool.
Dolphin Kiddie Pool
This Dolphin-themed splash pool is great for children.  There are children's slides and water toys that are popular with kids.
Caribbean Cove
This is another great attraction for children.  It is a multi-level play structure that kids can climb on or crawl around on.  A highlight includes the 1,200-litre tipping bucket.
Nessie's Revenge
Enjoy zero-gravity airtime on this thrilling slide!
Twister
As the name might imply, you'll twist and turn on this slide until you reach a steep drop into a splash pool.
Splash Pad
This is a good play area attraction for the whole family.  It is a dynamic, zero-depth aquatic play area with fountains that spray-up from the ground in different directions & heights.
Hot Tubs
There's both a double hot tub and single hot tub at World Waterpark.  This is a great way to relax and unwind!
FlowRider
Use a bodyboard or a flowboard and enjoy simulated surfing in this attraction.  Please note that this attraction does cost extra.
Galaxyland & Worldwaterpark Coupons
You can book tickets to Galaxyland theme park & World Waterpark for the lowest price available by purchasing your tickets here.