If you click on the links in this post, we may earn money from the companies mentioned in this post, at no extra cost to you. You can read the full disclaimer here.
If you are looking for a fun and beautiful Christmas event at a theme park in Virginia, then you actually have two awesome choices.  Both Kings Dominion theme park near Richmond and Busch Gardens theme park in Williamsburg have wonderful events.  Kings Dominion recently started holding a Winterfest event.  And Busch Gardens has been holding its Christmas Town event for over ten years.
My family loves both events.  If you can, then I would go to both events.
But if you can only choose one, the question is, how do you pick?  So we thought we would help you by comparing different aspects of Winterfest and Christmas Town.
Holiday Lights
Both events have amazing holiday lights.  You will seriously be mesmerized by them from the minute you enter the park.
I love all the holiday lights up at Winterfest, especially around International Street.
But I would have to give the edge to Christmas Town.  They are my favorite holiday lights at any event at any theme park.  And I have gone to a lot of these events.  But my favorite will always be Christmas Town at Busch Gardens in Williamsburg.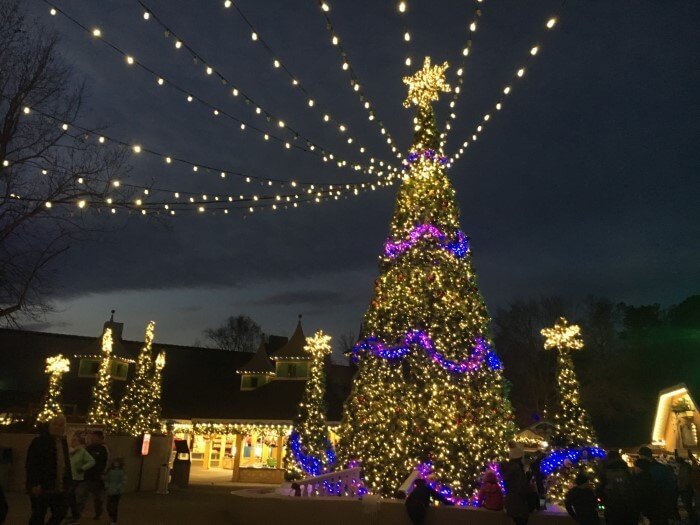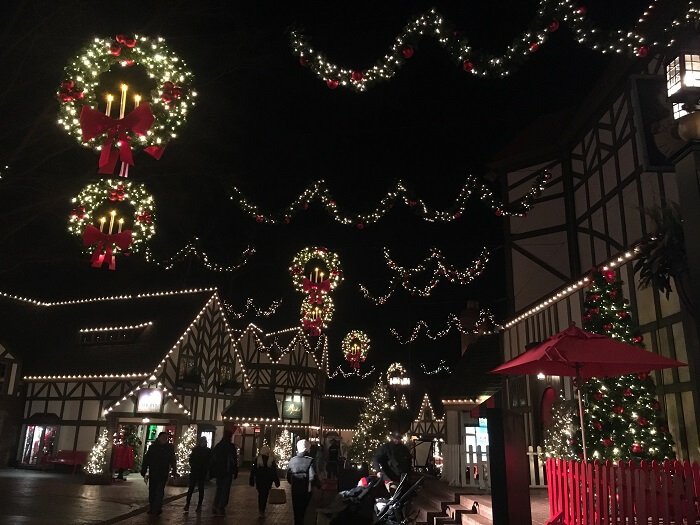 Winner: Christmas Town
Christmas Shows
Both events have a lot of great Christmas shows.  Winterfest has a Broadway-style show in Charlie Brown's Christmas Spectacular, a comedy show in Tinker's Toy Factory, and a great singing show in Cool Yule Christmas.
Winterfest also has smaller-scale entertainment that are entertainment but not full-fledged shows.  This would include Blitzen's Brass Band, Four Drummers Drumming, Jingle Jazz, and the Holly Jolly Trolley, where performers step out of a trolley and give a performance.
But Christmas Town has more full-fledged shows.  They also have entertainers that perform at various times, like carolers in the England section, a Killarney Village Band in Ireland, and a Country Christmas in New France.  But then as far as shows are concerned, they have a full-fledged musical show in Scrooge No More, a show you can watch while you eat with Unto Us in Italy and Up on the Haustop in Germany.  They also have a new show, Celtic Fyre, in the Ireland section.  And then they have my favorite, an ice skating show ('Twas The Night) that stars Olympic Medalist skater Elvis Stojko.  That alone makes it the winner.
Winner: Christmas Town
Rides
Both Winterfest and Kings Dominion are operating a lot of the rides they normally do.
Kings Dominion is operating the following rides:
Twisted Timbers
Dominator
Delirium
Dodgem
Carousel
Flying Eagles
Bad Apple
Americana
Blue Ridge Tollway
Wave Swinger
Flying Ace Balloon Race
Lucy's Crabbie Cabbies
Linus Launcher
Kite Eating Tree
Sally's Sea Plane
Great Pumpkin Coaster
PEANUTS 500
Snoopy's Junction
Charlie Brown's Wind Up
Snoopy's Space Buggies
Woodstock Whirlybirds
Busch Gardens is operating the following rides:
Apollo's Chariot
Verbolten
Finnegan's Flyers
Invadr
Der Autobahn
Der Autobahn Jr.
The Battering Ram
Kinder Karussel
Der Wirbelwind
Le Catapult
The Little Balloons
Grover's Alpine Express
Prince Elmo's Spire
Oscar's Yucky Forest
Oscar's Whirly Worms
The Little Gliders
Der Roto Baron
Li'l Clydes
But Busch Gardens goes a step further.  For Christmas Town, you get to see Christmas and holiday versions of some rides.  The bobsled ride in Festa Italia becomes Reindeer Run.  The spinning teacups become Peppermint Twist.  And the speedy bobsled ride becomes Snowman Summit.
But my favorite is what happens to the train at Busch Gardens.  It becomes Christmas Town Express.
Not only it is a great way to see the beautiful Christmas lights around the park.  And you get to sing Christmas carols!  And it is a ride all ages can enjoy.  So that ride alone to me gives the edge to Christmas Town.
Winner: Christmas Town
Dining
This is one category where Winterfest takes the cake.  Winterfest has far better dining options.  They have multiple dining options where you can eat inside.  My family loves the Classic Christmas Cafe, you can read our review here.
You can also eat indoors at Blitzen's Burritos.
Now, why is eating indoors important?  Well, if the weather is nice, it's fine to eat outdoors.  But that has never happened to me when visiting these Virginia Christmas events.  It has always either been really cold or raining.
But Christmas Town only has one indoor dining option.  Das Festhaus is a great option.  It's in Oktoberfest and you can watch a great Christmas show while you eat.  There is plenty of seating.
But since it is the only indoor dining option, it can get very crowded and the lines to get the food can get really long.  And it is far across the park from other attractions.  So if you find yourself getting hungry, you can't just easily get there.
There is one dining option that has covered eating, and that is Marco Polo's Marketplace.  You can eat while watching a show there, too.  But when we've eaten there before, it has gotten really cold.  And last time, we had to get up and change tables when it started pouring.  Also, the lines here get really long, too.
Now, you can eat before or after you visit the parks, and that is away around this problem.  But if you are planning on being there for a day or you'd like to eat the park, Winterfest has much better options.
Winner: Winterfest
Photo Opportunities
There are a lot of great photo opportunities at both theme parks.  You can get photos with lots of great holiday characters at Winterfest at Kings Dominion, like the Sugar Plum Fairy and Jack Frost and his nieces.
But at Christmas Town, you can get a photo with an actual Clydesdale horse.  How is that for a unique and special holiday picture?
Ice Skating
If you are lucky enough to be in Paris, France during the holiday season, you could ice skate in front of the Eiffel Tower.  But did you know that you can do that in Virginia?
There is ice skating available in front of the Eiffel Tower at Winterfest.
This is an activity that is not available at Christmas Town.
Winner: Winterfest
Better Deal
Ultimately, though, what may make your decision on which event to attend could come down to price.
Now, the price of a Christmas Town does depend on the date you attend the event (click here to see date-specific pricing).  And most days, if you are only going to be visiting one time, a ticket to Winterfest would be cheaper.
But if you do plan to visit more than one day, Christmas Town is a better deal.  Because they have some great ticket options.  You can get a Christmas Town Fun Card and then you can have unlimited visits during the entire Christmas season.  And this just costs $69.99; click here to buy this ticket.
You could also consider getting a Christmas Bounce Ticket, which gets you admission to both Christmas Town and Colonial Williamsburg, which is beautiful during the Christmas season:
So admission to Busch Gardens Christmas Town can be a better deal.
Winner: Christmas Town