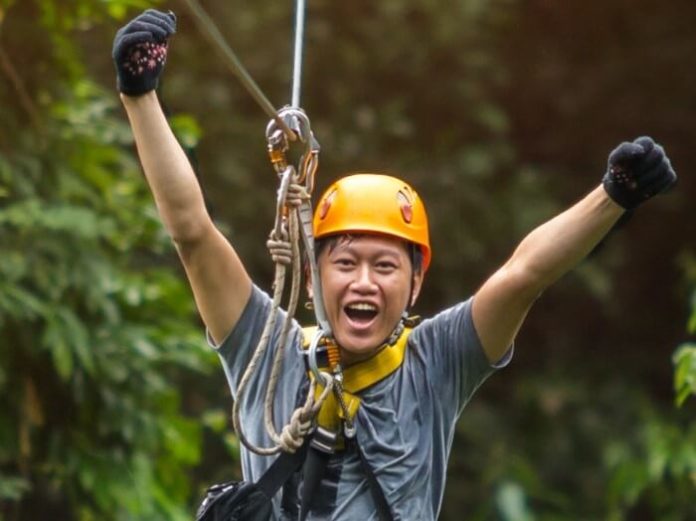 If you click on the links in this post, we may earn money from the companies mentioned in this post, at no extra cost to you. You can read the full disclaimer here.
Are you traveling to Mindanao in the Philippines anytime soon?  Then I know you want to visit Dahilayan Adventure Park in Cagayan de Oro!  After all, it is one of the island's most popular extreme attractions.
And there is a good reason it is so popular.  It is so much fun!  We'll tell you about all the fun things you can do at Dahilayan Adventure Park.  And then we'll tell you how you can get a discounted price of admission!
Zipline
Thrillseekers just love the zipline at Dahilayan Adventure Park.  It is an 840m Zipline that takes you 4,700 feet above sea level.  And it's not just the thrill of that that makes the zipline so great.  It is also a feast for the eyes.  You'll see lush greenery and get incredible views of the Dahilayan mountains.
Mountain Coaster
Did you know that the Philippines' first Alpine Mountain Coaster is at Dahilayan Adventure Park?  This mountain coaster, called Razorback, is a lot of fun.  You get to ride a coaster cart through a 600-meter monorail winding track from the mountain.  Needless, it is thrill-inducing and a lot of fun.
Python Rollerzip
Did you know that the first zipline roller coaster in Asia is also in Dahilayan Adventure Park?  Well, it is, and it is a doozy!  This ride is over 500 meters of fun, thrills, and excitement!
Dropzone
Looking for even more adventure?  Then you'll love the Dropzone.  It has a 120-foot Freefall into a manmade lake.  You get to swoop to within feet of the water surface, too.  This is the first extreme pendulum swing ride of its kind in the Philippines.
Basejump
By now, you should be realizing that Dahilayan Adventure Park has a lot of first in Asia and in the Philippines.  So it should come as no surprise to you that the highest para-jump in the Philippines using a cell site tower is also at Dahilayan!  You'll feel a split second free fall followed by a gradual descent.  The ride then ends in a soft landing.  All of this takes place in less than 10 seconds!
Inflatable Bootcamp
If you love jumping up and down in bounce houses, then you will love the Inflatable Bootcamp attraction at Dahilayan Adventure Park!
Discounted Entrance Fee
Looking to save money on your entrance fee for Dahilayan Adventure Park?  Click here and you can get an automatic discount on your ticket!