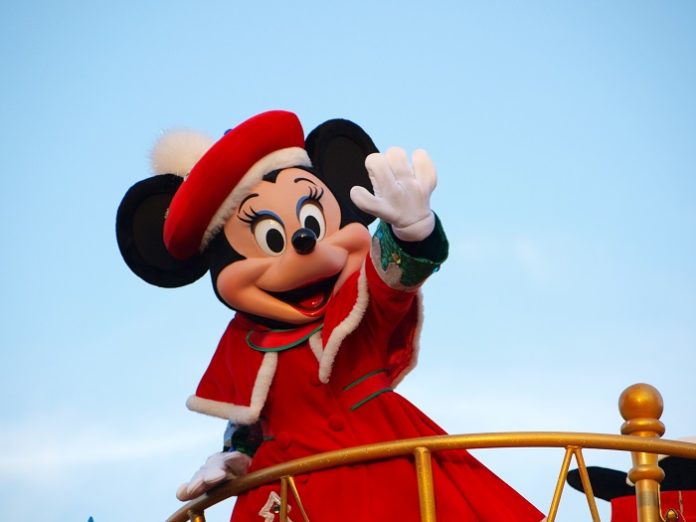 If you click on the links in this post, we may earn money from the companies mentioned in this post, at no extra cost to you. You can read the full disclaimer here.
Have you ever thought about taking a Tokyo Disney Christmas trip?
Well, if you'll be visiting the Tokyo Resorts this Christmas season, I know you'll have an amazing time!
In fact, here are 5 reasons why you'll love a Tokyo Disneyland Christmas 2018 visit!
This brand new show "It's Christmas Time!" will be presented during the daytime at Mediterranean Harbor at Tokyo DisneySea. The colorful show includes singing, tap dancing and high-kick precision dancing.
After dark, you'll be able to enjoy "Colors of Christmas" in the harbor at Tokyo DisneySea, as this fun show is returning for 2018. Disney characters will be on new barges, colorfully decorated for the holiday season.
3
"Disney Christmas Stories"
At Tokyo Disneyland during the day, you can enjoy "Disney Christmas Stories" along the parade route. I absolutely love the concept of this parade. Imagine a storybook about Disney characters having fun at Christmas time. Now imagine pages from such storybooks being brought to life!
If you love amazing Christmas trees, then there are a couple of Christmas trees you can't miss!
In Tokyo DisneySea, there's a 15 meter tall Christmas tree in American Waterfront. This tree is located in front of the luxury ocean liner, S.S. Columbia, and is decorated with the 35th anniversary logo.  (Tokyo Disneyland opened in 1983 and is currently enjoying a "Tokyo Disney Resort 35th 'Happiest Celebration!'" anniversary event.)
The main Christmas tree in Tokyo Disneyland is located on the Fantasyland side of Cinderella Castle. The featured decoration is also the 35th anniversary logo.
5
The Christmas Decorations
There will be new decorations & illuminations at Lost River Delta at Tokyo Disneysea as well as other unique illuminations decorating other parts of the park.
If you'll be traveling to the Disney parks in Tokyo this Christmas season, we suggest you check out the following hotels:
If you are staying off-site, then consider this Disneyland & Disneysea ticket & transfer from Tokyo.

Save this for later – pin it to your favorite travel Pinterest board!