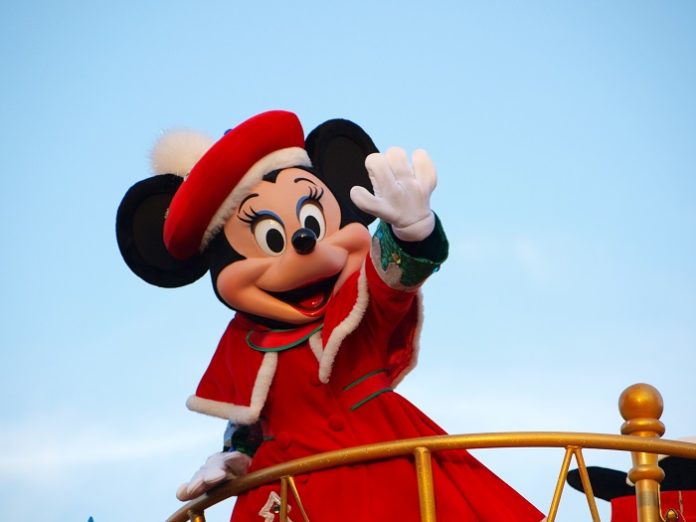 If you click on the links in this post, we may earn money from the companies mentioned in this post, at no extra cost to you. You can read the full disclaimer here.
Have you ever thought about taking a Tokyo Disney Christmas trip?
Well, if you'll be visiting the Tokyo Resorts this Christmas season, I know you'll have an amazing time!
In fact, here are 7 reasons why you'll love a Tokyo Disneyland Christmas 2019 visit!
The fabulous show "It's Christmas Time!" (which premiered last year) will again be presented during the daytime at Mediterranean Harbor at Tokyo DisneySea. The colorful show includes singing, tap dancing and high-kick precision dancing.
After dark, you'll be able to enjoy "Colors of Christmas" in the harbor at Tokyo DisneySea, as this fun show is returning for 2019. In fact, this will be the final year of the show, so you definitely won't want to miss it! Disney characters will be on barges, colorfully decorated for the holiday season.
3
"Disney Christmas Stories"
At Tokyo Disneyland during the day, you can enjoy "Disney Christmas Stories" along the parade route. I absolutely love the concept of this parade. Imagine a storybook about Disney characters having fun at Christmas time. Now imagine pages from such storybooks being brought to life! The parade actually includes 7 different stories involving favorite characters like Donald Duck, Daisy Duck, Mickey Mouse and Minnie Mouse. The parade stops at a couple of different locations, between Fantasyland and Westernland and around the Plaza. Be sure you check out the finale, when it will begin to snow!

If you love amazing Christmas trees, then there is one Christmas tree you can't miss!
In World Bazaar, there's a 15 meter tall Christmas tree! This gorgeous tree is the center of a beautiful display of lights, music and images at night.
Around 70 types of special merchandise can be found at both parks (Tokyo Disneyland and Tokyo DisneySea). This includes Snow Donald and Snow Daisy, the new SnoSnow characters! You can also find Christmas sweaters with Mickey Mouse and also Pluto designs, a candy cane striped scarf, caps with a design inspired by Pluto and reindeer, nostalgic designs of Mickey Mouse and the Disney Friends enjoying a Christmas sleigh ride and more!
6
Special Holiday Menu Items
You can enjoy around 15 special menu items – these are menu items with a holiday touch! For example, you can have a hot dog with white cheese and a red bun, creamy seafood served in a bread bowl with cheese and more! There's even a dish inspired by the Beauty and the Beast parade float.
7
Holiday Themed Attractions
For a limited time, you can enjoy a couple of your favorite Disney attractions with a holiday twist!
From September 9, 2019 – January 5, 2020, the Haunted Mansion has a seasonal overlay, "Holiday Nightmare," involving characters and settings of Tim Burton's 1993 film The Nightmare Before Christmas.
And you can catch the "Jingle Bell Jamboree" at the Country Bear Theater from November 3 – December 29, 2019!
If you'll be traveling to the Disney parks in Tokyo this Christmas season, we suggest you check out the following hotels:
If you are staying off-site, then consider this Disneyland & Disneysea ticket & transfer from Tokyo.

Save this for later – pin it to your favorite travel Pinterest board!