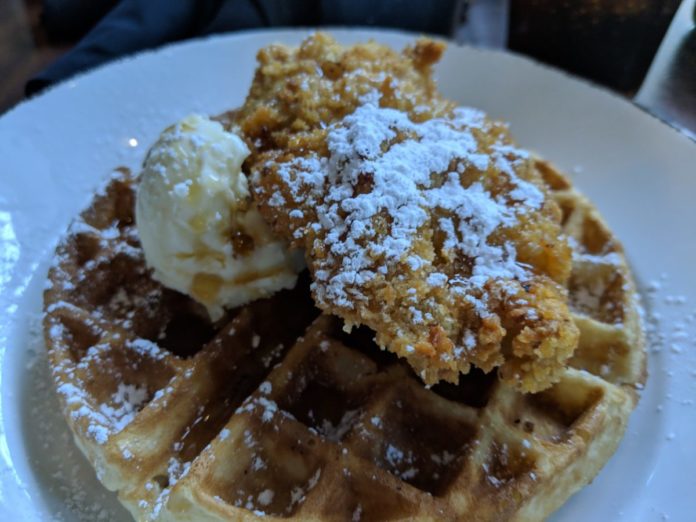 If you click on the links in this post, we may earn money from the companies mentioned in this post, at no extra cost to you. You can read the full disclaimer here.
Washington DC is famous for a lot of things, not least of which is its delicious brunches served at some of the best restaurants in the nation!  So if you're traveling to Washington DC, I'm sure you'll want to eat brunch while you're there; the question is, where?
Well, here at Green Vacation Deals, we came up with our list of the best 20 brunches in Washington DC.  We based this upon our own experiences as well as reviews at TripAdvisor.
Kirwan's Irish Pub: This is my personal favorite brunch in Washington DC.  It is a great authentic Irish pub that's located at the Wharf, and if you eat outside you can get beautiful views of the Potomac.  If you are visiting Washington DC and you use the Big Bus for transportation & as a great tour, the Wharf is one of the stops so it is really convenient.  I recommend the House-made Chicken and Waffles – they are so delicious, as you can see from the photo!
Lafayette Restaurant: Another great location for brunch in Washington D.C. is The Lafayette.  Located at the historic Hay-Adams (a wonderful choice for a hotel, by the way) it directly overlooks Lafayette Square and the White House.  Being able to enjoy brunch at this upscale restaurant would definitely make any day special!
Kingbird: If you're looking to have brunch at a hotel with a famous name, then consider having brunch at the Kingbird at The Watergate Hotel (super convenient if you are staying at the Watergate Hotel!).
Blue Duck Tavern: Another great restaurant located in a great hotel (in this, case the Park Hyatt), the Blue Duck Tavern serves American fare in their upscale Dupont Circle location – and you can get a great brunch here!
Old Ebbitt Grill: The historic Old Ebbitt Grill offers a delicious brunch on Saturdays & Sundays from 8:30 AM to 4:00 PM in a Victorian-style atmosphere.  If you do the Big Bus, then you can get here via the White House South (Willard Hotel) stop on the Yellow Route.
Farmers Fishers Bakers: Enjoy a delicious brunch at Farmers Fishers Bakers at the Washington Harbour, easily accessible with the Georgetown Canal stop on the Big Bus Blue Route.
Ambar Capitol Hill: Ambar Capitol Hill offers a delicious unlimited Balkan brunch on Saturdays & Sundays until 3:30 PM.
Le Diplomate: Enjoy a classic French cafe vibe when you enjoy brunch at Le Diplomate.
Central Michel Richard: Enjoy delicious new American & French cuisine at Sunday brunch, held from 11:00 AM to 2:30 PM.
Bistro Cacao: Enjoy a delicious brunch at Bistro Cacao, a French eatery located in a Capitol Hill townhouse, on Saturdays from 11:30 AM to 3:00 PM and Sundays from 10:00 AM to 3:00 PM.
Grillfish: Enjoy a delicious Oyster Brunch on Saturdays and Sundays from 11:0 AM to 4:00 PM at Grillfish.
Montmartre: Head to Washington DC's Eastern Market neighborhood to enjoy a delicious brunch at Montmartre, a Parisian-inspired bistro.
Logan Tavern: Logan Tavern, a casual American restaurant located in the Logan Circle neighborhood, is famous for its delicious Sunday brunch.
Martin's Tavern: You can get great delicious American dishes when you enjoy brunch at Martin's Tavern, located in the historic Georgetown neighborhood.
Agora: Enjoy a bottomless brunch at this great Mediterranean Mezze restaurant.
Tryst Coffee House and Bar: And, finally, if you never want brunch to end, then try Tryst Coffee House and Bar, which has an all-day brunch menu.
Georgia Brown's: Enjoy delicious Southern cuisine at Georgia Brown's Saturday brunch (available until 2:00 PM) and Sunday Jazz Brunch (available until 4:00 PM).
Jaleo: Enjoy delicious Spanish cuisine at brunches at Jaleo.
La Piquette: Enjoy a delicious brunch at this Cleveland Park French bistro.
Brasserie Beck: Enjoy a delicious brunch at this Belgian restaurant, Brasserie Beck.